News | Market
Frieze Confirms New Seoul Art Fair in 2022
After months of rumours, Frieze said the event will go ahead in September next year.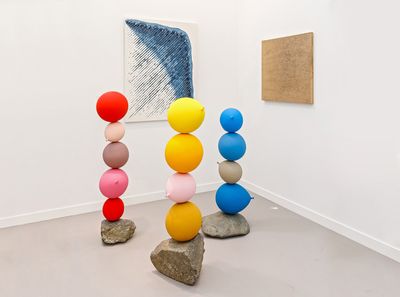 Kukje Gallery & Tina Kim Gallery, Frieze New York (2–5 May 2019). Courtesy Ocula. Photo: Charles Roussel.
Frieze has confirmed it will launch a new art fair in Seoul. The inaugural event will take place at the Coex exhibition centre in Gangnam district from 2 to 5 September, 2022.
Frieze Seoul will feature around 100 galleries and focus on contemporary art. It will also include a Frieze Masters section.
'Seoul is a natural home for Frieze with its extraordinary artists, galleries, museums and collections,' said Victoria Siddall, board director of Frieze.
The event will be organised in partnership with the Galleries Association of Korea, whose existing fair, KIAF ART SEOUL, will take place alongside Frieze Seoul.
'In a period of high public interest in the Korean art market, the collaboration between South Korea's largest art fair and Frieze will confirm Seoul as a hub of the global art market,' added Dal-Seung Hwang, chairman of the Galleries Association of Korea.
Galerie Thaddaeus Ropac and KÖNIG Galerie both opened in Seoul recently, while Pace Gallery expanded its exhibition space in the city.
Frieze Seoul will compete with existing international fairs in the region including Art Basel in Hong Kong and Taipei Dangdai, but organisers of both fairs were confident all three could co-exist.
'Asia is a growing market with enormous potential, and there is certainly space for other fairs to open in the region, in the same way that we operate alongside other fairs in different parts of the world,' said a spokesperson for Art Basel.
Robin Peckham, co-director of Taipei Dangdai, also saw space for the new fair, telling Ocula Magazine, 'Taiwan and Korea are important markets within Asia, and both have strong domestic collector bases that provide excellent foundations for regional hubs.'
Those sentiments were backed up by galleries.
'Since we have a relatively large footprint in Asia and a robust local staff, participating in Frieze Seoul doesn't need to mean a trade-off with existing local fairs,' said Youngjoo Lee, Pace's senior director in Seoul. 'We plan to continue attending and supporting our other regional fairs too.'
'Asia is a very diverse region, and we are very much interested in exploring different fairs and meeting with the local audience in each country,' added Soo Choi, founder of Seoul's P21 gallery and managing director of König Galerie's new Seoul location.
She said Frieze's reputation would excite international galleries, but it would be important to help them communicate with the local audience and manage galleries' expectations 'since we are all in an unpredictable period, good or bad'.
'We are pleased to see that Frieze has chosen Seoul as the new venue in Asia, and I believe that the Frieze Seoul launch will bring about much meaningful change to Asian art fairs, and further the art market in Asia,' said Henna Joo, executive director of Korea's Arario Gallery.
Rumours Frieze would launch a fair in Seoul go back to at least September 2020, when Korea's Hankyoreh newspaper reported that a memorandum of understanding had been signed by Frieze and the Galleries Association of Korea.
Frieze Seoul builds on the company's existing fairs in London, New York, and Los Angeles. —[O]