News | Artists
McClelland Announces Prize Winners for Small Sculpture Contest
Four Australian artists were chosen for outstanding works under 50cm, about the size of a house pet.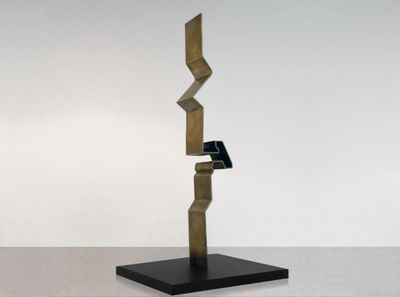 James Geurts, Time Zero: International Dateline (2020). Bronze. Courtesy the artist and McClelland Sculpture Park+Gallery.
The winners of the McClelland National Small Sculpture Awards 2020 were announced today. They are James Geurts, Matt Hinkley, Kerrie Poliness, and Cyrus Tang. Each receives AU $3,000.
The prize was open to Australian artists who submitted sculptures whose longest dimension was less than 50cm. Among the winning works was Geurts' bronze sculpture Time Zero: International Dateline (2020), pictured top, which depicts the imaginary line, twisted by political will, that divides the planet into two different dates.
The new annual prize was established in response to the challenges artists face making and selling work in the wake of the Covid-19 pandemic.
'McClelland Sculpture Park+Gallery is delighted to be supporting one of our key stakeholder groups, the sculptors,' said Director Lisa Byrne.
The prize also seeks to foster a market for smaller scale sculptures private collectors can display at home. Works by 44 finalists, chosen from 320 submissions, are for sale via digital catalogue.
'We believe collectors are increasingly interested in including three-dimensional artwork in their collections,' Byrne said. —[O]