News | Institutions
ruangrupa, Embattled Collective Behind documenta 15, Tops Power 100
With unions ranking third place and no sign of Art Basel's new CEO Noah Horowitz, just how powerful are those on ArtReview's list?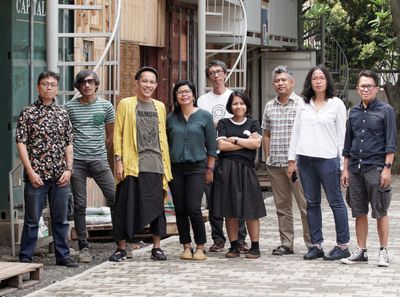 ruangrupa (l–r): Reza Afisina, Indra Ameng, farid rakun, Daniella Fitria Praptono, Iswanto Hartono, Ajeng Nurul Aini, Ade Darmawan, Julia Sarisetiati, and Mirwan Andan. Photo: Jin Panji, 2019.
ArtReview named Indonesian art collective ruangrupa the most powerful figures in contemporary art in their Power 100 list for 2022.
Described by ArtReview as a barometer of an industry that is opaque and in flux, the annual list aims to identify artists, thinkers, collectors, activists and more who are shaping the international art world today.
Given their experience at documenta fifteen, ruangarupa may not feel so powerful.
ruangrupa's vision of inclusive, communal art expression was derailed by accusations of anti-semitism for participants' support of the Boycott, Divestment, Sanctions movement (BDS), which is critical of Israel's oppression of Palestinians, and the inclusion of the mural People's Justice (2002), which included racist caricatures of supporters of General Suharto.
German artist Hito Steyerl, who ranks fourth on the Power 100, withdrew her video work Animal Spirits (2022) from the exhibition, saying, 'I have no faith in the organisation's ability to mediate and translate complexity.'
The Finding Committee for the Artistic Direction of documenta fifteen—steered by art world figures such as Tate Modern director Frances Morris and curator Ute Meta Bauer— came out in support of the collective and condemned their treatment by the media and the documenta organisation.
In their text explaining the rankings, ArtReview ask themselves, given ruangrupa's experience at documenta fifteen, 'where's the power in all this?'
'A reply to this might be that power, today, doesn't only accrue to those securely at the top of their respective hierarchies, but also to those who disrupt the normal way of doing things,' they write.
Cecilia Alemani, the curator behind the 59th Venice Biennale, which broke attendance records and put the spotlight on women artists in its main exhibition, took second place ahead of 'unions' in third.
ArtReview wrote that union membership among art workers is 'booming' with news of art world unionisation 'a daily occurrence' in the US. They note growing collective action in organisations including the Culture Group chapter of the Public and Commercial Services Union in the UK, Art WorkersItalia, BBK Berlin, and Za K.R.U.H. Croatia.
Artists Wolfgang Tillmans, Simone Leigh, Nan Goldin, Anne Imhof, and Cao Fei feature high on the list. Others include writers and theorists such as Judith Butler and Sara Ahmed, and curators Koyo Kouoh and Hans Ulrich Obrist.
The highest ranked gallerists are David Zwirner, Larry Gagosian, Pace's Marc Glimcher, Monika Sprüth and Philomene Magers, Emmanuel Perrotin, and Kukje Gallery's Hyun-Sook Lee.
One notable absence is Noah Horowitz, who was this year appointed CEO of Art Basel. Art Basel's outgoing Global Director Marc Spiegler and Florian Faber, CEO of its parent company MCH Group, rank 36th on the list.
Those who have taken the top spot in previous years include: ERC-721 (2021), a data standard that is crucial to the trade of NFTs; Black Lives Matter (2020); and MoMA director Glenn D. Lowry (2019).
The full list of ArtReview's Power 100 for 2022 can be found here. —[O]