News | Artists
Black Lives Matter Tops ArtReview Power 100 in 2020
The list remains overwhelmingly dominated by people, institutions, and movements in the Western world.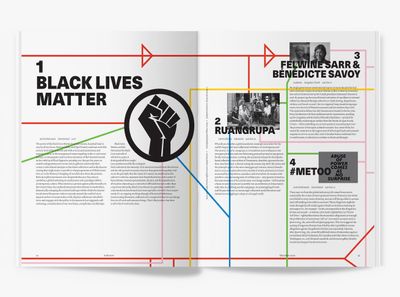 ArtReview Power 100 2020. Courtesy ArtReview.
Black Lives Matter was today named the most influential force in contemporary art by ArtReview. Second place went to ruangrupa, the Indonesian art collective co-directing documenta 15 in 2022.
According to ArtReview, 'the Black Lives Matter (BLM) movement has impelled and accelerated change at every level [of the art world]: in the resurgence of statue-toppling in the US and across Europe, as campaigners seek to redress injustices of the historical record; in the visibility of Black contemporary artists; in awards and appointments; in the rush by galleries to diversify their rosters; in museums rethinking who they represent and how they do it.'
This is the first time a movement has taken the top spot in the history of the Power 100, which has been published annually since 2002. The #MeToo movement also made the list, coming in fourth.
Broken down by role, the Power 100 counts 28 artists and collectives, 27 gallerists, 23 curators, 15 collectors and philanthropists, 14 academics and educators, 13 museum directors, and five art fair directors. (ArtReview's breakdown totals exceed 100 because some individuals check multiple boxes and the list includes duos, trios, and collectives.)
ruangrupa. Courtesy Gudskul. Photo: Jin Panji.
In an editorial statement made in support of the list, ArtReview tsk-tsked rival art publication Artnet for a headline claiming New York would 'reign supreme' post-Covid-19. While they celebrated the diversity of their list, they count 80 people from Europe or North America and 31 from Asia. Just six come from Africa and only five from South America.
ArtReview, which has its headquarters in London, also admonished Artnet by claiming it 'doesn't generally consider the artworld to be constituted of subjects and rulers', a peculiar claim to make alongside the pronouncement of a power list.
Power lists would seem anathema to the creation of art, though certainly not what gets sold or shown. The longevity of the list, now in its 19th edition, perhaps speaks to the powerlessness many artists and art professionals feel in an industry increasingly dominated by fewer and fewer players.
Digital museum Collecteurs proposed an alternative metric by which to measure the art world with its Substance 100, launched in April.
'Focused on the power of change, instead of power itself, Substance 100 ​​is neither exclusive nor concerned with rank,' said Collecteurs in a statement at the time.
Among those included in ArtReview's Power 100 are gallerists Barbara Gladstone & Gavin Brown and Prateek Raja & Priyanka Raja; artists Brook Andrew, Arthur Jafa, Cecilia Vicuña, Wolfgang Tillmans, Wu Tsang, Zanele Muholi, and Cao Fei; curators Ekaterina Degot, What, How & for Whom, and Candice Hopkins, and collectors Patrick Sun and Patrizia Sandretto Re Rebaudengo, to name a few.—[O]