News | Crime
Van Gogh Theft Prompts New Security Guidelines for Museums
With security staff being laid off or told to stay home, what can galleries and museums do to ensure the safety of their works?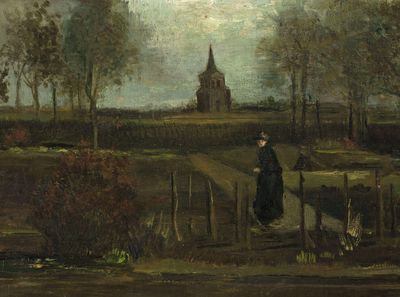 Vincent van Gogh, The Parsonage Garden at Nuenen in Spring (1884) (detail). Groninger Museum, loan from Municipality of Groningen. Photo: Marten de Leeuw.
At 3:15am on Monday 30 March, thieves broke through the glass doors of the Netherlands' Singer Laren Museum and escaped with Vincent Van Gogh's Parsonage Garden at Nuenen in Spring (1885). The £5m theft, which took place on Van Gogh's birthday, has prompted discussion about how museums can ensure the safety of their collections during the COVID-19 lockdown.
Arts Council England shared advice from the National Security Adviser (NSA) and Government Indemnity Scheme (GIS) Environmental Adviser. The advice was written for institutions covered by the GIS, which insures artworks that might not otherwise be shown due to the expense of private insurance, but they say others may still find it useful.
They say buildings should maintain at least skeleton staff where possible. When staff are not available, they should have alarm, CCTV and environmental monitoring systems that transmit to staff tasked with responding to any issues. Random checks of building exteriors are also recommended, along with visits at least once per week to check systems. They also say it's important to record these checks and visits, as the information may be required when an insurance claim is made in the event of a break in or theft.
As galleries and museums shift towards reaching their communities and conducting business online, digital security is also a growing concern.
In their advice to organisations, the US Cybersecurity and Infrastructure Security Agency recommends: using VPNs and multi-factor authentication, ensuring firewalls are properly configured, and keeping software and systems up to date. They remind people to avoid downloading attachments or clicking on links in unsolicited emails, and not to reveal personal or financial information in emails. —[O]