Brenda Valansi. Photo: Udo Kurt
Brenda Valansi is co-founder of ArtRio, an art fair that for five years has gracefully occupied the Mauá docks facing the picture-perfect Guanabara Bay in Rio de Janeiro, Brazil. Valansi spoke to Ocula's Camila Belchior about this year's event, the Brazilian art market and the second edition of IDA, the design fair also organised by Valansi and her partners Elisangela Valadares, Luiz Calainho and Alexandre Accioly.
What is ArtRio's mission and what makes it different from other art fairs?

Its primary mission, given it's a commercial art fair, is to sell art. The interesting thing about an art fair is that you gather in one space and for a short period of time, that which is avant-garde and fashionable in the global and local art markets. Apart from the actual fair that happens once a year, throughout the year ArtRio promotes and organises events that are geared towards closing the gap and engaging people with art. Brazil is a young country compared to Europe, so there is still a lot of work to be done. We work closely with artists and curators, year-round, to produce content for our public, like videos and texts that feed our website. We also organise talks and run a social project, in partnership with NGOs, that organises visits to museums for underprivileged children and people who wouldn't visit them otherwise. Another programme we run, that I consider to be very important in stimulating art-making, is the Foco Bradesco prize, which is now in its third edition. This has already awarded six artists with residency programmes in partner institutions, and this year's winners will spend time at Pivô in São Paulo, Galeria do Lago in Rio and Lugar a dudas in Columbia. With all these activities we try and expand the reach and increase the access people have to art. The cherry on top, however, is definitely the art fair, which this year will bring together around 90 galleries from around the world. The curated programme (called PRISMA), has new curators this year: Carolyn H. Drake and Bernardo José de Souza. For the last four years we worked with Abaseh Mirvali, Pablo León de la Barra and Julieta González. Also during the period of the fair, we work hard to coordinate with art spaces in town so that the cultural calendar is filled with good events and this year we have between 30 and 50 parallel events happening in town alongside the fair—from gallery and institutional openings to events, parties and other fairs. The idea is that Rio is the place to be in the world at this time of the year on the international art circuit.
ArtRio 2013. Píer Mauá. Image courtesy ArtRio
Which art fairs around the world serve as references and inspiration for ArtRio?
The greatest reference for us is the Basel fairs, especially Art Basel Miami Beach because of its tie to Latin America. And Frieze, London and New York, because they also have a young, trendy vibe. These are our main benchmarks. Having said that, we try and organise a unique and authentic art fair, since there are so many in the world and so many are so alike. Our gallery selection process is rigorous so that we can guarantee high-level participants and we put together a carioca [Brazilian word for something/someone from Rio, which also connotes being laidback and relaxed] environment, which is at the same time, professional.
Apart from the carioca element and the postcard setting, what makes ArtRio special?
From what I hear from international exhibitors, it's the special atmosphere at ArtRio as much as its setting. This is because of the way that we work with and relate to them. So, I think that translates as our way of being serious and professional, as well as personal.
What galleries and curators that have not participated in ArtRio do you still dream of bringing to a future edition of the event?
We are very happy with this year's gallery list. There are, of course, always others we would like to have here, but we are more concerned with aiming for only the best galleries worldwide. We carefully handpick galleries who will do well at ArtRio, because this is a commercial event after all. So we try and bring galleries that will adapt well to the necessities of the local market. Of course, the Brazilian galleries that are accepted by our selection committee are all very welcome and for the international galleries, regardless of whether they are recognised or not, we research as to whether the Brazilian market will absorb the art they show.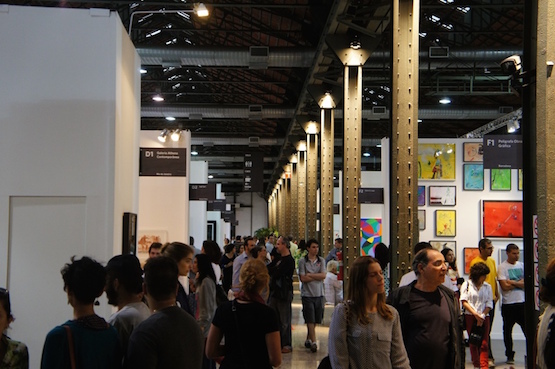 ArtRio 2013. Photo: Paulo Vitor. Image courtesy ArtRio
What do you think is the profile of the Brazilian art market and its buyers?
Brazilians are making their collections more and more international. There is a large space for the secondary market, mainly for national and international Modern Art. What we notice is that buyers will rarely buy an unknown artist from an unknown gallery. It's a relationship based on trust. A collector is not only buying, he's investing. Trust being a very important issue, we try and select galleries that already have some sort of a relationship with the local public.
Are there any galleries from Asia participating this year?
Yes. A Japanese gallery called Whitestone will be here for the first time in a 120m2 booth, the largest size booth we offer, and they will be showing works from the Gutai group [Gutai Bijutsu Kyokai], an important movement in Japan in the 1970s.
This is the second edition of IDA, the design fair you also organise. Why did you decide to get closer to design and what are your intentions and aspirations for this fair?
We noticed that our public was also increasingly interested in design. More specifically what we call design art, which is more exclusive, especially referring to modern Brazilian design, which uses materials that are rare today, like Jacaranda. Or contemporary design, which apart from industrial production also generates numbered and exclusive pieces. Brazilian design is doing very well domestically and abroad, so we thought it would make sense to have a design fair parallel to ArtRio since we believe the city is ready for it. The first year was a success. The participating galleries were very pleased and visitors also seemed happy, so we are having a second edition this year. We are working on the design fair in the same way we do the art fair – there are events throughout the year that bridge the gap between our public and design.
ArtRio 2013. Cadeiras de Praia. Photo: Paulo Vitor. Image courtesy ArtRio
What do you think will be the highlights this year at IDA and ArtRio?
The highlights of ArtRio are always the galleries. As in other years, many bring special projects or solo booths and they really do work hard to curate and hang their booths to exhibition quality. Second to the galleries, I'd say PRISMA, the curated section, will be a highlight as will IDA and the intense programme we offer around town, outside the fair.
Do you have vans available from the fair to these other events and locations?
Yes, for VIP collectors.
What else is included in the VIP programme?
Apart from visits to private collections, we offer networking opportunities and organise visits, accompanied by curators, to artist studios and institutional exhibitions. This is a specific programme for art professionals. There is another broad programme that is open to the public. We are also organising an interesting public art programme in the gardens of Museu da República, with 15 participating artists, which we hope will ignite the interest of people who may not be aware of the fair.—[O]