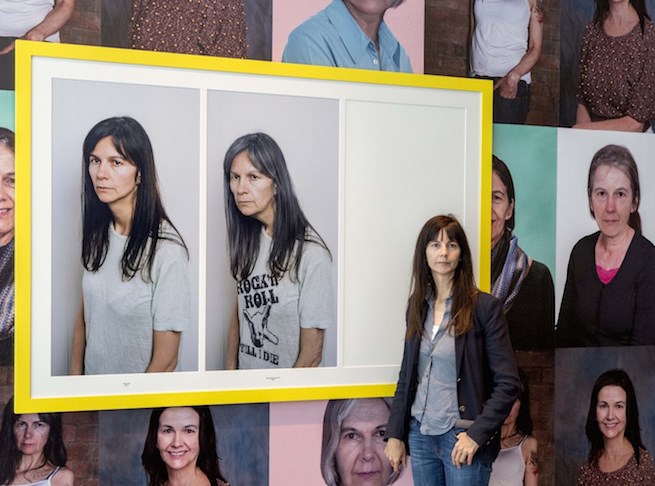 Gillian Wearing. Image courtesy IVAM Institut Valencià d'Art Modern
Turner Prize winner Gillian Wearing's highly successful career spanning twenty-five years is a testament to her dedicated practice. Wearing's direct, honest and very human artistic enquiry speaks volumes about relationships, family, identity, the self, public and private life. Her films and photographic series'—involving the artist herself in differing roles and willing external participants—offer an awareness of the many interpretations of reality. Above all Wearing is interested in people.

Her solo exhibition Gillian Wearing
at the Institut Valencià d'Art Modern (until 24 January 2016), curated by British art critic and professor Sacha Craddock, includes work produced over the past fifteen years. Ranging from the comedic to the confrontational, the show includes eight large-format video installations, a sculpture and a selection of photographs. The pieces touch on issues such as violence, abandonment and trauma drawn from contemporary everyday life and convey a performative element and documentary style aesthetic.
More recent works such as Rock "n" Roll 70 (2015) and video installation Your Views (2014) will be included alongside pieces such as Drunk (1997-99) (documentation of Wearing's neighbours while drunk), Secrets and Lies (2009) (a group of men and women, anonymously describing intensely personal experiences wearing masks), Bully (2010) (a method acting class that re-enacts one man's experience of being bullied) and Fear and Loathing (2014) (continuing the artist's exploration of personal confessions, traumas, and secrets).
Ocula spoke to Gillian Wearing about the process of putting together this major solo exhibition that's allowed for reflection on her practice.
You are currently preparing for your solo exhibition at IVAM Valencia curated by British art critic and professor Sacha Craddock. How long has this exhibition been in the making and what were the motivations for developing the exhibition?
I was approached exactly one year ago, Sacha emailed me to let me know Jose Miguel Cortes had just been appointed director at IVAM and wanted to do a major show with me. Jose was very keen to show a lot of works after the year 2000. Most works are after this date and there are a four earlier works too.
With works in the exhibition spanning fifteen years of your career, the show provides audiences with a wonderful overview of your artistic production. Is this intended as a retrospective of sorts for you?
It does have a retrospective feel to it but I would call it a survey show because most of the works were produced in the last fifteen years and I have been making art for over twenty-five years.
Can you explain the layout and design of the show and how the works have been grouped?
It is not chronological. The Space at IVAM is really beautiful; you have two rooms without natural daylight bookending a long room with floor to ceiling windows. The end room contains the projection films, [and] the first room has my photographic series Album. In the central space I wanted to utilise the height of the walls. So for the first time I am exhibiting three Signs (1992-93) works blown up to poster size. And I have also created a wallpaper with six different versions of how I might look at seventy years old.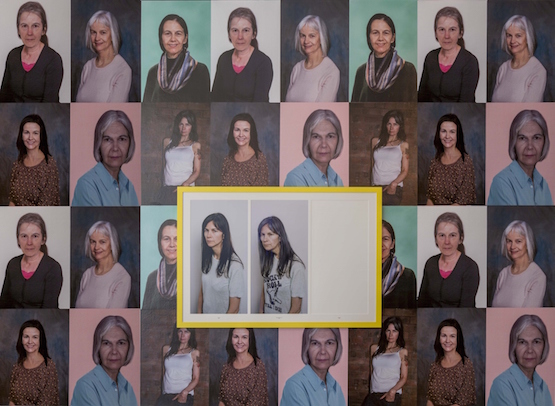 Gillian Wearing, Rock & Roll 70, 2015. Image courtesy IVAM Institut Valencià d'Art Modern
Are there any specific older works that you have reconnected with that hold a particular resonance for you after re-visiting and installing the works for the show?
I am always mesmerised by
Drunk
(1997-99). Because it is an observational film there are always nuances that I haven't seen before. Drunk is not a film that can be viewed small, so the only time I am able to really connect with it is in an installation.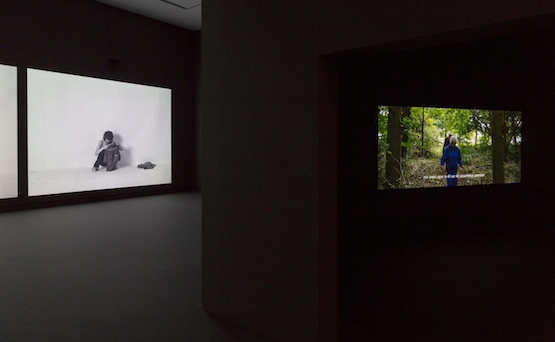 Exhibition view, Gillian Wearing, Drunk and We Are Here. Image courtesy IVAM Institut Valencià d'Art Modern
You have led a long and very successful career. How have you managed to negotiate the art world over the years? Do you perceive that being a female artist contributed to perhaps a more difficult path than that of a male artist?
I have been fortunate in that my work gained an audience pretty early on. My
Signs
series were very popular, it was a breakthrough photographic series that had a huge impact in terms of media and gallery exhibitions. One of the photographs was shown on the front cover of
Artforum
magazine in 1994 and people weren't sure if my gender was male or female (as the name Gillian in the USA then, was not perceived to be female). I personally I have not had a difficult path being a woman artist. I do understand that maybe I am in a unique position and particularly in the past history female artists were much less visible. My work has always attracted attention based on its own merits. I am quite a shy and quiet person and I am not a personality led artist. I became an artist because I know I can speak better through my art rather than my mouth.
Art has long been a channel for expression and utilised as a window to make sense of, and deal with the world, for both the artist and viewer. Do you view art as a tool in this way?
Diane Arbus said "I only understand the world if I photograph it". I relate to that. I wouldn't have had so much access to the world if I hadn't been an artist. It has allowed me to meet some many wonderful people who are able to give an insight into their lives.
Do you see your work as something larger than yourself? Of making a statement beyond your own personal position?
A lot of my work does contain statements from other people. I create the structure for voices to be heard. I try not to have expectations of what people will say because I want to hear things beyond what I can personally imagine or experience.
Exhibition view, Gillian Wearing, We Are Here, 2014. Image courtesy IVAM Institut Valencià d'Art Modern
You have very often worked with members of the public to realise your pieces. What do you enjoy about this form of collaboration? I see your role in this way as an observer, conduit and mediator all at once.
My limited experiences in life to me, personally, is not enough to build a body of work. I learn from other people and they in turn bring reality and humanity to my films and photographs. Working with participants/collaborators can bring new unthought of aspects to the work and chance happenings. It's about being aware that the reality in your head is different to each person's and if you look, listen and engage the world is far richer and complex.
I recently saw your work Sacha and Mum (1996) in a group show in Berlin for the first time and was struck by the way the video lured my attention into such a personal interaction between a mother and daughter. The scene transformed into a very disturbing situation of domestic struggle. What are you interested in exploring and revealing with works that focus on the private familial sphere?
Sacha and Mum
was a metaphor for a relationship. It could have been father and son, friends or lovers, but they were perhaps more obvious. So I chose mother and daughter. Some relationships thrive on love and hate and that dynamic becomes co-dependent, with one person in control and the other weakened and submissive. I choreographed the action to show the repetitions that occur in such relationships. From the caring concerned affections to the destructive and violent acts, and then the apologetic tenderness back again to the violent act.
You produced a series of self-portrait photographs of your own family. Will you be exhibiting some these? Can you tell me about how these works transpired or what motivated this series?
Yes I am showing
Album
(2003), which consists of eight photographs and includes my immediate family: father, mother, sister, brother, uncle, grandmother, grandfather and myself when I was 17 years old. I began this in 2002 just after I rediscovered an old photograph of my mother. I had had the photograph since a young girl and the gap in age between my mother and me then, would be that of child and woman. But I looked at it again in 2002 and realised I was now the older person. I was 38 years old and my mother was 23 in the image. She had not met my father then either. So in fact at that point in her life she was not my mother. It was at that moment I decided to become her. I was always told I looked like my mother, but I hadn't thought about her in her looking like me. It was quite liberating being her and you being able to detach my own selfish thoughts of what a mother should mean to me, her daughter.
As I wanted to really look like her at 23 I knew it would have to be a mask, I also wanted something that was an obvious façade. So the viewer has that moment of not being sure what is not real in the image. I leave the space around the eyes quite large in order for it to look like a mask, rather than blend it into my skin. Originally I was only going to do the photograph of my mother, but when I had completed the image I thought why would it be only one family member. It would work better if I did my whole family as each person has a unique importance to me. I portrayed myself, mother, father, sister, brother and uncle as young people and all around the same age. We are equals and could all be siblings although the era of the images shows there is distance in time.
Gillian Wearing, Family Album, 2003-2006. Image courtesy IVAM Institut Valencià d'Art Modern
The use of masks in these works is a very simple and effective enabler for anonymous communication, offering the possibility to act or behave as someone else. The notion of 'different faces' is an ongoing thread throughout your practice. Can you pin-point some works in this exhibition that exemplify these ideas and elaborate on why you have been interested in working with 'masks'?
I have two confessional works
Secrets and Lies
(2009) and
Fear and Loathing
(2014). Both use masks. Prior to these confessional works I have made
Confess all on video, don't worry you will be in disguise. Call Gillian
(1994) and
Trauma
(2000). Confess all was my first use of masks. My idea was to invite people to confess a truth that they would not normally speak of if they were recognised. The masks were there to protect their identity. The disclosure of the self helps us understand other people and helps the people who are speaking, who by offering their stories go through a level of self scrutiny. A mask can unveil the truth, because the person has no fear of being judged by either their appearance or their real identity. I am interested in the hidden selves and how those selves also form us.
Gillian Wearing, Secrets & Lies, 2009. Image courtesy IVAM Institut Valencià d'Art Modern
Beyond this solo exhibition what are your upcoming projects?
My next project is going to be in Copenhagen in 2017 and I also have a show in London then. But unfortunately as neither project has been officially announced I cannot say what they are at this point.
—[O]