Leung Chi Wo. Courtesy The Mills Gallery and the artist.
The Hong Kong art world, despite its relatively fast development, is still so young in comparison to the powerhouse centres of New York and London. Nevertheless, with the ever present expectation that M+ will open in the West Kowloon Cultural District in the coming years; the very visible building works taking place at the old Central Police Station; and the recent closure of the Hong Kong Museum of Art for renovations, the art scene in Hong Kong appears to be on the verge of a further growth spurt.

Earlier this month, The Mills Gallery, a new privately funded non-profit institution set to open in 2018, inaugurated their opening programme of pop-up exhibitions at The Annex in Sheung Wan. The Mills Gallery is certainly an exciting addition to the future cultural landscape of Hong Kong, but most interesting is the decision to embed the space within the local history of Hong Kong. Soon to be based in the old Nan Fung Textile Mill, The Mills Gallery aims to take as its focal point textile arts in order to interact with the space's heritage as a central component in Hong Kong's long history of textile manufacturing. With the context of Hong Kong firmly guiding their exhibition programming, the choice of preeminent local artist Leung Chi Wo as the subject of their initial show serves to clearly highlight The Mills Gallery's unique focus.

Born and raised in the city, Leung's work often explores the urban space, colonial history, and collective memories of Hong Kong. A key figure in the city's art world, having co-founded Para Site, another non-profit contemporary art space in 1996, and an exhibitor in the first pavilion at Venice Biennale in 2001, Leung's name is becoming synonymous with Hong Kong's burgeoning art culture. In recent years, the artist's work has been shown internationally at the Asia Triennial Manchester (2014) and this year he was the subject of a solo exhibition, Press the Button…Leung Chi Wo: A Survey Exhibition
, at OCAT, Shenzhen, China.
Despite his increasing international profile, 2015 has also seen Leung return home, with an earlier show at Blindspot Gallery and now The Mills Gallery. For his latest exhibition, Tracing Some Places, Leung brings together two new installations with a selection of previous pieces, all of which exemplify his photographic and archival installation works. Conceptually rigorous, Leung's practice creates interwoven narratives that propel the viewer into the past, calling on them to 'push the button' and become complicit in the retelling of history. Here, Leung talks to Ocula about his relationship to Hong Kong, his latest exhibition and his thoughts on the art world ecology of the city.
Your practice reflects a considerable interest in the city of Hong Kong: its urban spaces, language, memory and colonial history. How would you define the relationship between your artistic practice and Hong Kong?
Hong Kong is a place where I live and work, it's therefore very natural for me to explore subject matters here. I just try to make observations of my surroundings, and I tend to work on things that I feel are accessible. My relationship with Hong Kong is complicated, but I have never ceased to find interesting and inspirational elements in the city. Maybe it's also a matter of time as I spend a lot of it here.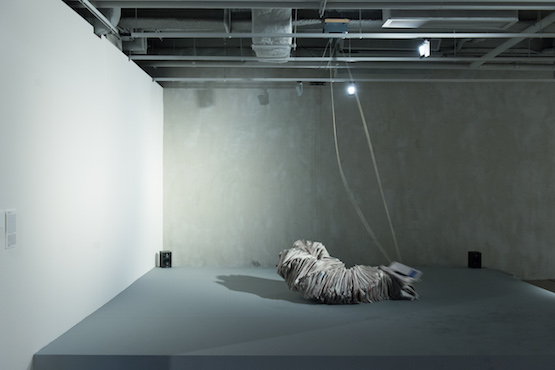 Image: Leung Chi Wo, Untitled (Love for Sale), 2014. Installation of a 1996 gold proof hlaf-sovereign as switch-button, light box, aluminium engraving, newspaper pile, audio and motor systen. Dimensions variable. Courtesy The Mills Gallery and the artist.
Your latest exhibition, Tracing Some Places, is at The Mills Gallery, a new institution embedded in history of Hong Kong's textile history; this inherent connection between the gallery and the past ties in with your practice. Could you please talk a little more about why history and research have come to form the backbone of your artistic practice?
Perhaps I am just not so imaginative, and dreams or sub-consciousness can never be foundational elements that I can rely on. I also consider myself a rather rational person. So research suits my character and gives me knowledge and information to create. History has been my favourite subject since when I was young. I also feel that historical sense has been somewhat lacking in general in our society, and maybe my rebellious instinct urged me to do something more uncommon. And not least, I believe we can never live in a place or exist without history.
For the exhibition you have created two newly commissioned works, Frater (2015) and Untitled (Roses) (2015). For Frater, you have reconfigured an old sewing machine, similar to the one in your childhood home, so that it punches holes at one-minute intervals into photographic films with images of artificial flowers. Please could you explain what inspired Frater and how you approached the production of the work?
The notion of violence and conflict was something that I have been interested to explore in my art. When considering the industrial background of The Mills Gallery, I recalled my parents' industrial sewing machine, which stood out prominently amidst the tiny flat we used to live in when I was little. I noticed that beyond the productive nature of the sewing machine, the tool hides a certain violence when operated at full speed. Then it came to my mind to turn it into slow motion, and the concept of time was therefore further developed. At the same time, I was looking into the history of the 1967 Riots. So I moved on to search for connections between this historical event and the artefact, and then elements like photographic film, artificial flowers and Hong Kong 1967 coins were also brought in to complete Frater.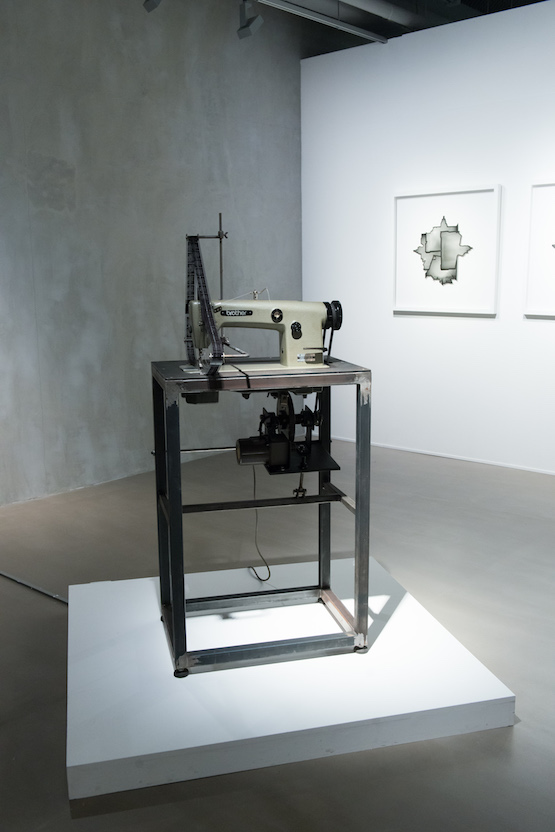 Image: Leung Chi Who, Frater, 2015. Sewing machine, black & white negative film, 1967 Hong Kong fifty-cent coins, low speed-motor and steel frame. 55 x 65 x 146.5 cm. Courtesy The Mills Gallery and the artist
Can you please tell me a little more about the history surrounding the 1967 Riots, and what you specifically wanted to explore about this period with respect to your work, Frater?
The 1967 Riots began with a series of labour unrests and escalated to citywide violent protests against the colonial government. It was widely regarded as Hong Kong's watershed, in terms of social and civil development. It took place before my birth and I am curious how much it remains in people's individual memory as it was regarded important even from various political perspectives. Frater was my attempt to juxtapose both individual and collective fragments from the time to contemplate the notion of violence and so forth.
Why the artificial flowers?
Artificial flowers were chosen for my question of being real as an image, and for their subversive aesthetic, as [flowers are] the stereotypical subject of photography. Of course, there is always the contextual link to the Riots, which began in an artificial flower factory located on the same street where my father went to work.
In your previous exhibitions overseas, such as the Asia Triennial in Manchester last year, you typically research the city and create a work that reflects the context of the exhibition. The work you created for the Triennial is now on show in Hong Kong at The Mills Gallery. How do you feel the work's meaning translates into a different context? Do you think it serves to add another layer of meaning or poses a challenge to the viewers understanding?
I like to connect the subjects of my work to my surroundings. When I created Untitled (Love For Sale) for Manchester, I was aware of my base in Hong Kong where I did the research. Concurrently, I wanted to contemplate the meaning of destruction and construction in relation to the terrorist attacks in Manchester, as well as any other places like Hong Kong that face serious or even brutal urban redevelopment. Also, there are material narratives in art that cannot be overshadowed by the context. Different meanings can be taken on if the context changes. That is normal. But for me, the function of art is not to inform but to inspire. Hopefully Tracing Some Places can communicate with the Hong Kong audience in different ways.
You played a founding role in the establishment of Para Site in 1996, and now your new show marks the beginning of The Mills Gallery pre-opening programme, another non-profit institution; you have been at the centre of the Hong Kong art world development in recent years. In your opinion what is the most important aspect that needs to be developed further?
Diversity. Diversity of institutions, funding, market, education, etc. For a very long time, the arts community was too small to achieve this. Now, we are beginning to see the opportunity that comes with all sorts of expansion. Within this network, we will also navigate to maintain our creative freedom, something that we cannot take for granted as we learnt recently.
Image: Leung Chi Wo, Peak of Victoria, 1997. Wood, steel, Plexiglas & photographs. 100 x 100 x 130 cm. Image courtesy The Mills Gallery and the artist.
You have previously mentioned that when you graduated from university in Hong Kong there was no concept of an 'artist' – is it more acceptable in Hong Kong today to be an 'artist'? Where do you feel artists are positioned within the Hong Kong art world?
Being an artist should be a life attitude, and not a job or career defined by economic value in our society. Today, we see more exposure of artists thanks to the market or commercial recognition of contemporary artworks in Hong Kong. Yet, when and how can we recognise the importance of art without its price tag? I don't know. Para Site and The Mills Gallery are important as independent and private non-profit art spaces, but they form only part of the ecosystem, which as a whole needs to continue developing. It's a long journey, to create a true and genuine creative city. Only a very small percentage of art graduates can make art an economically viable career, same in New York or Hong Kong. So do we regard the rest of them as artists or not? The answer will reflect how we position artists in the art world.
—[O]
Tracing Some Places is on show at The Mills Gallery pop-up space in The Annex, Sheung Wan until 9th January 2016.