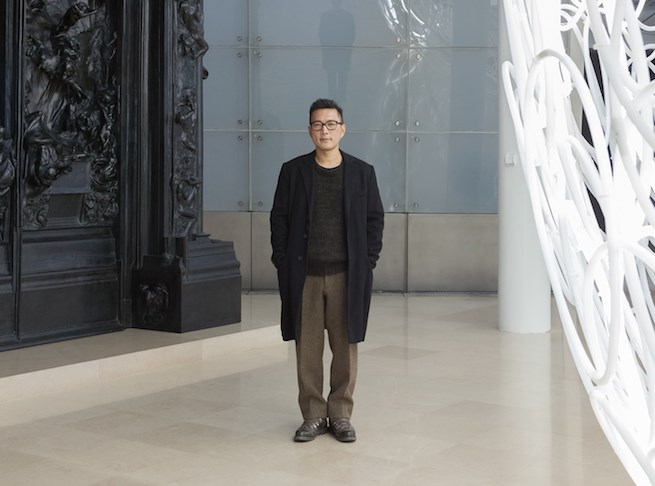 Minsuk Cho at PLATEAU. © Kyungsub Shin
Minsuk Cho, principal architect at Mass Studies and commissioner of the Golden Lion-winning Korea Pavilion at last year's Venice Architecture Biennale, just closed his first major exhibition at PLATEAU, Samsung Museum of Art. And while Before/After
, a data-centric retrospective of the first dozen years of his firm via both realized and submitted projects concluded his back-to-back 2014 projects, Cho is already well into filling the last slots on his calendar for the year ahead.

Since he established Mass Studies in Seoul, Cho has quickly re-acquainted himself with Korea's rapid pace of growth, picking up a range of projects that demonstrate an exploration of not only lasting brick-and-mortar commercial buildings, but also several impermanent structural pieces for the public. Perhaps stemming from an initial fascination with art and Le Corbusier's Ronchamp church—the first architectural work that drew him to the field—Cho's aesthetic is marked by modern elegance, a balance of sharp angles and soft edges with a keen awareness of its surroundings. The Mass Studies portfolio includes the private Pixel House, Daum Space.1, Nature Poem, the Ann Demeulemeester Shop in Seoul, the Korea Pavilion at the Shanghai Expo 2010 and the Songwon Art Center. Air Forest in Denver and Ring Dome, presented in New York, Milano, Kitakyushu and the Yokohama Triennale, represent his ephemeral pieces.

Cho discusses the importance of temporal context in his work, his relationship with Korea's fast-changing landscape, and an upcoming book nearly two years in the making.

Your work is often distinguished by a strong social and cultural awareness, particularly with the Ring Dome series, but also the Shanghai Expo's Korea Pavilion. What is your approach, when first addressing a new space or project?

I try to assess what the context is. Architects use context to describe a specific urban, physical condition that mainly involves spatial and visual experiences, but for me, context in the current age is a concept that has been expanded so much further beyond just spatial conditions. It involves social and cultural conditions that change over time, so that temporal context is very important. 
Typically, architects are associated with things that resist time, and definitely part of my initial motivation to become an architect was to work with something that lasts a long time, if not forever. But when you come to a place like Korea, where the average life expectancy of building is only 30 years, you have to do many things and sensibly.

Of course, I have an interest in developing something more and more permanent, so each structure itself has a certain quality that will give it a reason to stay—even if the initial premise and the clients' wishes become obsolete.

This is one of the variables I consider when I start assessing the context of a building. Though of course there are many, including physical conditions, natural topography and specific urban environment.
Ring Dome, Milan, Milan, Italy, 2008. © Vivi Ying Ho & Eric Xu
After getting your Masters in Architecture from Columbia University, you worked under Rem Koolhaas at OMA before returning to New York and starting your own practice. Why did you move back to Seoul in 2003?

I resisted for a long time coming back to Korea, because it made me feel like I was going backwards. But initially it was a very desperate sort of interest to build something from the ground up. I had my business with my American classmate and still very close friend, James Slade, and our practice Cho Slade Architecture lasted for five years. But we were quite frustrated that what we did was limited to interior embellishment or renovation work, basically. Because at the time, New York's boom days were over, so we only managed to do very refined loft designs and gallery designs. 
That was my initial motivation to move to Korea, because I had a commission for the Pixel House in 2001, a tiny, 89-square-metre household for a family. Then there were a few other projects of increasing size, and I became sort of happily stuck in Korea. For about a year and a half, I observed Seoul from this in-between stage, where I couldn't decide whether to stay or go, but it slowly became an attractive idea. Seoul had changed so much that it was hard to adjust back, after 14 years of absence. And that made it a very exciting discovery, because it was a very different place. Even now, after 12 years, I don't feel like I have fully adjusted because I'm constantly making new discoveries.
Korea has its own unique conditions for a certain kind of potential, for a certain kind of practice that is not possible in developed regions or crazy fast-developing, massive-scale areas like China or India.

I think that is for sure a very different situation from other architects of my generation who are practicing in much more developed regions like Europe or America. Japan has also been very inert from the 1990s, the post-bubble generation and so on. So I think Seoul is definitely a very exciting place, with exceptional conditions and fertile ground for architects to get involved. It also contrasts with other developing regions, like China, which makes Korea look almost leisurely and calm. Korea has its own unique conditions for a certain kind of potential, for a certain kind of practice that is not possible in developed regions or crazy fast-developing, massive-scale areas like China or India.
Your show "Before/After at PLATEAU just closed earlier this month. How did the exhibition get its start?

The suggestion of having a show came completely unexpected. The deputy director of PLATEAU, Ahn Soyeon, asked me almost 16 months ago whether or not I would be interested—and she gave me two weeks to think about it. On the one hand it was very exciting, on the other it was quite scary, because it was their first architecture exhibition. Ever since our practice turned 10, I had started thinking about engaging rather than just relentlessly producing buildings. I thought it would be a good time to look back in order to move forward…a good moment to assess what we have done. And then this opportunity came, and the exhibition became a vehicle for that.

It was a sort of strange change of plan because around that time, the beginning of 2013, I had a team starting work on monograph, that I wanted to publish. I had given myself a year to complete it, but two months later I was invited to pitch an idea for the Venice Biennale, so the book became postponed. And then while I was preparing for Venice, this exhibition for my own show came.
Before/After at PLATEAU. Photo: Kyungsub Shin
What were the challenges you faced with organizing an exhibition at the museum? What were some of your inspirations in its curation?

One thing I really liked was PLATEAU's location, in that that typically architecture exhibitions are held in places very much like an architect's ghetto, where only architects go. But PLATEAU had never even held an architecture exhibition before, and I liked the fact that it was part of the business district. It's also part of the main boulevard that runs in front of Namdaemun. It somehow went very well with our interests in engaging the larger public, which has resulted in our diverse repertoire of work. 

I also thought a lot about the specifics of how to deal with the space. One of the challenges of an architecture show is that, in art, you go into a white cube and you actually encounter the real, the actual final outcome. With architecture, you can never build the actual building inside. Of course, there have been some attempts to actually have a full-scale structure, but it's never the same, because it's amputated from the context and becomes something else. The best way to actually experience building is to rent a bus and take a guided tour of Mass Studies in Seoul or the country. 
So by premise, because of the limitations of the white cube, you have this experience of an exhibition that has everything but architecture itself. I took that as an exciting challenge. Typically, when architects show their work in galleries, there are two contrasting clichés: The first is basically using archives composed of "before and after" materials by projects. The before material is drawings, models, sketches and most things produced in the office. After material is beautiful photography taken at the perfect moment, by the best architecture photographers. This is the usual architecture exhibition one might see in MoMA shows.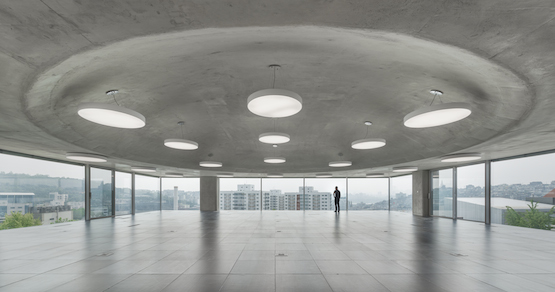 Dome-ino, Seoul, Korea 2014. © Kyungsub Shin

And then, there's the second cliché: when architects enter the white box and become sort of pseudo-installation artists. They sort of say, "Okay, we're doing an installation that is somehow equivalent to encountering the real." But I've found that those exhibitions aren't too exciting. So in the two weeks I was given to decide whether to do the show or not, I had to struggle with those two opposing, contrasting choices. And I managed to come up with a sort of alternative, a third option that I got very excited about. Without being historicising or self-important, using the grammar of creating an aura of an art exhibition with architecture models and so on, I came up with what we did for the show. The basic idea is that we used all our archival materials to create two distinctive environment for various activities, but not organised by theme or chronology. We came up with a completely new way of organising, first by separating before and after materials in two rooms. This was followed by its own elaborate set of notations and qualifying code system, which a lot of people found difficult to penetrate at first.

That's how I have the most fun in my work, just setting something up and watching how people behave, because I can learn so much. It's almost like the Discovery Channel, where you go into the wilderness and observe. You can see what's working and what's not, and then I adjust and tweak. That was actually what motivated me to put together such an elaborate, seemingly chaotic, supposedly designed chaos. And a lot of people understood it, as a kind of stroll through distinctive spatial conditions or as being in a library. So for me, it was much more that the visitors are not spectators, but active perceivers/participants within the space.
The Korea Pavilion at Venice, "Crow's Eye View," was quite dense, with layers of research and resources examining the similarities and departures between architecture in North and South Korea. I understand you initially attempted to contact architects from the North; over the course of organizing the show, did your preparations at any point affect your initial views on the two Koreas?

I was as interested as much as anybody about the serious condition of the Korean Peninsula, but I'm far from an expert in this matter. I went with this exhibition because of Rem Koolhaas' initiative, looking back on 100 years of modernity. Obviously if I avoided North Korea, it would have been a cop-out, avoiding the other half of the story.

I've become quite interested and I'm happy that a lot of people thought our approach interesting. Although we were so ignorant, we tried to understand the situation through a very different social system regime, through the means of very particular discipline, which I think is a key point in the way these ideological differences can be approached. More commonly in the past, sports have been a good point of interaction, and then music, but I don't think there has been a case for architecture before. But as a medium with particularities and attributes, we can use it to understand each other in a specific way.

We're preparing now for the homecoming show in mid-March at the Arko Art Center, and then it's going to continue to New York, where we were invited by a private gallery, and potentially Europe. It's become something I cannot really leave behind, but I am also quite happy this year to be back to practicing boring architecture. I was able to come up with some exciting ideas through it though, so if I really meet with North Koreans now, I'll feel much more prepared about what would be the best way to engage and collaborate.

Shanghai Expo 2010 : Korea Pavilion Shanghai, China 2010. © Kyungsub Shin
Last year was certainly full of major projects. Can you talk about anything you have planned for this year? 

Though it technically started last year, I can tell you there's going to be another exhibition, sort of organised by me, at the Arumjigi Foundation. It's an annual young architect's competition called 'Heritage Tomorrow', and I was selected to judge this year's fifth edition. When first asked, I requested Kyong Park to be my partner. He was part of the Venice show and is a very important figure. He started Storefront for Art and Architecture in New York and is a professor now at UC San Diego. What we're doing is somewhat of an anti-car campaign, the theme that we selected being "Less Cars, Better City." Instead of doing a design competition, we changed the format into a workshop, so we selected five very good proposals and over the last three months have been meeting quite often. The final result will be an exhibition.

Something that I strongly believe in is that, when you talk about heritage tomorrow, there are certain things you have to preserve but also some things that you wouldn't want to inherit. I think one of the things is purely car-centric city planning, a product of the 20th century. I personally have never owned a car, I mostly walk or take taxis. I never found car-owning was necessary, especially in cities like Seoul. I hate LA for that reason; I think it's wrong to feel handicapped without driving your own car.
You mentioned that you were looking to publish monograph. Could you give a little more detail about what its content will be?

We had a publisher decided three years ago and hopefully we'll get back to it this year. Probably lots of people who were involved in our PLATEAU show, including curator Pai Hyungmin, will be part of it. We will have to come up with some exciting ideas to organize all of the materials into book format. I cannot tell you much, because I had an idea, but that was two years ago, and now after going through two shows, I don't know. Everything is always time specific. —[O]