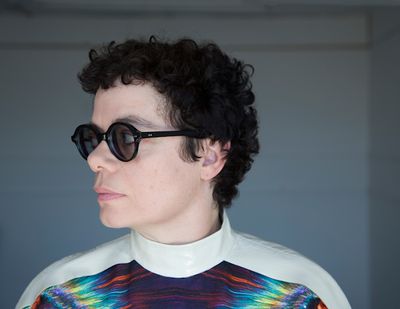 Image: Oreet Ashery. Photo: Christa Holka.
Oreet Ashery is an interdisciplinary artist and a Stanley Picker Fellow in Fine Art at London's Kingston University, whose diverse practice—which includes recent projects such as fig-2 (ICA, London 2015), Animal with a Language (waterside contemporary, London 2014), The World is Flooding (Tate Modern, London 2014), and Party for Freedom (Artangel 2012-13)—interrogates such issues as gender materiality, potential and imagined communities, and biopolitics. In The World is Flooding, for instance, Ashery worked with a group of participants to write, produce, and direct a performance based on Mayakovsky's 1921 play Mystery-Bouffe. Written to commemorate the 1917 Russian revolution, the 1921 script includes a preface that Ashery responded to in her interpretation of the play: that 'in the future, all persons performing, presenting, reading or publishing Mystery-Bouffe should change the content, making it contemporary, immediate, up-to-the-minute'.
In this interview, Ashery discusses her most recent project Revisiting Genesis, a web series composed of 12 episodes and a feature-length experimental film both written and directed by Ashery as part of the artist's Stanley Picker Fellowship commission. The series follows two nurses, both named Jackie (one played by the actress Akiya Henry and the other by practising GP Vanda Playford), who assist people actively preparing for death to create their 'digital legacy' by organising biographical slideshows. As the episodes unfold, we learn about Genesis, an artist whose friends have called on the assistance of Nurse Jackie to create a slideshow for. As Ashery explains, the series intends to explore the 'philosophical, sociopolitical, practical and emotional implications of the processes surrounding death and withdrawal, in the context of digital afterlives, outsider communities, social networks and reincarnations of women artists'. Developed with medical and death online experts, and produced with a range of collaborators, including those suffering life limiting conditions, Revisiting Genesis was released weekly during Ashery's exhibition at Stanley Picker Gallery, held from 14 April to 11 June 2016, and has currently had around 100,000 online views. Building on an intention to convert the exhibition space into a social environment for the afterlife inspired by local community centres, another version of the Revisiting Genesis exhibition will be shown at Tyneside Cinema between 27 October and 6 December 2016.
SB

Could you explain the plot of Revisiting Genesis?

OAThere are three intersecting plots or narrative modes in Revisiting Genesis: the story of Genesis, the story of Bambi, and the stories of real people with real life limiting conditions. The narratives—and I am using the term narrative loosely—touch on themes such as friendships, care, digital presence and working life.

In a nutshell, the story of Genesis is the story of the death of social structures under neoliberalism. Genesis is an artist who is disappearing: perhaps ill, dying, or metamorphosing; she emerged spontaneously when I felt inclined to look through my own photographic archives. From boxes of material, I selected 10 photographs from the 1980s and 1990s and wrote briefly, as if from the future, about each one so as to make sense of my practice, identity and aging. The process was surprisingly rewarding; a form of trans-historical futurity and self-narration that led me to develop the idea of a nurse who creates slideshows for people preparing for death. By then, death had already been particularly present in my life. Recently, I've experienced the death of a number of artists I knew, and have noticed that death and dying remains a taboo topic of discussion, especially in professional contexts. With this in mind, I started researching Reminiscence Therapy, which led me to meet and speak with volunteers who support people as they are dying. I then constructed the fiction around the dying figure of Genesis and how her friends and the nurse are trying to help her 'come back' through the presentation of the slideshow. I selected a number of images from my archives to create Genesis's slideshow: a set of costumes I made in the late 1980s for dancers at Charles Keene College in Leicester; photographs documenting an M&S cake factory in Swindon in the mid-1990s; images of a transgendered lover; a drum circle; and an amateur circus group. Those images represent social spaces that have disappeared and no longer exist; the M&S factory is no longer there and its story became part of the larger narrative of post-industrial England, while the other images speak of loss in relation to gender, friendships and the AIDS crisis.
Image: Oreet Ashery, Revisiting Genesis, 2016. Video still. (Martin).
Bambi's narrative also combines biography and fiction. Martin O'Brien, who plays Bambi, is an artist who has cystic fibrosis and whose art works centre around this condition. Martin is also obsessed with sharks. I wrote the script with this in mind while fleshing out the fictional meetings of Bambi with Nurse Jackie, herself nodding towards the American TV series Nurse Jackie, whose narrative is predicated on the gradual deterioration of the health care system in the US, and her own self as a result. In the scripted and improvised meetings we witness between Nurse Jackie and Bambi, Jackie tries to resolve Bambi's digital will and posthumous presence while he still can. This creates space to contemplate one's attitude to current discussions around digital assets, posthumous presence and emerging technologies of death such as AR (Augmented Reality) gravesites or the developments of supposedly death defying person-simulated avatars, to quote the robot Bina 48: 'Death is optional, we don't have to die! We are futurists!'
Image: Oreet Ashery, Revisiting Genesis, 2016. Video still. (Nurse Jackie).
The third narrative thread involves actors Annie Brett, Joel Sines and artist Julia Warr, who are all experiencing life limiting conditions and came to audition for the piece as part of the Revisiting Genesis instalment during the fig-2 week I conducted at the Institute of Contemporary Art in London. Their scenarios involve improvised and unscripted interviews with a nurse, performed by practising GP Vanda Playford. We also had the opportunity to interview the ground-breaking avant-gardist curator, artist and publisher Roger Ely, who died a month later. I decided not to include this encounter in the web series, but the interview will be available on the website and for general distribution.
During the editing process I intersected the 3 narrative modes in ways that create multiple cross-references and a sense of disorientation. The result of this—as many viewers commented—is a sense of surreal uncertainty, in which it is unclear what's real and what's not, who's ill and who isn't, and who's improvising and who's memorising a script. This adds to the heterotopic space I wanted to create: an in-between or utopic space where undesired bodies come together. This relates to the web series as a format in itself. I was influenced by the highly entertaining lesbian web series F to 7th, and was excited by the possibility of using a democratically free and available online format, in a durational episodic way, with relatively low production costs.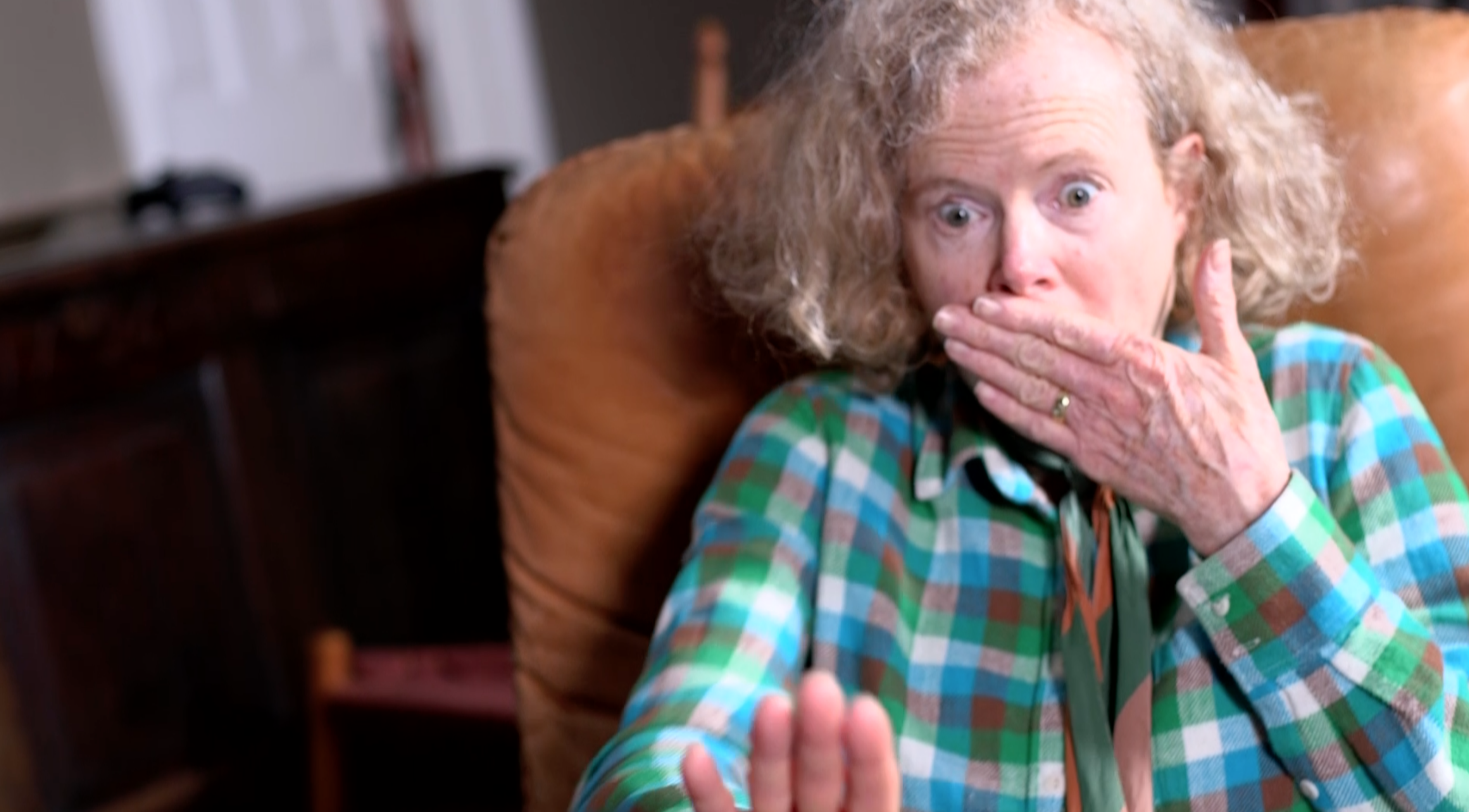 Image: Oreet Ashery, Revisiting Genesis, 2016. Video still. (Julia).
SB

In the series, Genesis feels at once developed but undeveloped; appearing as a cloaked figure and described as 'dying symbolically and otherwise'. How does Genesis synthesise the themes Revisiting Genesis explores, from death, withdrawal, and digital afterlife industries, to care and the position of the female artist?

OAThis is absolutely the case: Genesis is as much developed as she is underdeveloped. We learn about aspects of her biography due to the specificity of the slideshow, which gives insight into social cultures and structures like community colleges that are particularly important for minorities and outsiders, and yet are disappearing.

In turn, Genesis never speaks, has no agency and is rarely seen during the 12 episodes. She is a symbolic figure of semi-visibility, dysfunctionality, withdrawal and disappearance. I spent a great deal of time trying to figure out how best to embody her condition on screen, from CGI to la tapada limeña, and eventually I kept it simple: to cover a seated mannequin in a huge blue seemed blanket with only her unbranded trainers showing; something like the female version of Joseph Beuys in I Like America and America Likes Me, without the stick. In Episode 11, Falling Apart, Genesis does appear as a semi transparent CGI figure, first galvanised by a friend and then a bearer to a revealing confession by another friend. She also appears as a vibrating tablet (iPad) during a séance in one episode, and as a fragmented epithet of hair and blue foot prints in another.

One inspiration for the character came from a series of Facebook posts charting the lead up to the death of the feminist artist Alexis Hunter by MND, who died in February 2014. Hunter's posts are perfect: humorous, brave and spirited, and I read them daily. They chart her physical disappearance, the ravaging effects of the illness on her weight, looks and levels of activity, her growing dependency on others, as her husband developed dementia, and the precarious working conditions of her career and the loss of privacy. These painful posts were intercut with posts about the phases of her career and art practice. One says, 'feel better today, met with film director who is doing film about my feminist work'. On other days she struggled more; in one, she described herself as a monster character from Doctor Who. In her last post, she asserted that this is the end. Posthumously, her Facebook page has turned into a public memorial space and an online legacy stakeholder; a textual form of expanded mourning and celebration.
Image: Exhibition view, Oreet Ashery, Revisiting Genesis, 2016.
SB

Another inspiration was 20th century female modernist artist Dora Gordine, whose archive—or part of it at least—was horrifically destroyed to make space when the BBC used the artist's former house as a filming location. You have described your relationship with Gordine's legacy as similar to that which you have with Amy Winehouse. Could you elaborate on these influences?

OAI visited Gordine's House, Dorich House Museum, during the development period of Revisiting Genesis. I never planned for Gordine to be part of Genesis' story but when I was at the house I felt her presence intensely and began to spend time in the house looking at her art works, her Russian art collection, and photographic archive. I developed something of an ambivalent, obsessive fandom. Like myself, she was a Jewish immigrant, though she always hid her Jewishness. I was fascinated to learn that she made her way up the social and artistic ladder by marrying and befriending the British political and cultural elite. I was both impressed that she cast her own voluptuous female bronzes, and sceptical about her contradictory politics and they way she continuously modified her life narrative to suit her circumstances and public persona. By studying Gordine's social life, I learned of the Great Lady Decorators: the first women to be recognised as interior designers rather than home improvers. I made the main Revisiting Genesis film set and exhibition space all white: partly inspired by the first all-white room designed by the British Lady Decorator Syrie Maugham, and partly to indicate the emptiness of Genesis's condition.

Lastly, I was envious of Gordine's guest book; in particular by the regular messages left by her friend Christina Fox who visited her every week in the last two years of Dora's life. Those warm, intimate and witty messages crystallise what can only be imagined as the ideal form of friendship: one of the main themes in Revisiting Genesis.

I considered Genesis a reincarnation of Gordine and Amy Winehouse, another Jewish artist who had to deal with the dominance of men, both in the music industry and in her own private life. This meant that Genesis wasn't simply a fan of Dora and Amy, but rather an emblem of them, and vice versa. This kind of fandom, or projection, is something I have been captivated by for a long time: women become role models or inspirations for other women. It's about how women not only disappear into the superstructure, but disappear into other women through platonic, sexual, romantic, professional and familial relationships. A woman-to-woman muse relationship is a complex and critical phenomenon to me. Class, race, economy, privilege, gender and age also play out within those states of fandom; this was touched on in episode 10, Dora, Amy, Genesis, in which one of Genesis's friends note that unlike Dora, Genesis never got over her class barriers. That's a problem if you are an artist.
Image: Exhibition view, Oreet Ashery, Revisiting Genesis, 2016.
SB

Episode 6 is particularly interesting: it explores the Charles Keene College in Leicester, observed in a 1995 Further Education Funding Council Report to have fostered strong links with local community groups and drawing a wide range of students. Charles Keene was forced to merge with Southfields College in 1999 to become Leicester College, one of the largest colleges in the UK due to increasing financial strain. As one character states, the merger is part of a growing trend in the UK, where we have seen 'the consolidation of small autonomous colleges into composite organisms made up of multi-campus merging universities run by central management'.
How does this fit into the narrative of Revisiting Genesis? I'm thinking here of what Nurse Jackie says about Genesis: that perhaps she did not disappear so much as the social and educational structures that once supported her.
OACharles Keene College is a good example of the disappearance and the chiselling away of social structures under neoliberalism. It is hard to explain in few words the valuable ways in which the small and picturesque college supported minorities in official and maybe even more importantly unofficial ways, as well as hailing an experimental and interdisciplinary approach, with the example of a unique joint A level in Dance and Drama at the time. I made costumes for a dance production in Charles Keene College as a young, poor, unemployed, creative and alienated new immigrant, newly arrived in the UK at the age of 19; it was a home, an escape, a school, an experimental playground, a social context and a steppingstone towards one's ambitious future fantasies.
Outsiders and minorities will always require and create structures and new models of support, but it is getting more difficult under the neoliberal regimes we live under to sustain them. The case with community and public education is a particularly painful one as universities and public educational institutions are pushed to operate as property investors, borders control agents, and recruitment businesses, with a trickle down affect on students as consumers and tutors as service providers. The systematic closure of art foundation courses in England is also troubling, since these are really the enabling gateways for cultural and intellectual diversity. Since Revisiting Genesis was released online, I have received emails from ex-Charles Keene College students, and I would like to share a few quotes. From Jason Piper, who now heads the School of Performance and Screen Studies at Kingston University, I got this: 'I studied there because dance was not available in my own school'. And this from another ex-student: 'What happened at Charles Keene College was that I immediately formed friendships with Asian people from the city of Leicester. Prior to this time, I had been an ordinary white English guy in my teens with very little understanding or experience of other cultures and people of other ethnicities. I believe the experience at Charles Keene College was instrumental'. Another message is very important to me: 'I did my A-levels at Charles Keene because I was kicked out of my comprehensive, John Cleveland College, for being gender queer and gay', writes Doran George, now an LA-based artist, tutor, and activist. because it shows that Charles Keene was a home for those rejected elsewhere.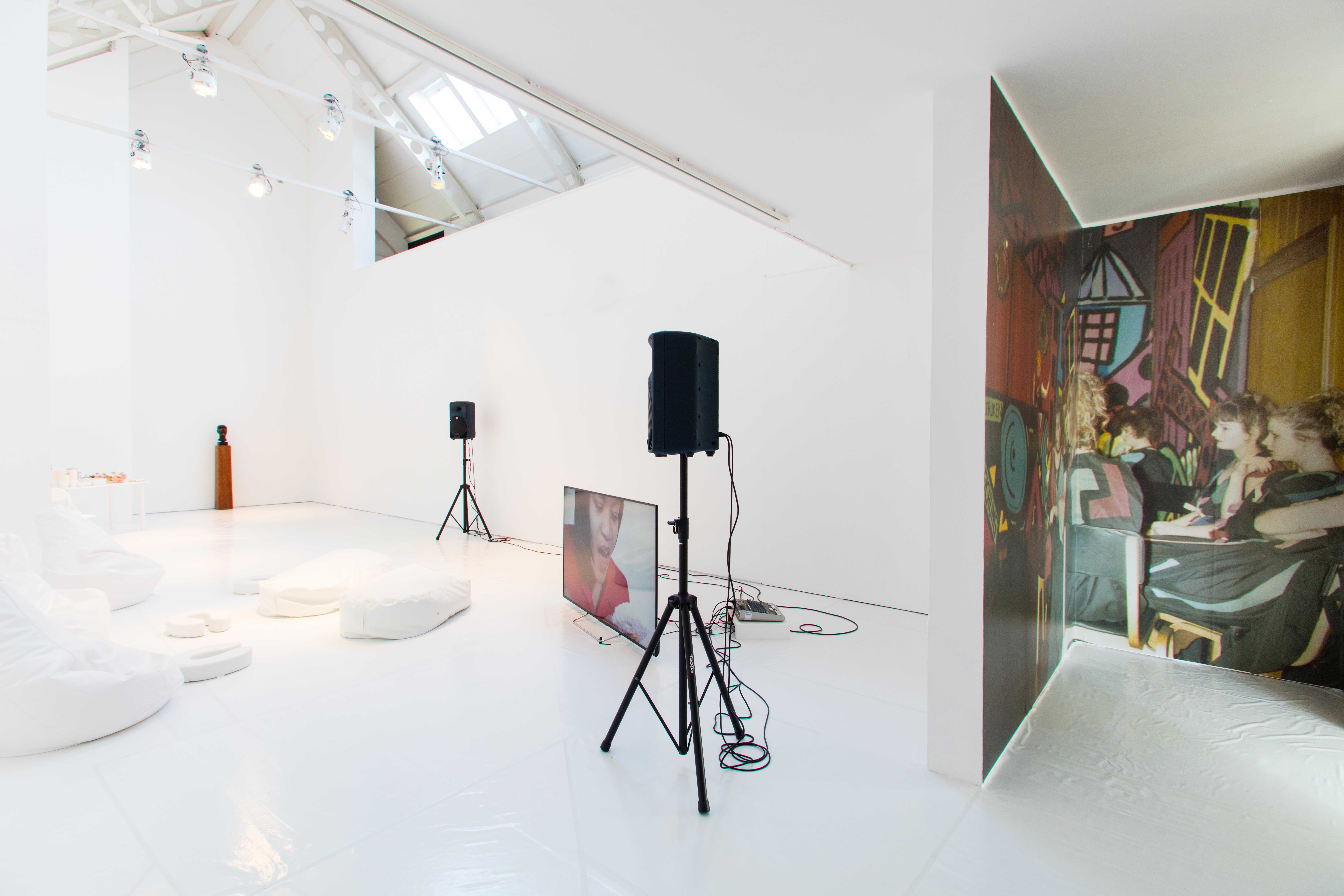 Image: Exhibition view, Oreet Ashery, Revisiting Genesis, 2016.
SB

How does Revisiting Genesis expand on some of the ideas you have been working on throughout your practice?

OAOn my work, the theorist and artist Simon O'Sullivan has said that every project of mine is like entering a new orbit with its own unique ecosystem. This is an insightful description that also presents one of the challenges in my expanded practice. The format along with the terms and conditions attached to the work are integral to its making, and those change with each project. Party for Freedom (Artangel, 2012-2013) took the form of a naked performance troupe that traveled daily to people's homes, an AV album, a live concert combining makers of post punk noise, jazz compositions and contemporary classical music, a transparent PVC cave that the public could paint from inside, and more. The World is Flooding was a socially engaged play adaptation aimed at self-knowledge-generating by the community groups involved that resulted in a series of workshops, cleaning materials fashion line and cat walks, a solo exhibition, a downloadable zine, a small and informal community fund to help one of the sick asylum seeker in the project, a performance at Tate Modern Turbine Hall and a wall to wall carpet auction sale performance at the Swedenborg House. Revisiting Genesis is a body of work that includes a web series distributed free online, a performative lecture, a single screen feature length film, and a Death Metal concert performance by Anoxide with a gender intervention from the performance art duo New Noveta, staged as part of fig-2 at the Institute of Contemporary Arts in London. This aspect will be developed further in Lilith Performance Studio at Malmö, Sweden in a large-scale performance called Passing Through Metal.

My theoretical and conceptual interests are tied to biopolitics, queer feminisms, trash aesthetic, political fiction and post-identity within the context of minoritarian discourses, and the question of what a life/art practice is and what are the conditions for the production and distribution of work: overarching themes that are consolidated in Revisiting Genesis. In this context, the body plays a particular role for me, be it in relation to ethnicity, race, gender or in Revisiting Genesis, death. Yet, the body does not feature highly in the hierarchy of art world discourses, since it is often associated negatively with the context of 1980s and 1990s political art. However, for minorities facing the state, the law and cultural institutions, the body is rarely forgotten. I choose to explore the body through the lenses of both real life and fiction, in the context of potential communities. In Revisiting Genesis the synthesis of real life and fiction, particularly in Bambi's story, is the most profound and ethically challenging mixture I have used so far.
Image: Exhibition view, Oreet Ashery, Revisiting Genesis, 2016.
SB

The series' approach to death also enables viewers to consider death in a multitude of ways, including an abandonment of one's career, say in the art world: a withdrawal that is met with an uneasy disbelief—and sense of betrayal—in the series (and in real life).

OAConsidering the semi-visibility of women artists in the art world in relation to content, representation, finances, recognition, legacy, precarity and survival, one must consider what the Italian revolt feminists like Carla Lonzi asked in the 1970s, and what artists like Lee Lozano posed in their actual withdrawal: How do women artists function in the art patriarchy? Do they take part or withdraw? Genesis withdrew but the web series has been made, defining its own producing and distributing conditions.

Withdrawal isn't a productive act of resistance or mobilisation. But some forms of strategic withdrawal are necessary in a glocal art world that fosters a culture of self—imposed over-production, encouraged by the never-ending gap between where we are and where we think we should be. It is a self-management ego trap and a professionalised dangling carrot that promises rewards of unquantifiable achievements and recognition, somewhere, sometime, on the horizon. Meanwhile there is always someone who is doing better than you that could have been you, if only you worked that bit harder or had better contacts, or worked harder on those better contacts. This 'fatamorganic' carrot is one of the conditions that feeds a culture of over-working and in some cases causes chronic exhaustion, depression, disorders or complete burn-out.

Another reason for over-committing is survival; the need to generate enough income to survive from low paid art jobs or from other jobs that support a low paid art practice. Passion, burning creativity, or socio-political conviction are great motivators for obsessive work patterns, and sure enough the pressure to create the perfect kind of work/life balance, or that intangible 'quality of life', can be debilitating in itself.
Image: Oreet Ashery, Revisiting Genesis, 2016. Video still. (confession).
SB

On that note, what advice do you have for people making a living in the art world today, and what have you learned from making Revisiting Genesis?

OAYour question points to the emotive core of the work. It is the question that friends and I ask each other daily: How to live as artists? How to address a seemingly impossible work/life balance? Where to put our energies and what to prioritise? How to stop/start/continue self-presenting ourselves publicly? Episode 12, Prayer, Aerialist, is a Kaddish prayer for those who have died already. One of the sentences from the lyrics in this prayer states: 'And how we live is how we die. Only more so'. Dying and living are inseparable. —[O]

'Revisiting Genesis' was commissioned by the Stanley Picker Fellowships at Kingston University and supported by a Wellcome Trust Arts Award, public funding by the National Lottery through Arts Council England, Tyneside Cinema, Goldsmiths University of London and waterside contemporary. View the entire series here: revisitinggenesis.net