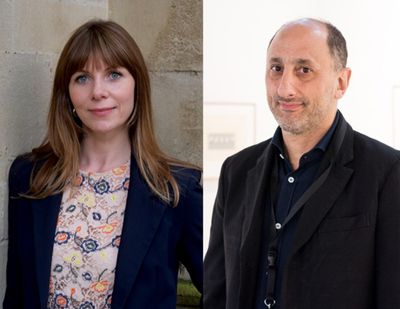 Left: Catherine McCormack. Photo: Marzena Pogorzaly. Right: Richard Saltoun. Photo: © Kristina Kulakova. Courtesy Richard Saltoun Gallery.
100% Women is a year-long exhibition programme at Richard Saltoun Gallery in London, focused on the lives and works of female artists. According to the gallery's press release, the programme seeks to 'redress the persistent gender imbalance, whilst cementing its ongoing support of female artists.' Having launched in March 2019 with the first U.K. solo exhibition of performance art pioneer Rose English, titled Form, Feminisms, Femininities, solo presentations by artists including Lili Dujourie, Gina Pane, and Penny Singer have followed suite, along with the group exhibitions Matrescence and Maternality, a two-part presentation curated by author, lecturer, and independent curator, Catherine McCormack. The exhibition title departs from a term coined by anthropologist Dana Raphael in 1973 in an attempt 'to theorise the transformational processes of becoming a mother.'[1]
Additionally, an online exhibition platform was launched to showcase works by both represented and emerging artists to further inclusivity and widen the gallery's digital reach. The first online exhibition, titled Women Artists After Empire and launched in March, was curated by Lynda Morris and featured Eleanor Antin, Sue Atkinson, Helen Chadwick, Greta Schödl, Janette Parris, Carolee Schneeman, Jo Spence, Shelagh Wakely, and Hannah Wilke.
Gina Pane, Action Psyché (1973) (detail). A set of 25 colour photographs, preparatory drawings, and coloured slides. © The Estate of the Artist. Courtesy Richard Saltoun Gallery.
Driven by an ethos for rediscovering the work of artists left outside of the canon, Richard Saltoun founded his eponymous gallery in 2012. Feminism, conceptualism, performance art, and photography from the 1960s are at the core of the gallery's focus, with a female-dominated representation that includes the expansive oeuvre of documentary photographer Jo Spence, Shelagh Wakely, Gina Pane, Silvia Giambrone, and feminist provocateur Renate Bertlmann, who is representing Austria at the 58th Venice Biennale (11 May–24 November 2019).
In this conversation, Richard Saltoun and guest curator Catherine McCormack discuss the roles of galleries, curators, scholars, and academics to furthering inclusive discourses, and their own collaborative work showcasing under-recognised artists.
Penny Slinger, Offerings at Twilight (1976). Photo-collage on board. 41.9 x 59.4 cm; on board: 50.8 x 68.6 cm. Courtesy Richard Saltoun Gallery.
Richard Saltoun Gallery has long championed the career of post-war artists, with a focus on feminist art. Could you discuss how feminism and feminist movements fed into establishing the gallery in 2012 and how this has informed the 100% Women programme?
Richard Saltoun: I am inspired by the lives of female artists, which tend to be slightly more complicated than the lives of their male counterparts. Most of the male artists we know and read about have quite straightforward trajectories, in which they leave art school, work with galleries, and achieve success. The narratives of female artists tend to be much more complicated and interesting, as their trajectories are not so straightforward. In the 1960s and 1970s in particular, it wasn't easy for female artists to find galleries to represent them due to a variety of reasons, including difficult subject matter—some of these artists were discussing sexual issues, issues of the body, femininity, and feminism, in works seen as confrontational at the time—a lack of resources, limited access to education, institutional bias, and personal choices, like motherhood. Together, this typically meant women artists didn't achieve mainstream commercial success. I am more inspired by their lives, struggles, perseverance, and lack of recognition, not really by their feminist thinking.
Catherine McCormack: I have been involved in the topic of maternal experience and maternal subjectivities in the visual arts for a while now, and that emerged from some aspects of my PhD research. At the time, I became pregnant with my first child and got involved in the politics of maternity and it was an area I began researching and teaching at Sotheby's Institute as part of the feminist art history course I teach. It felt like a natural fit to participate in 100% Women as they wanted to culminate the programme with a show exploring some of these maternal themes.
Lili Dujourie, Ballade – Primula (2011). Paper-mâché. 33 x 44 x 7 cm. Courtesy Richard Saltoun Gallery.
Your gallery's representation of artists is notably female-dominated. Is this a conscious effort?
RS: I don't intentionally set out to represent just female artists, this happened by default. The gallery is focused on artists who we feel are undervalued, because of various social situations, and it just so happens that many of these artists are women. When you specialise in 'underrepresented', 'undervalued', and 'unknown' artists, this kind of de facto draws you into a mostly female arena. When assessing our exhibitions for 2019, we realised that the programme featured 100 percent female artists—hence the name of our campaign. This came about very organically, it was not intentionally programmed, but it did make us look at the roster of our artists more carefully. We are proud that we are one of the few commercial galleries in London that represent an equal number of male and female artists. According to the 2018 Freelands Foundation's annual report, five percent of London galleries do so. This has prompted us to look at equality across our programme in greater depth, exhibiting the work of younger, more emerging artists, like Silvia Giambrone who exhibited with Marinella Senatore at the gallery as part of the programme, or artists with more diverse backgrounds. Our first online exhibition, Women Artists After Empire in March curated by Lynda Morris, for instance, explored the legacy of empire in the work of female artists.
Silvia Giambrone, Untitled with thorns (2017). Wood chairs, acacia thorns, polyvinyl chloride, bitumen, and glass varnish. 150 x 85 x 85 cm. Courtesy Richard Saltoun Gallery.
CM: What makes these exhibitions unique is the fact that they are very much a dialogue between Richard Saltoun Gallery's staple artists and radical feminist artists from the 1970s and 1980s that are perhaps only now getting their due. This is partly due to the work done by gallerists like Richard Saltoun who are helping them achieve commercial success, value, and notice on a more international scale. I am thinking specifically of Renate Bertlmann who represented Austria at the Venice Biennale, which marks the first time a female artist has been chosen to be the sole representative in the history of the country's participation. The fact that she's a woman in her seventies is significant, and it's one of the things the Guerrilla Girls talked about in their critique of patriarchal art institutions in a satirical way, stating one of the benefits of being a woman artist is waiting until old age until you get any commercial success. The two-part exhibition I am curating is very much an international conversation between artists of the 1970s and 1980s with a younger generation, looking at the politics of maternal experience.
Renate Bertlmann, Zärtliche Berührungen (Tender Touches) (1976/2019). Digital print on mounted Dibond. 95.5 x 97 cm. © the artist. Courtesy Richard Saltoun Gallery.
Why do you feel female artists who have achieved artistic greatness still go unrecognised, and, Richard, what led you to dedicating a whole year to female artists with 100% Women?
RS: As I mentioned previously, our all-female programme came about very organically. It was not something we deliberately set out to create, but rather something we realised in retrospect and wanted to celebrate. There are so many reasons as to why great artists might go unrecognised, but it is for a true love of art when artists continue making work without financial reward or institutional recognition. These are artists with true passion and integrity, and it is incredibly rewarding to tell their stories and exhibit their work. Renate Bertlmann, for instance, has been making work for over five decades and has endured intense criticism and ridicule from her peers, even being censored and pulled from museum exhibitions. She is now receiving her country's top artistic honour—representing Austria at the Venice Biennale—and she is, remarkably, the first female artist to do so with a solo exhibition. Helping artists receive this recognition, and ensuring their rightful place in art history, is at the very core of the gallery's vision. I hope 100% Women nurtures that and encourages wider industry debate, dialogue, and collaboration on the wider art historical canon.
Marinella Senatore, Protest Bike (2018). Bike, speakers, billboards. Courtesy Richard Saltoun Gallery.
CM: While I cannot comment specifically on the workings of the commercial art world, I do think that these imbalances have a lot to do with institutional bias. This is something that is starting to change within education, so that those studying the history of art don't just see it as a history of 'white', 'dead' men's art. One of my ambitions through curating these shows is to reveal the politics and experience of mothering or non-mothering, reproductive rights, who gets to be a mother, and so on. These are things that don't just affect women, but humanity at large. We won't be able to change the landscape unless there is a visibility of these issues in commercial galleries and museums. Arguably, doing this in a commercial space has more impact because it is taking a bigger risk and it is a bolder move that might lead to inroads increasing market value, but that remains to be seen.
Gender inequality remains a central discussion in the art world, and while 100% Women is commendable and a much-needed initiative, there are still non-white and minority voices missing from this field. How are you addressing this going forward?
RS: Gender is only one issue of a much larger debate, and 100% Women is just a starting point for the gallery. It is a campaign inspired by activism. As a gallery, we hope to work with more diverse voices in the future, to nurture greater equality and inclusivity in our programme, whether that's based on gender, race, ethnic background, or geographic location. Our two-person September exhibition, Made Routes: Mapping and Making, was curated by the art historian, Tamar Garb and featured South African artists, Berni Searle and Vivienne Koorland; while the programme's concluding exhibition explores maternal themes in art, and includes a range of established and younger voices.
Vivienne Koorland, Pays Inconnu (2016). Oil and twine on stitched linen and burlap. 244 x 366 cm. © the artist. Courtesy Richard Saltoun Gallery.
CM: I felt very strongly that I didn't want Matrescence to be a show about white feminism and I sense the potential for critique very keenly. It is something that I am very aware of in my own practice and I am actively trying to provide an inclusive voice. There was work by artists that we were trying to include in this show that unfortunately didn't happen. I think there is definitely an entrenched problem with the visibility of black women artists, and especially black women who are mothers and artists. I can only speak for my own practice and every curator does want to be boundless in their vision, but there are limitations that one does come up against.
Could you expand on Richard Saltoun Gallery's new digital platform for online exhibitions and why this was initiated?
RS: The digital platform was initiated to diversify our exhibitions programme and allow us to work with more artists, both represented and non-represented by the gallery. We also invited guest curators for these digital displays. Lynda Morris, the well-regarded curator and historian, launched our first presentation around the legacy of imperialism and colonialism, incorporating the voices and perspectives of ten contemporary female artists. The idea behind these online exhibitions is to extend our physical exhibition programme to an even greater reach. It's also a place where we can be a little more experimental and work with artists who we might not know well, to establish better relationships.
CM: In the process of putting together the logistics for the shows, some artworks we wanted weren't available, so some of this was platformed for the online exhibition space. Beyond this, we're working with ArtReview on an event that will reflect on the impact of the themes raised by the show in broader terms, along with a session with the professional women's group, Marguerite, about working in the arts and parenting. This is one of the areas to expand Matrescence outwards. These are conversations that are not just for an elite audience who follow the market, but for everyone.
Rose English, Plato's Chair, Montréal (1983). Digital transfer from Umatic videotape, colour, stereo sound. 85 min 40 sec. © the artist. Courtesy Richard Saltoun Gallery.
How do you see 100% Women as contributing to wider changes beyond the 12-month programme and what do you hope the legacy of this project will be?
RS: We are only one gallery, and while I hope the programme will have a broad impact, we can't go at it alone. We hope, through a combination of gallery events, artist talks, panel discussions, and external collaborations, that we can nurture debate and dialogue. We are interested in a solutions-focused approach, not merely paying lip service to the issue of gender inequality but taking action, supporting female artists, exhibiting and selling their work, and enabling them to sustain their careers as artists.
CM: It is difficult for a gallery or exhibition to accommodate or solve all of these problems, which are institutionally entrenched, and that is why I believe education is the important way to transcend these obstacles. One of the ways the gallery is addressing this is by donating proceeds from sales to a women's charity. This already happened during their participation at Independent New York earlier this year. Leni Dothan, an artist showing in the exhibition, also wants to donate some of the profits from the sale of her works to a charity she is setting up to support intersectional women artists and artists who are mothers. The problem we are addressing is being taken on by individuals and we want to see a bigger institutional awareness of these issues.
Leni Dothan, Mine (2012). Mother, child, knife. 23 sec video in loop. Courtesy the artist.
Catherine, you've worked as an independent curator dealing with patriarchy, feminism, and art history before and after the #MeToo movement. How would you define the zeitgeist of these intersections?
CM: The time is now for these issues to be aired and no doubt there's a general mass appeal both in and outside of the art world. Issues around reproductive rights have been particularly significant in the U.S.A., for example, with a number of states criminalising abortion. This has coincided with my interest in working with artists such as Laia Abril, who has created a photobook titled On Abortion, about women making journeys across borders to have access to reproductive rights. At the moment, there are also more general conversations about women's reproductive choices with IVF, freezing eggs, and having autonomy over these choices. As far as #MeToo is concerned, it's an interesting bubble that I hope doesn't burst, as it feels like there is a momentum around reconsidering patriarchal institutions—or rather, the patriarchal angles of institutions—by shining a light on them. Those of us in education who have access to speaking to a younger generation from different groups observe how they look at our world as being strange for limitations on accepting the diversity of gender, class, race, and sexuality. For me that's really positive. —[O]
[1] Matrescence press release, https://www.richardsaltoun.com/exhibitions/79-matrescence-pv-thursday-14-november-6-8pm/press_release_text/