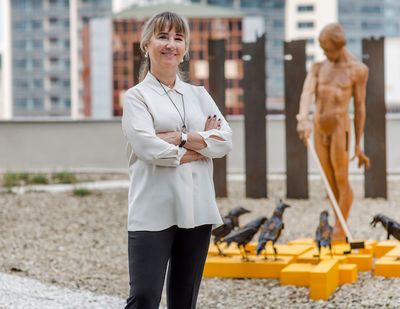 Sevda Elgiz. Photo: Kayhan Kaygusuz
In 2001, Sevda and Can Elgiz founded the Istanbul Contemporary Art Museum. Their mission was to support emerging artists by providing them with a space to show experimental art. As new art institutions opened in the wake of their initiative, the Elgiz' decided their personal collection was vast enough to justify converting the space into a private museum.
It would be dedicated to presenting reconfigurations of their collection under the new name of the Elgiz Museum of Contemporary Art. Today the Elgiz' personal collection continues to form the permanent collection of the Elgiz Museum, holding works by artists such as Gilbert and George, Barbara Kruger, Cindy Sherman, Mehmet Gün and Fikret Atai among others.
Bringing in such notable curators as founding Director Vasif Kortun and Fulya Erdemci, the Elgiz Museum hosts rotating exhibitions of its permanent collection alongside other exhibitions by up-and-coming curators, the occasional solo exhibition and a sculpture space on its rooftop.
Situated in Istanbul's financial district, Maslak, people in the high-rises that surround the musuem's unique space are able to look down on the rooftop sculpture exhibitions, allowing the district's white-collar workers to engage with art even when they're not expecting to. As Sevda Elgiz says, "contemporary art should be of interest to everybody. Even if you don't like it, you can't disregard it."
SW

What compelled you to start collecting art?

SEMy husband is an architect and he made all the buildings around us—in the financial district of Istanbul (Maslak) and the first high-rise buildings were constructed by him. Since he's an architect, he studied art at university and was very much interested in the subject. I studied in Italy, where I learned to love and live with art. And when we got married, he said 'let's go see the exhibitions and see what's going on in terms of art'.

In Turkey, we had plenty of art but it was mostly archaeological art and Byzantine art—not so much contemporary art. There was modern art, but not very young art. So we started to follow new trends thirty years ago, looking more at younger artists. Today they are established artists [laughs]. At the time, we loved collecting Turkish art and then we asked ourselves 'why don't we go out to see what happens in other parts of the world?' and we were invited to the biennales and fairs.

We started making friends at all of the art fairs in Basel, Cologne and elsewhere, and this coming together of collectors allowed us to follow more artists and artworks. Now you have art fairs everywhere. Milan, Miami, London ... in Paris, in the far East ... it's nice because contemporary art became a phenomenon and it's good because contemporary art should be of interest to everybody.

Even if you don't like it, you can't disregard it, and you can't ignore it. So when we started to buy from international artists, we found ourselves with plenty of work and said 'why don't we make a gallery?' There's no narrative to our collection, just a consensus between me and Can. I think all contemporary art is eclectic and not so didactic. We don't have any criteria for buying art: we just love to collect and live around art. For me, it's a style of living.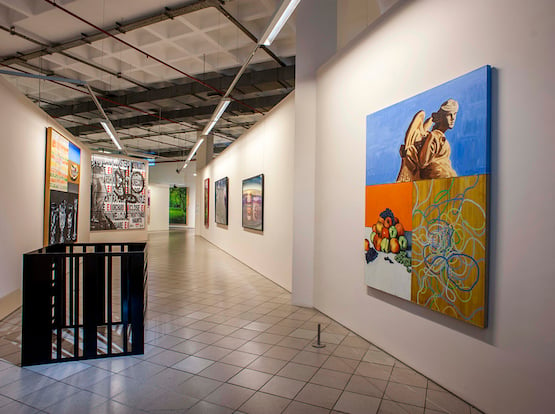 The Elgiz Museum, Istanbul. Image courtesy Elgiz Museum
SW

What kind of works did you pick up early on?

SEVery early in Turkey it was Mehmet Gün, who's now a very well established artist. He made an incredible exhibition in historical sites around Istanbul which was very different to his very conceptual work: it really attracted us, so his works were the first pieces of contemporary art that we bought. Another artist we bought early on was Tracey Emin. To be honest, I wasn't so happy when Can wanted to buy Tracey because I thought it was just a piece of textile (one of Emin's tablecloths, now showing in the Elgiz Museum). But then I loved it: we bought her blankets, her photography later, and she became one of our favourite artists.
Tracey Emin,Sometimes, 2004, Photograph, 123 x 100 cm, Acqusition Date: 2004. Image courtesy Elgiz Museum
Since we were attending a lot of art fairs, we were going to collectors houses and warehouses, their private museums and collections. Can said 'well, in Turkey, contemporary art needs to be supported': only one or two galleries supported contemporary art at the time, and they weren't able to show very conceptual work because they were in the business of selling art, not running a non-profit institution. So we said 'maybe it's our responsibility to start a space' and to create awareness of contemporary art in Turkey. Today there are plenty of non-profit institutions in Turkey.
We founded a two-thousand square meter space called Istanbul Contemporary Art Museum. It was an experimental space for young contemporary artists with no collection exhibitions. It was a very useful project because after these exhibitions, many of the young artists were invited to exhibit abroad. We then became a sort of reference point for Turkish artists and their work (for) visitors coming from abroad to see contemporary Turkish art.
For example, Fikret Atay was a very young artist living in Eastern Turkey, and we invited him to take part in an exhibition and a French gallery saw his work, and this gallery was so interested that they invited him to Paris, and now he's a very popular video artist. He was one of the first video artists in Istanbul and later had a great exhibition at Tate Modern which made us really proud.
So Istanbul Contemporary Art Museum was our first museum to help young Turkish artists. A few years later, when other business families in Istanbul took on the same responsibility (Koç, Sabancı etc) to support and finance these kind of activities we said ok, since they're taking care of these artists, we want to make a home for our collection, and hence, now our museum is now called the Elgiz Museum.
We use half the space for people to curate exhibitions from the collection, whether it be a thematic exhibition or an important artist retrospective, and the other half we use for different exhibitions on the mezzanine level and the sculpture park on our rooftop. So we are collectors—we love to collect—but we also love to give opportunities to young artists to make exhibitions and show their work.
Mehmet (Dennis) Gun, Last Breakfast, 2010, C-Photograph, 157 x 200 cm. Acqusition Date: 2011. Image courtesy Elgiz Museum
Every six months we rotate the exhibitions upstairs. The terrace isn't too high, but all the high-rise buildings around us look down on to the terrace so the art is under the peoples eyes. It's nice because when we made it, sculpture hadn't really been supported because in Turkey's (main) religion, figures are not so accepted, but now in these modern times, the universities even have faculties for sculpture and conceptual art, and are really giving support to this kind of art.
SW

How have you seen Istanbul evolve since you started working with art?

SEFifteen years ago, we saw that contemporary art was becoming very important worldwide and Turkey didn't really support this development. We were the first private people to promote contemporary art here. When we started to make exhibitions for contemporary artists—we were buying video works, conceptual works, abstract painting—even our friends were questioning why we were buying such things.

But now, and over the past fifteen years, all the businessmen have wanted to build up their collections. They wanted to open up a space and share their collections with the public and all the young people began to love coming to exhibitions in the museums and galleries. So in these fifteen years, contemporary art has developed incredibly.

The artists are very self-confident now. They don't make work to sell it: they make it because they believe in what they do. Istanbul now has a few non-profit institutions where artists can exhibit their work without commercial expectations and experiment. The two international fairs we have here, Art International (September organised by Angus Montgomery now in its third year) and Contemporary Istanbul (November), see a lot of important galleries come to Istanbul to take part. And then we have the Istanbul Biennial, whose standard I believe is on par with Venice and São Paulo.
Azade Köker,Exploded Still-Life, 2010, Mixed technique, video installation, 270 x 348 cm, Acquisition Date: 2010. Image courtesy Elgiz Museum
SW

Which artists are you following closely at the moment?

SEAt the moment there is a young Turkish artist, Mahmut Aydın, a sculptor whose work we love. On the international level, we love Sean Henry.
SW

Tell us about the current exhibition, Plaza Worker?

SEIt's a collection show by our curator, Haşim Nur Gürel. It's a sculpture exhibition ... a different point of view on Maslak's plaza workers and their various positions. Sean Henry's plaza worker starts the exhibition, and the plaza worker is particularly important because Maslak has many plazas, and Maslak is also known for its white-collar workers, so it's somewhat of an ironic take on the plazas and the area.

We actually used to have Sean Henry's sculpture in our home so we feel very homely here ... this museum is very much a private museum and we want the public to feel as though they're at home here too. When I receive people here, it's like I receive them in my home—because our decisions in buying art are so personal, and as part of a family business, we are very sentimentally related to everything you see here.

I share with people my vision: it's not just a business but also a part of my personality as well. To buy art is an addiction. We don't think we'll ever stop. Art helps people come together: it's a bridge to modern Turkey. Our mission is to bring modern Turkey to the world. —[O]