Soda_Jerk (Dan and Dominique Angeloro). Courtesy the artists.
Soda_Jerk are a New York-based art duo made up of Australian siblings Dan and Dominique Angeloro. They are known for their mash-up video works, which sit between speculative fiction and documentary. Their sample-based practice originated in Sydney in 2002 and comprises films, video installations, cut-up texts, and lecture performances.
In 2016, Soda_Jerk were awarded the Ian Potter Moving Image Commission (IPMIC) to develop a new film called TERROR NULLIUS, which they describe as 'a political revenge fable which offers an un-writing of Australian national mythology'. The award is a joint initiative of The Ian Potter Cultural Trust and the Australian Centre for the Moving Image (ACMI), aimed at supporting mid-career Australian artists who work in moving image. Australia's funding landscape offers considerable support for emerging artists, yet it can be difficult for mid-career artists to receive much support, funding or otherwise. The Ian Potter Moving Image Commission is therefore a crucial asset to the creative development of Australian mid-career artists. The prize combines an AUD 100,000 fee gifted by The Ian Potter Cultural Trust, alongside in-kind curatorial and production support from ACMI.
Soda_Jerk, TERROR NULLIUS (2018). Trailer. Courtesy the artists.
However, Soda_Jerk's reception of the award was marred by controversy. Five days prior to the much-anticipated premiere of TERROR NULLIUS, the artists were notified that members of the Ian Potter Foundation's board had been offended by the politics of the work and wanted to disassociate with the project. (The full synopsis of the work is as follows: 'Part political satire, eco-horror and road movie, TERROR NULLIUS is a world in which minorities and animals conspire, and not-so-nice white guys finish last. Where idyllic beaches host race-riots, governments poll love-rights, and the perils of hypermasculinity are overshadowed only by the enduring horror of Australia's colonising myth of terra nullius.') The days following turned into a media storm, with the Ian Potter Foundation releasing a public statement saying that TERROR NULLIUS was 'a very controversial piece of art'. Despite all of this, ACMI did not waver in their support and the launch event went ahead as planned on 20 March 2018, but not before the Ian Potter Foundation asked to have their logo removed from the project, leading the artists to do a total film re-export in the days leading up to the premiere.
After its launch, TERROR NULLIUS entered a worldwide tour, screening in film festivals across Australia, New Zealand, Europe, and North America, as well as institutions including Anthology Film Archives New York, Museum of Contemporary Art Chicago, Wexner Center for the Arts, City Gallery Wellington, and the Australian National Film and Sound Archive. In this conversation, the artists talk about the film, the circumstances surrounding its release, their wider practice, and what it means to be artists operating with a political edge in Australia today.
Soda_Jerk, TERROR NULLIUS (2018). Still. Courtesy the artists.
TM

Your practice revolves around the politics of images and their dissemination, which connects with the use-value of such images in a post-internet landscape. In that respect, your practice reminds me of artists such as Hito Steyerl and Slavs and Tatars, who make use of historical reference points and popular culture to create lecture performances, films, and more. Which artists do you admire and why?

SJAround 2010, when we moved to Berlin, there was this pretty intense fetishisation of celluloid within the visual arts, and a sober and turgid quality around discourses of the image archive. You couldn't swing a cat in a gallery without hitting an 8mm projector or a slide carousel. And yet thinkers like Hito Steyerl and Harun Farocki were out there on a completely divergent tangent, interrogating the collapse of image culture into the very fabric of reality, and the profound reconfiguration of life under the emerging regime of the digital image. These kinds of concerns were also central to the community of artists we were embedded in at the time, which included Aleksandra Domanović, Oliver Laric, Erik Bünger, and Constant Dullaart.

This question of how images can be intercepted or militarised in strategic ways has always acted as an attractor to the kinds of artists we're drawn to, like the incredible Ojibway filmmaker Adam Shingwak Khalil, who turned us onto the text 'Accomplices Not Allies'. This was seminal in our thinking around the representational politics of TERROR NULLIUS. Or Craig Baldwin, the OG of found footage filmmaking, and our dear mate and mentor. For us, Craig is not only a master of bent documentary forms; he has also taught us that even in late apocalyptic neoliberalism it's still possible to live the art and keep the fight.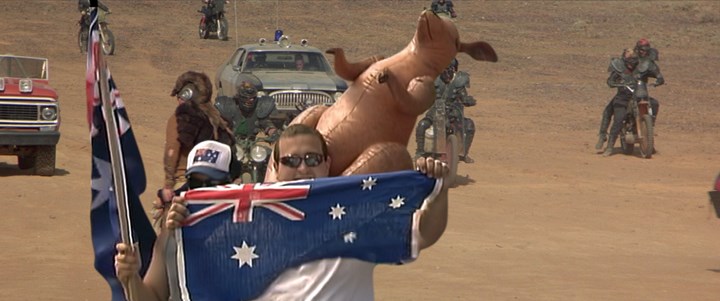 Soda_Jerk, TERROR NULLIUS (2018). Still. Courtesy the artists.
TM

How long had your ideas for TERROR NULLIUS been brewing?

SJAlthough TERROR NULLIUS had haunted our studio practice for more than a decade, by 2016 we were feeling a growing urgency to respond to the increasingly sinister turn in Australian politics. Fundamentally the film comes from a place of rage, of being truly pissed that any kind of social justice is so far removed from the national agenda. And to be honest, that fury has not subsided. We were gutted recently when the federal budget allocated AUD 50 million to a redevelopment project that included a memorial to Captain Cook. Instead of doubling down on the complex and urgent work of decolonisation, our elected government is still dressing up colonial genocide in expensive monuments. How do we even begin to reckon with something like that?

This was really the idea with TERROR NULLIUS—to create a vigilante fable of social justice that radically inverts the dominant relations of power, privilege, and oppression. It might be a small win in the scheme of things, but maybe sometimes you just need to collectively watch as a misogynist is devoured by a crocodile, or a bicentennial celebration is ravaged by flesh-eating sheep.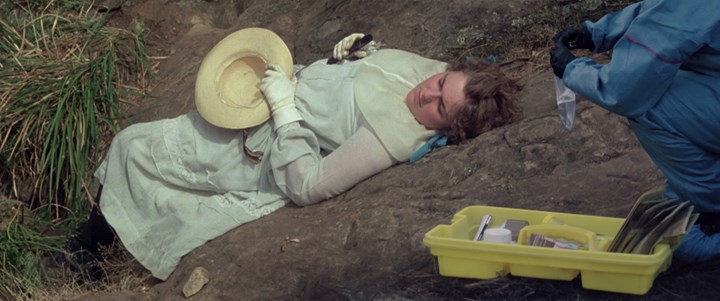 Soda_Jerk, TERROR NULLIUS (2018). Still. Courtesy the artists.
TM

Can you elaborate on the content of the film and its relationship to Australian politics?

SJAlong with the whole blunt and bloody revenge fable dimension of the project, it was also important for us that TERROR NULLIUS would directly engage with specific histories. Our earliest treatments for the film were maps of historical vectors that we used as touchstones for shaping the narrative. Things like Gough Whitlam's 1975 dismissal, the Tampa Crisis, the celebrations of the Australian Bicentenary in 1988, the rise of Pauline Hanson, the 1992 MABO decision, and the marriage equality postal vote. By folding these events into the history of Australian cinema, we were interested in creating a form of rogue documentary that might reconfigure the past and present in potentially more productive ways.

There's also already so much astute national critique going on within Australian cinema. Just think of Wake in Fright (1971), Down Under (2016), Mystery Road (2013), or Lucky Miles (2007). These films already have a complex and fascinating relationship with Australian political history and cultural mythology. So, for us it wasn't so much a matter of working against this rich cinema history than working in solidarity with it.
TM

You have spoken about the driving motivation for TERROR NULLIUS being an urgent need to respond to the political landscape of our times. How do you think this work sits within your wider practice to date?

SJOur practice has always been responsive to the kinds of questions that are emerging for us at any particular point in time, whether that's personally or politically. Our 2006 narrative feature Hollywood Burn is another counter-myth of resistance, a kind of call to arms against the oppressive cultural control of copyright law. And our Astro Black cycle (2007–ongoing) orbits the critical discourses of Afrofuturism and the sociopolitics of Black Atlantic sonic culture. But other projects have come from a more personal place. When we returned to our 'Dark Matter' series in 2009, it was from a period of significant trauma for us, having been involved in one of the 2008 terrorist incidents in Mumbai. Of course, our 'Dark Matter' works are about many things: time and media, gendered discourses of ageing, and the hauntology of cinema. But for us, those works are also shaped by a certain melancholy and concern with mortality that troubled us at that time.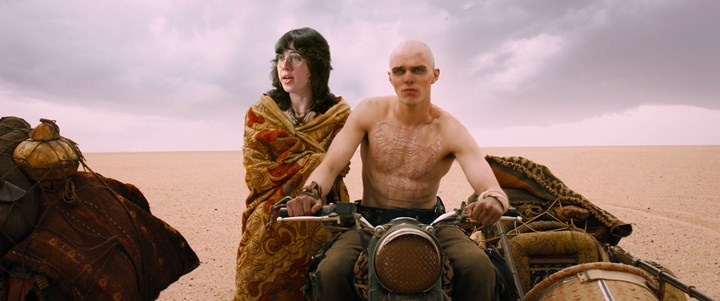 Soda_Jerk, TERROR NULLIUS (2018). Still. Courtesy the artists.
TM

I understand TERROR NULLIUS includes a sample by Brisbane-based Indigenous artist Archie Moore. Can you explain and extend upon this layer of the work?

SJThat sample occurs in the opening scene of TERROR NULLIUS, where the two children from Nicolas Roeg's film Walkabout (1971) bail on their father, who appears unmoved by news of Whitlam's dismissal on the car radio. As they are leaving, a young boy takes a spray can and graffitis an Aboriginal flag with a yellow anarchy symbol onto the side of their black Volkswagen. This samples Archie's seminal artwork Aboriginal Anarchy (2012), which was originally part of a collection of ten flag paintings in which he replaced the yellow circle of the Indigenous Australian flag with alternate political symbols representing diverse communities of sex, religion, and ideology. For us, this sampling is not only an homage to the work of a friend whose practice and politics have informed our own, but also creates an early conceptual signifier in the film for the kind of intersectional politics that are at the heart of TERROR NULLIUS.
TM

Partial support for this commission was removed at the eleventh hour—what was the reasoning behind this decision?

SJJust days prior to the premiere at ACMI, we were told that members of the Ian Potter board had been offended by the politics of TERROR NULLIUS and the Foundation wanted to cease any association with the project. We were requested to re-export the film with their logo removed as well as all traces of the commission from the film, the exhibition, and any future presentations of the work. Despite ACMI's deep financial entanglement and ongoing commitment to the Ian Potter Foundation, they did not waver in their support for TERROR NULLIUS, which is to their awesome credit.

Some people have assumed the Foundation wasn't fully aware of the film's political content from the outset of the commission. But there was absolutely no Trojan Horse manoeuvre on our part. The project that we initially proposed was precisely the one that we delivered, and we also shared extensive progress reports and video excerpts along the way. In fact, throughout the entire 18-month commission period, the staff we dealt with at the Ian Potter Foundation were super enthusiastic about the project.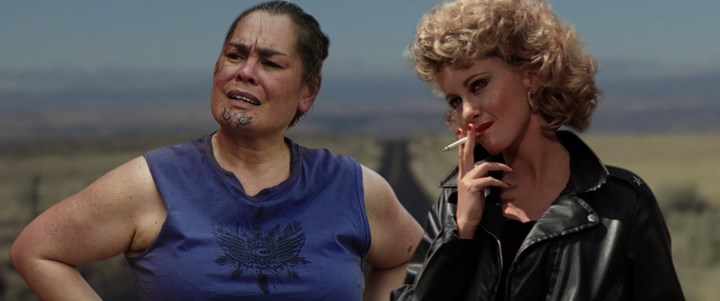 Soda_Jerk, TERROR NULLIUS (2018). Still. Courtesy the artists.
TM

What is your subsequent perspective on this experience when thinking about it now?

SJThe whole thing feels like a bit of a riddle now. On one hand it seems surprising that such a staunchly conservative organisation would fund a project like TERROR NULLIUS, but on the other hand it completely fits with so many things we're witnessing right now. In these heightened political times, it seems like every organisation and their dog is chasing after the counter-cultural glow of political art. They are more than happy to share in the critical respect they're given for their 'brave' decision-making, but after the initial honeymoon wears off they inevitably start to worry about the potential risks involved with the broader reception of the work.

Of course there are risks involved with political art; there has to be. Otherwise art would be indistinguishable from the commodification of politics that's everywhere in contemporary advertising: fashion models holding protest signs or Pepsi rebranded as revolution. We feel that for an artwork to be political it has to have a potentially disruptive dimension, or a capacity to unsettle or intervene. Given this, it's unsurprising that the provocations posed by political art do not always fit comfortably with an institution's desire to maintain the broadest public appeal and the support of their sponsors.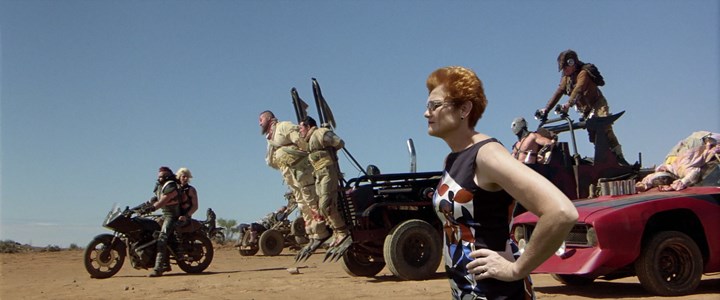 Soda_Jerk, TERROR NULLIUS (2018). Still. Courtesy the artists.
All we can hope is that artists don't let this increased climate of institutional risk aversion impact the kind of work they want to create. That's why an artist like Richard Bell is such a hero for us, because no matter how esteemed the opportunity is, he's uncompromising in his politics and vision, and always stays with the trouble.
TM

What do you think Australian curators, commentators, art professionals and other stakeholders supporting artists could do to better support work that is perceived as challenging?

SJWe're certainly not experts in the inner workings of stakeholders, so can only ever offer our perspective as artists. But we do take a pretty stark position on questions of censorship. And honestly, it's been troubling recently to witness the way that the idea of censoring artworks has been gaining momentum amongst our peers and ideological allies on the Left. While we can totally appreciate the incredible complexities of specific scenarios, often relating to representations of race, we feel deeply vexed about the long-term implications of being complicit in forms of cultural erasure. Instead of calls for censorship, what we'd really like to see emerge is a more proactive engagement with strategies of reframing: conversations, counter-actions, performative interventions, radical recontextualisations, on-site protests, and boycotts.
Soda_Jerk, studio view. Courtesy the artists.
TM

When I watched the film at ACMI I witnessed a wide range of audience responses, from evil cackling to sing-a-longs to morbid silence. Have you sat in with audiences while they watch the work? If so, what are some of the most memorable reactions that you have witnessed?

SJWe've always been compelled by the idea of collective viewing experiences, especially those that welcome bad behaviour like grindhouse, or the vaudeville tradition of the peanut gallery. This was on our mind as we were making TERROR NULLIUS, so it's always cool to hear that audiences have been audibly cheering, gasping, laughing, and heckling. We've sat in on some awesomely engaged audiences, but honestly, the one we really wish we could have experienced was when it first screened for the Ian Potter Foundation board members. We imagine that might have been pretty memorable.
Soda_Jerk, studio view. Courtesy the artists.
TM

What is next for Soda_Jerk following the TERROR NULLIUS global tour?

SJIt's such a ridiculous privilege to travel and share work, but we are also artists that love to nerd hard and deep into studio practice. So we're pretty psyched about getting back to our video bunker to recommence work on Netspolits, our next feature-length project. It's a film we initiated five years ago in response to the Snowden leaks of 2013, and has begun to take shape as an operatic cypherpunk thriller. Right now just feels like a truly pivotal moment, where the vexed collision of net policies and politics are coming to a head. So it feels urgent to be working on something that engages with the profound impact the internet has had on the constellation of collectivity, political extremism, the news media, and the nation state. And all the better if it can combine critical rigour with 3D dolphins, anime, deep sincerity, dank memes, cyberfeminist manifestos, nineties musical numbers, and Arnold Schwarzenegger. —[O]