Feature
Art Dubai: The Kids Are Alright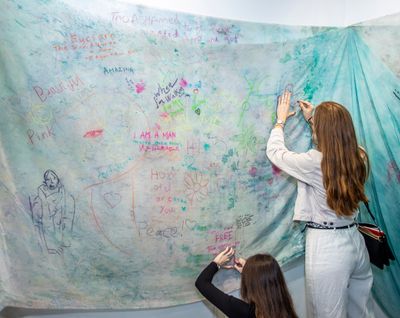 Exhibition view: Banat Collective, UAE Now, Art Dubai (21–23 March 2019). Courtesy Art Dubai. Photo: Photo Solutions.
Apparently, the Dubai economy has slowed recently, for a number of reasons. There is the issue of severed ties with Qatar, for one; and the war in Yemen—a conflict whose violence the Pope decried on a recent trip to the U.A.E., during which he delivered mass to 135,000 expatriate Catholics in Abu Dhabi—'an event', reports Reuters, 'with no precedent in the peninsula'. In response, foreign affairs minister Anwar Gargash tweeted his hope that 2019 would be the year of peace in Yemen, with the U.A.E. currently celebrating an official year of tolerance.
Art Dubai has not been left unaffected by recent changes. In 2018, the Abraaj Group, the fair's main sponsor, collapsed spectacularly; that year, the fair's director Myrna Ayad departed after completing her second edition. With all that in mind, there seemed to be a lot riding on the fair this year, which took place at its usual location, Madinat Jumeirah, from 21 to 23 March 2019, with 92 galleries from over 40 countries. This was the first edition overseen by the co-leadership of artistic director (since 2015) Pablo del Val and recently appointed international director Chloe Vaitsou (formerly head of audience development at Frieze).
Alexandre da Cunha, 'Affairs' (2019). Exhibition view: Galeria Luisa Strina, Residents sector, Art Dubai (21–23 March 2019). Courtesy Art Dubai. Photo: Photo Solutions.
In general, the fair felt like a mission statement: an expression of Art Dubai's self-proclaimed position as the world's most global art fair, grounded in the context of the U.A.E., connected with its associated regional geographies, and cognisant of the wider Global South. This branding—reflected in the fair's headcount of 500 participating artists representing 80 nationalities—is pinned to Dubai's multicultural make-up, not to mention the emirate's position as an international trading hub; a site of transaction. The Residents sector, returning after its launch in 2018, embodied this transnationalist ethos of exchange. Curated by the founder and director of the São Paulo art space Pivô, Fernanda Brenner, and Abu Dhabi-based curator Munira Al Sayegh, 12 artists from Latin America artists showed works created during recent residencies in the U.A.E. with their respective galleries in Hall 3.
Resident artists tapped into the contextual complexity in different ways. Alexandre da Cunha's 'Affairs' series (2019)—a collection of dyed towels depicting national flags (including Jamaica and the United States) and corporate logos (from Adidas to Playboy)—covered every wall in São Paulo's Galeria Luisa Strina's booth; a cross-hatching landscape of the corporate, cultural, and geo-political. Luciana Lamothe filled the booth of Buenos Aires' Ruth Benzacar Galería de Arte with large wooden panels kept upright by metal piping cutting through their surfaces to create sharp wooden teeth.
Work by Wanja Kimani on view at Guzo Art Projects, Bawwaba sector, Art Dubai (21–23 March 2019). Courtesy Art Dubai. Photo: Photo Solutions.
This year also saw the introduction of Bawwaba (Gateway), a new sector presented in Hall 1. Ten solo presentations curated by French-Cameroonian curator Élise Atangana engaged with narratives of colonialism. Wanja Kimani's body of work at Addis Ababa's Guzo Art Projects, for instance, is based on Saidiya Hartman's text, 'Venus in Two Acts', which explores the absence and presence of a female black slave in the archive of Atlantic slavery; Venus and I (2019) is a sculpture of two ball and chains, with a resin orb containing a piece of crumpled paper replacing an iron ball. At Jhaveri Contemporary, Shezad Dawood's presentation charted U.S.-Pakistan relations since partition in 1947, and included a spray-painted model of the former U.S. Embassy in Karachi, The American Center (2019). The booth extends from Encroachments, Dawood's project currently on view as part of Sharjah Biennial 14 (SB14) (7 March–10 June 2019).
Other SB14 artists spotted at the fair included Stan Douglas at Victoria Miro, and Meschac Gaba at In Situ – Fabienne Leclerc, with video documentation from a December 2010 procession staged at MAVA-Musée d'art de la vie active echoing the procession Gaba staged for SB14's opening, Perruques Architectures Emirats Arabes Uni. Otobong Nkanga was also showing with the gallery: her multi-channel sound installation for SB14, produced with Emeka Ogboh, Aging Ruins Dreaming Only to Recall the Hard Chisel from the Past (2019), was awarded the Biennial's main prize.
Meschac Gaba, Perruques Architectures Émirats Arabes Unis (2019). Processional performance. Performance view: Sharjah Biennial 14: Leaving the Echo Chamber (7 March–10 June 2019). Courtesy Sharjah Art Foundation.
A redesigned floor placed the Modern and Contemporary sectors side by side in Hall 2 for the first time, with 11 galleries forming Modern. These included Elmarsa's pairing of classic, mid-20th century cubist paintings by French-Lebanese artist Georges Albert Cyr with still life compositions and vistas by French-Tunisian Pierre Boucherle; and Tafeta's selection of paintings, sculptures, and works on paper, including Ben Osawe's chalk studies of his own sculptures from 1988 and 1989, and small figurative works on paper by Sudanese master Ibrahim El-Salahi.
There was strong South Asian representation in Modern, with three galleries with spaces in New Delhi and/or Mumbai. DAG focused on Shanti Dave's textured oil and encaustic on canvas abstractions from between the 1950s and 70s, while Dhoomimal Gallery spotlighted a context-appropriate acrylic on canvas portrait from 1976 of the Emir of Dubai by F.N. Souza, plus an undated M.F. Husain still life showing the ochre shapes of a philosopher's bust, gas lamp, and snake emerging from a closed book, Let History Cut Across Me. Husain was also featured at Sanchit Art's group show of such luminaries as G.R. Santosh, with an untitled 1968 oil on canvas offering a more figurative example of the artist's distinctive geometry: an abstraction of a woman's body marked by two solid orange lines outlining the torso, with a white snake rising up the middle of the frame, intestinally curving around the belly.
Exhibition view: Gallery One, Modern sector, Art Dubai (21–23 March 2019). Courtesy Art Dubai. Photo: Photo Solutions.
Also showing in Modern was Ramallah's Gallery One, with a series of prints from 1968 to 1985 by Abed Abdi, Walid Abu Shakra, Kamal Boullata, and Ahmad Nawash, ranging from geometric abstractions to silverprint photographs, presented alongside a textured trio of Sliman Mansour landscapes from 1990 to 2008, and a line-up of canvases by Nabil Anani, Bashir Sinwar, and Laila Shawa. Shawa's paintings included the oil on canvas still life, Cactus, and the oil on board Window; both 1968 and sharing a colour palette, but rendered in completely different styles. The latter's complex composition—a mosaic of figures and faces foregrounding circular tiles rendered in gradating shades of shadowy creams, browns, greens and pinks—was reminiscent of Saudi pioneer Abdulhalim Radwi's more brightly coloured acrylic on canvas Creation (1989) at Hafez Gallery, albeit with a more intricate matrix of dissecting lines. Two figures marked out in black stand before a loose, geometric landscape built up from an explosion of colourful urban and organic shapes rendered into patterns by waves of intersecting trails of paint.
Intersections continued in the Contemporary sector, where Hafez Gallery showed, as part of its participation there, Rashed Al Shashai's Gulf Futurist updates on Jeff Koons' 'New Hoover' series from the 1980s in the 'Amygdala' series (2019): household goods, like a radio and teapot, cut in half and encased in dichroic light boxes. Time and geography, not to mention art histories and styles, overlapped throughout Contemporary, with works ranging from pioneering painter and scholar Samia Halaby's bright, abstract canvases at Ayyam Gallery, to Chen Wei's moody 2015 inkjet ruminations on disco culture at Ota Fine Arts.
Exhibition view: Samia Halaby at Ayyam Gallery, Contemporary sector, Art Dubai (21–23 March 2019). Courtesy Art Dubai. Photo: Photo Solutions.
Dubai's galleries presented balanced curatorials across the board. Lawrie Shabibi staged a cross-generational conversation between two Emirati artists: Mohammed Ahmed Ibrahim, one of the five founding members of The Flying House collective, and Sharjah/London-trained Shaikha Al Mazrou. Ibrahim's playful sculptural assemblages made from papier mâché and found objects and canvases that repeat the same form of a seated body with different colour combinations, offered a counterpoint to Al Mazrou's accomplished wet-coated steel sculptures of cuboid and circular shapes that echo the form paintings of Sol LeWitt, albeit with crunched edges.
Similarly, Green Art Gallery showed four of Maryam Hoseini's mixed media on panel paintings of stacked and headless bodies suspended in abstract, geometric space—from the series 'Strangers from Right to Left' (2019)—with Seher Shah and Randhir Singh's set of nine cyanotype prints of Dhaka Library (2018), and two sculptures by Kathleen Ryan, including Hard Water (2019): large iron callipers, hanging from a hook, holding a glass orb.
Exhibition view: Lawrie Shabibi, Contemporary sector, Art Dubai (21–23 March 2019). Courtesy Art Dubai. Photo: Photo Solutions.
At The Third Line, Farah Al Qasimi's inkjet photograph of a wall imprinted with a fading McDonald's sign, Old McDonalds (2014), connected to the artist's impressive solo presentation in one of the three artist rooms at Jameel Arts Centre (Seher Shah & Randhir Singh and Hemali Bhuta occupy the other two rooms), which focuses on Al Qasimi's photographic studies of Dubai's mega-mall Dragon Mart. Nearby, Shirin Aliabadi and Farhad Moshiri's lambda print on photographic paper, We Are All Americans (2006), injected some brash politics into the show: a studio shot of household cleaning items printed with text on their packaging that lines up to read, 'Global Wild West / Shoot first / Make friends later'.
Sardonic gestures continued at Zilberman Gallery, with Heba Y. Amin's multimedia project Operation Sunken Sea (2018), shown at the 2018 Berlin Biennale, fitting seamlessly into the fair and its context by performing a progressive, internationalist rhetoric that drives a contradictory modernising politics. The project is predicated on staging 'a large-scale infrastructural intervention unparalleled in scale'—'the draining and rerouting of the Mediterranean Sea to converge Africa and Europe into one supercontinent'. It includes a short video of the artist delivering a speech as a dictator, and a portrait of her in character, titled Portrait of Woman as Dictator I (2018). Shown on Zilberman's corridor-facing wall was Alpin Arda Bağcık's Ricus (2018): six black and white painted copies of Salvator Mundi, the disputed Da Vinci painting that sold for nearly half a billion U.S. dollars in 2017 to the department of culture and tourism in Abu Dhabi at a Christie's New York auction. The images are in various states of copied clarity; perhaps a reference to the painting's contested authenticity, and the trail of hands through which it has passed.
Exhibition view: Bait 15, UAE Now, Art Dubai (21–23 March 2019). Courtesy Art Dubai. Photo: Photo Solutions.
Of course, it is easy to dismiss the U.A.E. and its scene because of scandals surrounding money; something that Dubai knows all too well. But such dismissals often do not acknowledge the actual work being done in the realm of contemporary art, and in the face of well-documented issues and challenges.
Cue UAE Now, shown in Hall 3, also curated by Munira Al Sayegh: a spotlight on five independent, artist-run platforms operating across the U.A.E.—Bait15, Banat Collective, Daftar Asfar, Public Art Collective (PAC), and Jaffat El Aqlam. Each project is a resolutely ground-up affair, and offers an invigorating glimpse into an evolving artistic ecology. Jaffat El Aqlam, for example, is an exciting, self-sustaining online publishing initiative. The collection of zines on display in the booth—both self-published and collected from fellow zinemakers—included Sofia Niazi's What Animals Thinks of People (one page shows a drawing of a cat next to the quote, 'why must we always centre humanness?'), and Jasjyot Singh Hans' excellent riso-printed fashion look-book, Sikh Ladies Sick Fashion.
Exhibition view: Jaffat El Aqlam, UAE Now, Art Dubai, (21–23 March 2019). Courtesy Art Dubai. Photo: Photo Solutions.
A programme of talks and performances organised for UAE Now was staged in the minimalist white-carpeted booth of Bait15, an Abu Dhabi-based artist-run studio and exhibition space founded in 2017 and housed in the former home of popular Emirati actor of the 1970s and 80s, Mohammed Al Janahi. (Bait15 also provided studio space for the fair's Residents programme.) Bait15's booth was a well-curated affair; it showcased—aside from a large, white mattress positioned in the centre of the space—works by artists Ahmed Bouholaigah, Alaa Edris, Nadine Ghandour, Mohamed Al Mazrouei, and Zayed Temash, whose wall sculpture Lather, Rinse, Repeat (2019) consists of glycerine casts of body products resting on white shelves.
The group exhibition Mirror Mirror on the Wall: Contemporary Art and the City was also staged in Hall 3. It was organised by Campus Art Dubai's seventh session (CAD 7.0): a half-year seminar and residency programme for young U.A.E.-based artists. Dima Srouji, Augustine Paredes, Mohamed Khalid, and Jumairy explored how young artists relate to Dubai and vice versa. Jumairy showed a framed gold record plaque celebrating the artist's 2017 album Haemophobia, copies of which were handed out during the 2017 Abu Dhabi art fair by performers who engaged fair-goers in prayer with Jumairy's lyrics.
Exhibition view: Campus Art Dubai (CAD 7.0), Art Dubai (21–23 March 2019). Courtesy Art Dubai. Photo: Photo Solutions.
As part of Jumairy's involvement in the CAD 7.0 show, the artist opened up a platform for contemporaries Bu Yousef and Maryam to show works that similarly demonstrated an impressive ability to distill coy, contextual critique into sleek, ambiguous form. Yousef's The Specifications of the Correct Car Cover (2019) comprises posters with car cover specifications printed in black Arabic and English over a blue sky, including 'It must cover the whole body of the car' and 'It should not be attractive to the eyes'. These were stacked next to a digital video shown on a small screen hung low on one wall, showing a car covered in a black veil parked in an uncanny valley blue-sky room. Next to this, Maryam showed five artefacts from the fictional Al Hamra National Museum in a slim, black vitrine, including the only known photograph of 'Her Royal Highness Queen Maryam' (a passport photograph with an face seemingly digitally imposed over another), and her personal fruit bowl.
UAE Now and the CAD 7.0 exhibition offered a glimpse into what is brewing among the generations that are emerging onto the scene, and who will no doubt contribute to its evolution—an example of how art in the U.A.E. is developing, with thrilling, coded results. (Claire Tancon's curatorial for Sharjah Biennial 14, and the exhibition as a whole, being another case in point.) Another example is Alserkal Avenue, a commercial hub of galleries and foundations, including Grey Noise, Isabelle van den Eynde, and the newly launched Ishara Art Foundation, not to mention the Rem Koolhaas-designed exhibition space run by the Avenue, Concrete. Alserkal recently announced the launch of its non-for-profit foundation to support the development of the arts in Dubai through residencies and educational programmes. All signs of change. —[O]