Feature
Gallery Weekend Beijing 2019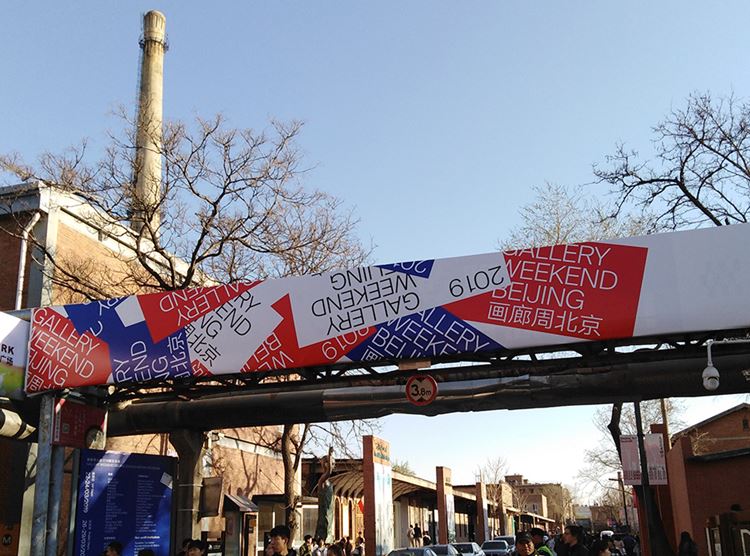 Gallery Weekend Beijing 2019 (22–29 March 2019). Photo: Tessa Moldan.
Beyond the fanfare of a gallery weekend, there remains the perennial question: to what end does such an event serve a city? During this year's Gallery Weekend Beijing (22–29 March 2019), this question was raised during a snippet of the inaugural Beijing Art Summit (22–24 March 2019) on a chilly Saturday morning, staged at Ullens Center for Contemporary Art and curated by Mari Spirito.
The panel 'High and Mighty: Big Vision and Urban Regeneration' was moderated by Frieze Deputy Editor Amy Sherlock, with speakers Wang Yanling, CEO of Seven Star Group and founder of 798 Art Zone; architect Alexis Şanal; and Ma Yansong, founder and principal of MAD Architects, Beijing. The discussion turned to art's function within—and capacity to contribute towards—the living culture of a city, as elaborated through various case studies, including Wang Yanling's telling of 798 Art Zone's success story. The ex-factory complex—and core location for Gallery Weekend Beijing—was taken over by Wang in 2002 and handed over to artists, developing organically in format and function before its rapid establishment as the country's pre-eminent arts hub, and a template for many of its kind.
Olivier Christinat, Figurations II (2016). Exhibition view: Civilization: The Way We Live Now, Ullens Center for Contemporary Art, Beijing. (9 March–19 May 2019). Photo: Tessa Moldan.
At Ullens Center for Contemporary Art—one of the 27 participating art platforms in GWB—Civilization: The Way We Live Now (9 March–19 May 2019), explores the human endeavours in science and technology that are creating an increasingly unified, global world. A collection of over 250 photographs by more than 120 individuals from across Asia, Australia, Africa, and the Americas have been curated by William A. Ewing and Holly Russell in collaboration with the Foundation for the Exhibition of Photography and the National Museum of Modern and Contemporary Art, Korea. Eight thematic sections are grouped according to the defining characteristics of human life in the 21st century—including urbanism, social relationships, and structures of order and control. A rigorous presentation, the exhibition provides an accessible and informative means of reflecting on present and future conditions.
Peter Bialobrzeski, Paradise Now-18 (from the series 'Paradise Now') (2008) (detail). Photo: Tessa Moldan.
Of similar futurity was Hyundai Motorstudio Beijing's group show Quasi-Nature—Bio Art, Borderline and Laboratory (22 March–16 June 2019), which considers the cross-sections of art and science, ranging in themes from biotechnology, coexistence, and the application of the laboratory format to artistic production. In Ren Ri's sculpture Yuansu II (2013), for instance, the artist-beekeeper placed a queen bee in the middle of a box, waiting seven days before rolling a dice to determine the box's next position, and thus the shape of the sculpture, forming part of the artist's long-term inquiry into the relationship between humans and nature. The result is an alien-looking structure connected to each side of the transparent, plexiglass case, rendering its pattern and detail visible.
Quasi-Nature mirrored Hyundai Motorstudio Beijing's impetus overall, as a platform where environmental sustainability, contemporary art, and technology converge. Its architecture alone is a manifestation of this. The ex-factory building incorporates an air purification unit attached to a solar chimney, which ventilates the building passively by absorbing energy from the sun, and subsequently returns the purified indoor air to the city.
Ren Ri, Yuansu II (2013); Vivian Xu, The Silkworm Project (2014–2019) (left to right). Exhibition view: Quasi-Nature—Bio Art, Borderline and Laboratory (22 March–16 June 2019).
By bringing in other fields of knowledge, art can provide more cohesive reflections on humanity, and greater accessibility. This humanistic impulse was expressed at Galleria Continua, with an exhibition of photography and video by the late Leila Aloui (Ya Rayah, 23 March–2 June 2019), a French-Moroccan documentary photographer and video artist who died in an attack by Al Qaeda in Burkina Faso in 2016. This is the first exhibition of Aloui's work in China, and her journalistic practice is framed at the gallery through a selection of her most important projects, including the early 'No Pasara' (2008)—a series of photographs that capture the yearning of Morrocan youths for a 'near yet distant Europe.'
The humanism of Aloui's practice is distilled in her portraits, such as 'Les Marocains' (2010), for which she travelled through Morocco, capturing the country through its inhabitants. Each portrait is taken against a black backdrop, identity expressed through colours and details of clothing, along with the lines and expressions on each individual's face—rendered in full force along the huge walls of Galleria Continua's main hall.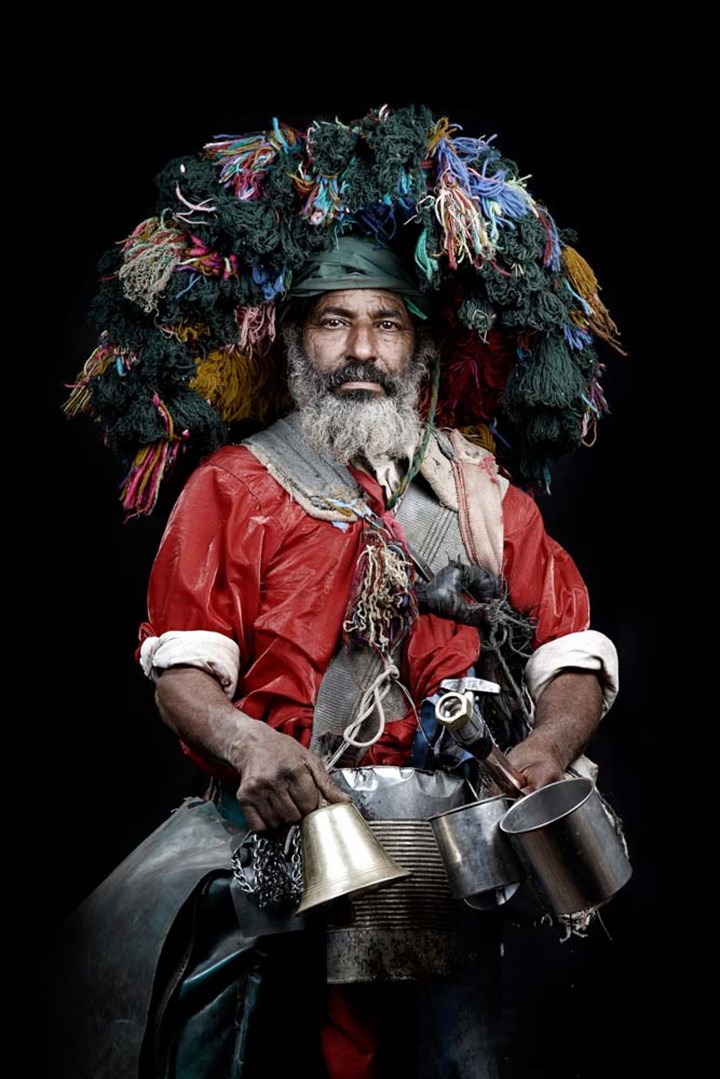 Leila Aloui, Souk de Boumia, Moyen-Atlas (from 'Les Marocains') (2011). Lambda print mounted on Dibond. 120 x 80 cm. Courtesy Galleria Continua.
The stamp of 'first exhibition in China' is frequently used as a certificate of quality throughout 798—particularly during Gallery Weekend Beijing. At PIFO Gallery, Franz Ackermann debuts in the country with a series of ecstatic, ceiling-high murals and large-scale paintings of wandering forms and colours, as curated by Thomas Eller (21 March–27 April 2019). Inspired by his travels across Hong Kong, Manila, Jakarta, Singapore, and beyond, the artist takes visual components from the urban environment and reconstructs them as immense, fragmented fields. At M Woods, Richard Tuttle's first Chinese museum survey, Introduction to Practice (16 March–2 June 2019) takes place alongside a smaller showcase at Pace Gallery (Double Corners and Colored Wood, 16 March–27 April 2019). Curated by Victor Wang, Introduction to Practice comprises 100 of the American postminimalist's subtle plays of form, which hover between painting and sculpture. In compressed rooms and spaces intervened by especially-constructed walls, seemingly fragile works in paper, cardboard, wood, and wire, among others, blip against walls and occasionally the floor, like little organisms crawling about the space. In Letters, from 'The Twenty-Six Series' (1967), three typographical characters in galvanised iron sit upon the white wall as if they are floating.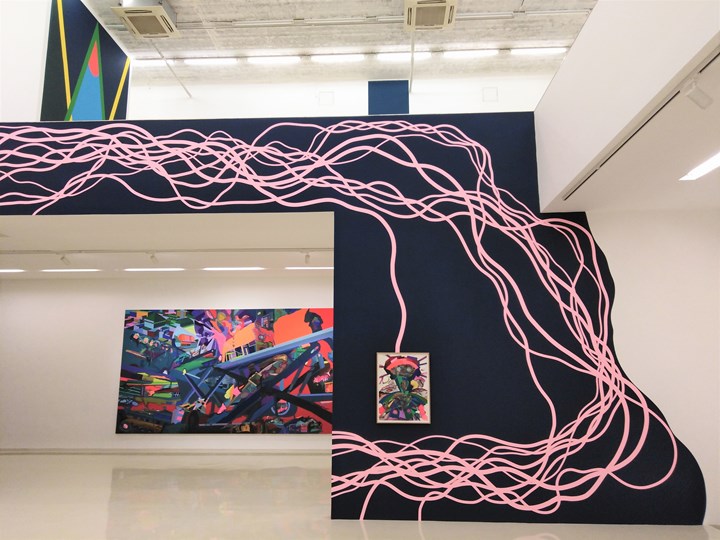 Exhibition view: Franz Ackermann, PIFO Gallery, Beijing (21 March–27 April 2019). Photo: Tessa Moldan.
The regional versus local paradigm is a fundamental aspect of 798 Art Zone as a hub for contemporary culture. Alongside international galleries and showcases, a number of important exhibitions provide historical and contextual reference points for Chinese art. Most rigorous was China Landscape: Selections from the Taikang Collection 2019 (21 March–5 May 2019), which presents the history of contemporary art of China since 1942 through a selection of approximately 70 artworks by 55 artists, such as Chen Shaoxiong, Zhao Zhao, Liu Ye, Ding Yi, and Luo Zhongli.
Avoiding the trappings of chronology, China Landscape gives room to each artwork to express its inner logic, allowing subtle associations to take place. For instance, Ma Qiusha's confessional video From No.4 Pingyuanli to No.4 Tianqiaobeili of 2007 falls within the section 'Articulating and Listening', which explores the impact of the artistic policy that was put in place during the 1949 Chinese National Artistic and Literary Workers Congress, which 'depended on the collective imagination and approval of the population'. In her video, Ma faces the camera and recounts her growing up under pressure of 'excessive expectation and discipline'. Her speech is impeded by a razor blade that rests on her tongue, which she removes at the end, finally relieving herself of discomfort and pain.
Ma Qiusha, From No.4 Pingyuanli to No.4 Tianqiaobeili (2007). Exhibition view: China Landscape: Selections from the Taikang Collection 2019, Taikang Space, Beijing (21 March–5 May 2019). Photo: Tessa Moldan.
Other historical showcases include the Hive Center for Contemporary Art's Wang Huanqing: Artistic Creation Since '85 New Wave (2 March–17 April 2019), a retrospective of works by Wang that show an astonishing development of style, with colourful, textured cityscapes and abstract scenes from the 1980s contrasting with a hall of his most recent paintings, in which dark, post-apocalyptic vistas engulf ghost-like figures. The exhibition seeks to capture the legacy of the avantgarde '85 New Wave in Wang's practice, providing a premise to consider the ways in which historical art movements travel and develop through time, instead of being frozen in a singular context.
In another important survey at Platform China Contemporary Art Institute, over 20 paintings by Gong Lilong are presented against emerald walls (REHEARSAL, 21 March–12 May 2019). Spanning three decades, large canvases are filled with chunky, rounded human figures that dance, kiss, and cavort, exuding a dense elegance. An active figure within the painting circles in northern China in the 1980s, Gong's practice was launched during fervent debates around conservatism versus radicalism, and the human spirit versus the secular world. Realist painting provided Gong's starting point for figurative compositions that explore human desire.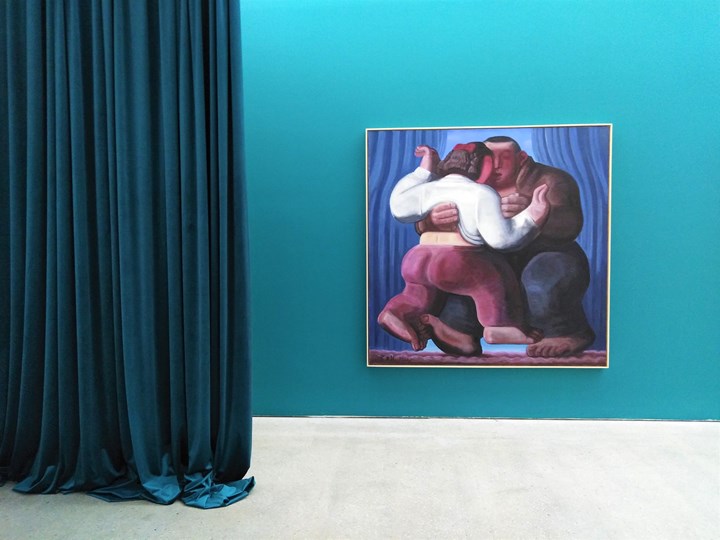 Exhibition view: Gong Lilong, REHEARSAL, Platform China Contemporary Art Institute (21 March–12 May 2019).
At the comparatively sleepy and less commercialised Caochangdi art district, located just a ten-minute taxi ride away from 798, INK Studio opened Flesh and Bone (22 March–12 May 2019), a survey of early works by Tianjin-born ink painter Li Jin. Well versed in traditional ink painting techniques, Li Jin's dreamlike depictions of banquet scenes have amassed an important following, yet it is his early works that are the focus here. Curated by Alan Yeung, Flesh and Bone follows Li's transition as a young artist to the time he spent in Tibet, where he began to explore the primacy—and alienness—of the corporeal by focusing on figuration. The exhibition is divided on the first floor into small, dimly lit spaces that follow the artist's trajectory, offering viewers the same sense of discovery that the artist may have experienced during the transformative moments of his practice.
On the top floor, the human body recurs in a collection of small paintings in washes of colourful ink and distinct lines, conveying a sense of wry melancholy throughout. In one such painting, Human Condition (1998), a bundled figure outlined with black ink squints imperceptibly from an ink-washed face.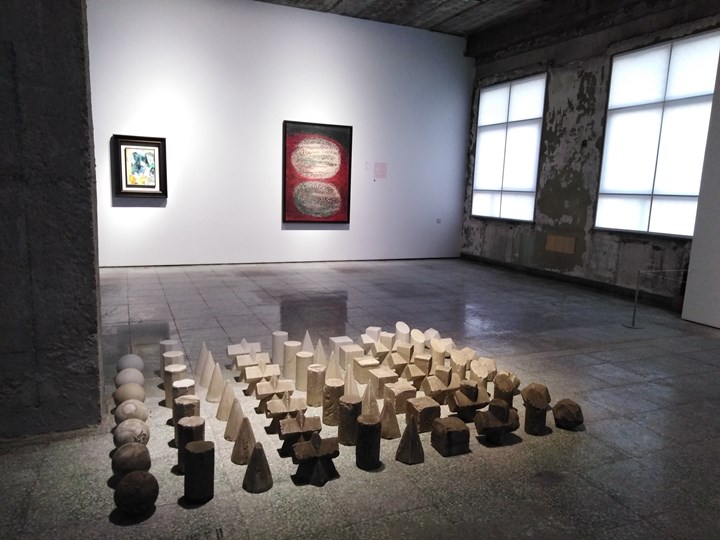 Exhibition view: China Landscape: Selections from the Taikang Collection 2019, Taikang Space, Beijing (21 March–5 May 2019). Photo: Tessa Moldan.
The format of 798 and Caochangdi art districts were on full display at Gallery Weekend Beijing, which represents an activated dialogue between international artists and Chinese contemporary art discourse. Both are arguably the template for an art district, and active laboratories for contemporary art—as reinforced by the Beijing Art Summit. But as the daytime crowds fade with the setting sun, the question arises as to how these districts interact with the communities that lie outside their parameters—a next chapter perhaps, for editions to come.—[O]