News | Artists
Baff Akoto Revisits 2011 'London Riots' in Augmented Reality Exhibition
The artworks in UP:RISE will be accessible by scanning QR codes in Birmingham, Liverpool, London, and other British cities.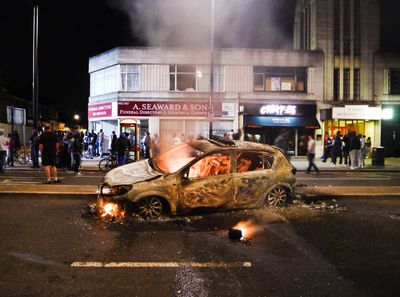 Unrest in Tottenham, 6 August 2011. Photo: Nico Hogg.
In the summer of 2011, civil unrest broke out in London after police shot 29-year-old Mark Duggan dead. A peaceful protest march was followed by rioting that spread to other cities around England. Shops were looted, and vehicles including police cars and a double-decker bus were set ablaze. Five people died, more than 3,000 were arrested, and an estimated £200 million of damage was done.
Described by newspapers at the time as the 'London Riots', artist and documentarian Baff Akoto said the events were 'the first uprisings of the digital era'.
For his art project UP:RISE, still images and video from the events form Augmented Reality (AR) sculptures that can be accessed by scanning QR codes. Audio includes testimonies from people arrested and convicted for offences from 6 to 11 August 2011. They reflect not only on the events themselves but the decade since.
Courtesy Baff Akoto.
In a video introducing the exhibition, which Akoto shared with Ocula Magazine, he said, 'Nobody had ever seen anything like that sort of violent explosion in the streets, organised through their digital lives,' he said. 'I wanted to work with augmented reality because it brings the digital world into dialogue and conversation with the real world.'
'I've never worked with it before, but Duchamp says every artist's studio is a laboratory and I love that, because it gives you license to try new things,' Akoto said.
Akoto's work has been exhibited at London's Institute of Contemporary Art (ICA) and at the British Film Institute (BFI).
UP:RISE will be available from 6 August. The exhibition will also include a programme of in-person and online talks. —[O]