News | Exhibitions
Is Contemporary Art a Form of Witchcraft?
Upcoming exhibitions in Exeter and Los Angeles cast artists as the keepers of essential outsider knowledge.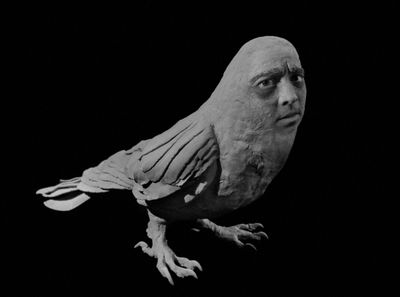 Mercedes Muhleisen, Lament of the Fruitless Hen (2015). Video still. Courtesy the artist.
Royal Albert Memorial Museum (RAMM)'s Earth Spells: Witches of the Anthropocene and Art in Common's Boil, Toil + Trouble open within a week of each other on either side of the Atlantic. Both invoke the rite of art making as a sort of protection charm.
Earth Spells opens at RAMM in Exeter from 11 February to 7 May. It explores the idea of 'witchiness' for its potential to reshape our view of the natural world.
Cauldron used by Elizabeth Webb, so-called White Witch of Dartmoor, circa 1900. © Royal Albert Memorial Museum & Art Gallery, Exeter City Council.
Central to the exhibition is a cauldron owned by the White Witch of Dartmoor, Elizabeth Webb, who died in 1913. Webb was a healer who used reeds to cure warts and cooked up adders to cure snake bites. Supposedly, she could stop a person's bleeding from a distance.
The exhibition is curated by Lara Goodband and Gemma Lloyd. In sourcing contemporary artworks for the show, they said they were guided by artists that 'challenge the way we are living now and ask whether there are alternative ways of considering our position and role.'
They said the show's 'witchiness' manifests in different ways, from Florence Peake's 'contemplation of deep time and a human entanglement with nature' and Grace Ndiritu's 'thinking about the legacy of indigenous ideas and ecology' to Emma Hart's 'take on the witch's spell as a form of productive speech' and Lucy Stein's 'connection with what she calls the "feminine mysterious".'
Grace Ndiritu, Labour — Birth of a New Museum, Nottingham Contemporary. Photo: Scene Photography.
Peake's fabric and film installation The Lichen Exists (2022) was inspired by a healing ceremony she undertook with a shaman in Dartmoor. Text painted on the fabric is intended to act as a spell against grief, celebrating her commune with nature as 'collaborative rather than extractive.'
One of the exhibition's most arresting works is the Mercedes Mühleisen video Lament of the Fruitless Hen (2015), a poem voiced by two human-faced birds (pictured top). Mühleisen describes a witch as 'someone who can move with ease between worlds', where art and magic meet 'in a drive or dream of transformation.'
Kris Lemsalu, Baubo Dance (2021). Mixed media installation. Photograph by Stanislav Stepaško. Courtesy the artist.
Boil, Toil + Trouble first showed in Miami during last year's Art Basel, and now the exhibition arrives in Los Angeles in time for Frieze. Curated by Art in Common's Zoe Lukov and Abby Pucker, the exhibition will occupy a former furniture store at 708 N Manhattan Place from 15 to 26 February.
The Los Angeles iteration of the show gathers works by over 50 artists, including Marina Abramović, Robert Nava, and Wangechi Mutu.
Marina Abramović, Places of Power, Waterfall (2013). © Marina Abramović. Courtesy the Marina Abramović Archives and Sean Kelly.
Lukov describes artists as 'channels and mediums', with 'magic and alchemy at the root of most artistic practices'.
She sees Boil, Toil + Trouble as 'a gathering of empowered creators who are intuitive in their processes and tapped into spirit and magic-making in their artistic practices.'
Wangechi Mutu, Mwotaji (The Dreamer) (2016). Polished bronze, unique hand carved Carrara marble. 19.75 x 15.75 x 3 in. (stone). 10 x 13 x 5.5 in. (bronze head). Courtesy the artist. Photo: Anita Posada.
'This examination charts mythologies and cosmologies tied to the sea and practitioners who work specifically with the water as a baptismal substance for healing, prayer, and transformation,' she said.
For instance, Amanda Garcia-Yates (also known as the Oracle of Los Angeles) has created a ritual inspired by the mythic vessel of the Celtic hag, Cerridwen. She asks visitors to engage with surrounding artworks as if drinking Cerridwen's elixir of inspiration.
The curators of both Earth Spells and Boil, Toil + Trouble described an urgent need for witchy systems of knowledge.
Robert Nava, Eye To Eye With Ghost (2019). Acrylic and grease pencil on canvas. 72 x 72 in. Courtesy the artist and Art in Common.
'From war to cataclysmic climate disaster to mass shootings to police brutality there is such aggression and brutality in this life that I think it makes sense that as a collective we turn more towards faith-based and spirit-based practices as both a balm and as an active way to transform our world moving forward,' Lukov said.
Goodband and Lloyd championed practices women were historically persecuted for due to suspicion of their deep understanding of the botanical world and the ways they lived in harmony with non-human species.
'We urgently need to return to the ecologies of care and principles that our ancestors practised and which many indigenous people still do,' they said. —[O]