News | Exhibitions
Lebanese Gallerist Revives Art Project of Daughter Killed in Blast
Annie Vartivarian's not-for-profit will be both a pop-up gallery and a digital platform for artists and designers.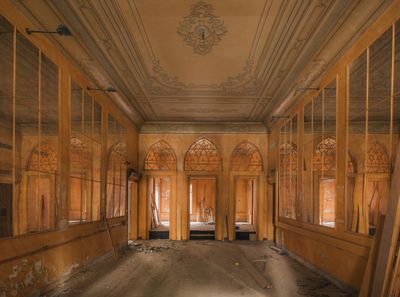 The Tabbal Building in 2021. Courtesy AD Leb. Photo: Vartan Seraydarian.
Six months have passed since Beirut and its art community were devastated by a warehouse explosion that killed over 200 people and left some 300,000 homeless. Among those who died in the 4 August blast was 29-year-old Gaïa Fodoulian, director of Letitia Gallery, which was co-founded by her mother, Annie Vartivarian.
Vartivarian last week announced she would take up one of Fodoulian's nascent projects, AD Leb, a platform for artists and designers in Lebanon.
'The idea of AD Leb came to her mind as she wanted to combine her interests, art and design, in one project and create a digital space for the Lebanese cultural scene,' Vartivarian said. 'Gaïa's project and life were brutally interrupted, so I wanted to continue what she has started.'
The inaugural exhibition will take place in the beautiful Tabbal Building, which dates back to the 1890s. The exhibition's title comes from a line Fodoulian posted to social media: Everyone is the creator of one's own faith.
Artists and designers featuring in the show include Samer Bou Rjeily, Karen Chekerdjian, Hatem Imam, Sirine Fattouh, Paul Kaloustian, Nathalie Khayat, Hussein Nassereddine, Caroline Tabet, and Gaïa Fodoulian herself.
All profits from AD Leb's activities will go to the Gaïa Fodoulian Foundation, directed by Gaïa's sister, Mariana, a veterinarian doctor. The foundation provides foster care, medical care, adoption and support for stray animals.
Beirut's recovery from the blast has been stymied both politically and economically. An investigation into those responsible for the blast has been held up in court, while a lack of funding to repair and rebuild buildings has seen further collapses. According to the UNHCR, half of Lebanese families are now food insecure.
For ways to help people in Beirut, click here. —[O]