News | Exhibitions
Liverpool Biennial Loses Director, Launches Programme
A replacement has not yet been named for Fatos Üstek following her resignation.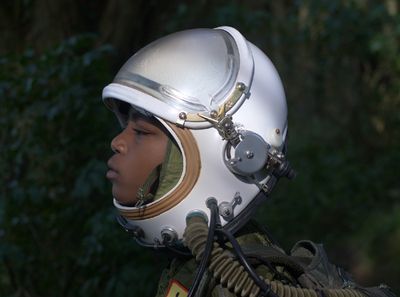 Larry Achiampong, Relic 2 (2019). Video (still). Courtesy the artist and Copperfield, London
The Liverpool Biennial has announced details of its 11th edition, which will take place 20 March–6 June 2021. One detail that's missing is the name of the event's director following the departure of Turkish-born Fatos Üstek, who held the role from May 2019.
'Governance issues with a lack of clarity on roles and responsibilities, and processes not being followed, taken together made my role untenable,' Üstek told ARTnews last week.
The Biennial, in turn, said its board had been made aware of employees' concerns over Üstek's 'management of governance, finances and staffing.' They said Üstek did not accept an opportunity to address them.
Rashid Johnson, Antoine's Organ (2016). Installation view at Hauser & Wirth, New York, 2016. Photo: Martin Parsekian.
Üstek estimated the Biennial, originally slated to open in July, was 80% complete when she resigned in October. It will go ahead under Interim Director Samantha Lackey with the search for a new director reportedly beginning next year.
'This edition has been curated with passion and nurtured over several years with a group of carefully selected artists who are connected to Liverpool as a place,' Lackey said.
Curated by Manuela Moscoso, the Biennial is entitled The Stomach and the Port. It likens the human body to the port city of Liverpool, a site of constant comings and goings, as opposed to a discrete and self-sufficient entity. The theme was announced in November 2019, before the pandemic forced us to close ports (and airports) and isolate ourselves to decrease the viral traffic passing through.
Evan Ifekoya (B.O.S.S member), Ritual Without Belief (04), 2018. Installation view at Gasworks. Courtesy the artist. Photo: Andy Keate.
Over 50 artists are taking part, including Linder, Rashid Johnson, Larry Achiampong, Judy Chicago, Alice Channer, Camille Henrot, and Luo Jr-Shin. New commissions include Neo Muyanga's video installation A Maze in Grace at the Lewis's Department Store building and an audio-video installation by Black Obsidian Sound System at new media gallery FACT.
The Biennial will also take place at other venues including Tate Liverpool, The Cotton Exchange, and Bluecoat art centre. A series of public commissions will be displayed outdoors at locations including Exchange Flags, Canning Dock, and Crown Street Park. —[O]