News | Institutions
Protocinema, Mari Spirito's Art Space Without a Space, Turns 10
Spirito sees similarities between the milestone and the pandemic. Both are a chance to reflect on how art is made and shown.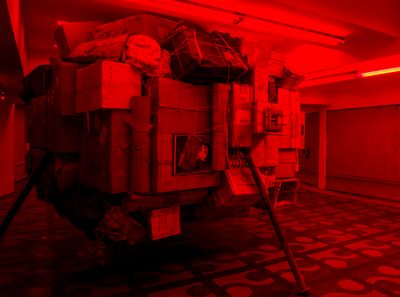 Mike Nelson, PROJEKTÖR (Gürün Han) (2019). Commissioned and presented by Protocinema, Istanbul with support Henry Moore Foundation; Alserkal Arts Foundation; Galleria Franco Noero.
In 2011, Mari Spirito established Protocinema, a nonprofit art organisation based in Istanbul and New York. It specialises in presenting site-specific art at alternative venues around the world.
She took the name Protocinema from German director Werner Herzog's description of the 30,000-year-old paintings found in the Chauvet Cave in the south of France.
Art's ability to transcend time and space has taken on new meaning as our experience of both changed radically with the outbreak of Covid-19.
'When you stop moving around, it changes your perception of time, because time and space are perceived on the same neurotracks in the mind,' Spirito told Ocula Magazine. 'There's epiphanies happening all over the place — people are quitting jobs, changing careers, moving countries.'
Questions have also been raised about the sustainability of trends in the art market, including the consolidation of sales at art fairs and artists at mega galleries. Just this week, two New York galleries—Lévy Gorvy and Salon 94—and dealer Amalia Dayan merged to form a joint venture called LGDR.
For the past decade, Protocinema has pushed for an alternative. Their work is decentralised and frequently carried out remotely, often across multiple cities. It's a model many companies have adopted during the pandemic.
'The spaces we work with are not usually art spaces, they're spaces that are open in and out of pandemic, and in out of different kinds of crises, because the pandemic is not the only crisis,' Spirito said.
Being dispersed also allows Protocinema to show art in places that inform the work in unique ways.
In 2014, for example, Protocinema exhibited Turkish artist Hale Tenger's installation We didn't go outside; we were always on the outside/ We didn't go inside; we were always on the inside (1995) in the basement of New York's Westbeth building, once home to Bell Laboratories, where the first condenser microphone was demonstrated.
The work, which consists of an old wooden guard-house surrounded by a barbed wire fence, includes a small radio that plays music from the '90s. That detail held meaning both when the work was conceived, a year after Turkey's authoritarian government finally ceded some control of the airwaves, and in the space where it was shown.
Then there's Mike Nelson's PROJEKTÖR (Gürün Han), which showed across 16 rooms on the seventh floor of the Gürün Han, a dilapidated caravanserai—a sort of combination shopping centre and travel hotel—in Istanbul.
Included in the 2019 exhibition were videos of the passing landscape Nelson shot secretly from the back seats of taxis. The traveller's anxiety that the driver might be taking you for a ride serves as a metaphor for how many people in Turkey feel under President Erdoğan.
Mario García Torres, Basic Instinct (2021). Silkscreen painting. Courtesy the artist and joségarcía , mx gallery. From the series 'Spoiler'. Included in Protocinema's Once Upon a Time Inconceivable exhibition, 2021.
Instead of looking back at past achievements, though, Spirito wanted to focus on where Protocinema could go next in their tenth anniversary exhibition.
Once Upon a Time Inconceivable opens 4 September to 10 October at Beykoz Kundura, a multi-purpose art space in Istanbul built on a site where shoes and conveyor belts were once manufactured. Nine artists are participating in the show, which deals with ways time, space, and information impact our perceptions.
Mario Garcia Torres' Spoiler paintings, for instance, are silkscreens that give away key revelations in Hollywood movies. The works, which will also appear as posters in cinema kiosks, were inspired by research that suggests we enjoy movies more when we already know how they end.
The dark corollary of this, of course, is that most of us are now living with significantly greater uncertainty.
At the same time, once inconceivable ways of working have become more tenable. Spirito said the exhibition was being made with no flying and no shipping, changing how Protocinema works with artists around the world.
Abbas Akhavan, who lives in Montreal, executed his sculpture for the show remotely, first asking the Protocinema team to find a public water fountain and then fill it with air conditioner fluid. The frosted sculpture is emblematic of our inability to gather at water coolers, galleries, bars, and so on.
'Everything's breaking—systems are breaking, institutions and so forth,' Spirito said, 'but we have the opportunity to start rebuilding and rethinking. What society do I want to live in? What do I want museums and galleries to look like?'
'Maybe having lots of smaller organisations has more importance now because we stay alive,' she said. 'We're not closed in these hard times.' —[O]