News | Artists
New Museum Announces Wong Ping's First US Survey
The rising Hong Kong artist is known for bright animations with dark themes.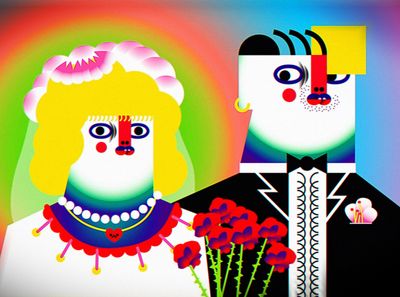 Wong Ping, Jungle of Desire (2015). HD film, colour, sound. 6 min 50 sec. Courtesy the artist and Edouard Malingue Gallery, Hong Kong / Shanghai and Tanya Bonakdar Gallery, New York / Los Angeles.
The New Museum, New York, will present the solo exhibition Wong Ping: Your Silent Neighbour this summer, the largest show the artist has received in the US to date.
From June 25–September 27, the exhibition will fill the museum's third floor galleries. Included in the show are Jungle of Desire (2015), about a homemaker turned sex worker whose trysts with a policeman are watched by her cuckolded husband, and Wong Ping's Fables 2 (2019), a reimagining of Aesop in which animals learn how to behave in today's Hong Kong. The exhibition will also debut a video and sculptures created for the show.
The exhibition will be curated by the New Museum's Gary Carrion-Murayari with assistance from Francesca Altamura and occasion the first catalogue of Wong Ping's work. The catalogue will include an essay by Carrion-Murayari, a contribution by artist David Horvitz, and an interview with the artist conducted by Tobias Berger and Xue Tan of Hong Kong's Tai Kwun Centre for Heritage and Arts.
Born in 1984, Wong Ping studied multimedia design at Curtin University, Perth, before finding jobs ata Hong Kong TV station and Cartoon Network. He founded the Wong Ping Animation Lab in 2014 and has worked with brands including Prada.
Wong is represented by Edouard Malingue Gallery and Tanya Bonakdar Gallery. He previously showed at the New Museum as part of the 2018 Museum Triennial Songs for Sabotage. Other past exhibitions include Heart Digger at Camden Arts Centre, London; Golden Shower at Kunsthalle Basel, Basel; Who's the Daddy at CAPRI, Düsseldorf; and One Hand Clapping at the Solomon R. Guggenheim Museum.
The New Museum is currently showing Peter Saul: Crime and Punishment (through May 31) and Jordan Casteel: Within Reach (through May 24). —[O]
_UPDATE: The New Museum closed from March 12 due to the spread of COVID-19. They published a statement saying they will '__continue to monitor the situation and re-evaluate in two weeks, based on additional information and recommendations from public officials.' _