News | Artists
Nikita Gale to Riff on Guitars for BMW Frieze London Commission
Gale will partner with BMW designers to conceive of radical new guitar bodies for a playable installation.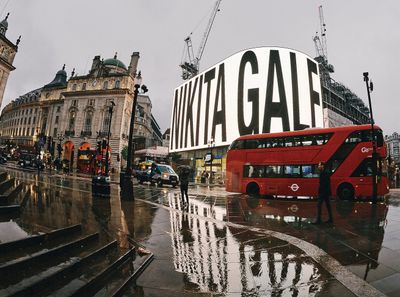 Nikita Gale, SOME WEATHER (2021). Presented by CIRCA, in collaboration with Chisenhale Gallery, London, UK. Installation view: London, UK. Photo: Ollie Trenchard.
Nikita Gale will create a work for the 2022 BMW Open Work Commission that will be displayed in the VIP lounge at Frieze London in October.
The Los Angeles-based artist will create a sculptural installation inspired by electric guitars that will be used in live performances.
'I couldn't be more excited to work with an interesting artist such as Nikita Gale reshaping the unstable relationship between performer and spectator,' said the Commission's curator, Attilia Fattori Franchini.
Nikita Gale, PRIVATE DANCER (2020). Installation view, California African American Museum, Los Angeles. Photo: Elon Schoenholz.
'The sculptures, inspired by sketches from BMW i7 designers, strongly link the evolution of car and guitar design and see both cars and guitars as cultural and iconic objects,' added Hedwig Solis-Weinstein, BMW Head of Arts & Thought Leadership Co-operations.
In her broader practice, Gale employs objects like barricades, microphone stands, and spotlights in her investigations of spatial and sonic politics.
For her Piccadilly Lights video SOME WEATHER (HEAT) (2021), pictured top, Gale displayed footage of background singers that was blurred and colourised yellow and orange, as if they were performing during a sandstorm or a wildfire.
In the United States, Gale is represented by Commonwealth and Council (Los Angeles), Reyes | Finn (Detroit), and 56 Henry (New York).
Her first UK solo exhibition, IN A DREAM YOU CLIMB THE STAIRS at Chisenhale Gallery, opened on 9 July and will continue until the conclusion of Frieze London on 16 October.
The previous artists selected for the BMW Open Work Commission are Madeline Hollander (2020–21) Camille Blatrix (2019), Sam Lewitt (2018), and Olivia Erlanger (2017). —[O]