News | Exhibitions
Ocula Launches Online Viewing Rooms
With galleries closed around the globe, the virtual rooms are a unique space to share art works online.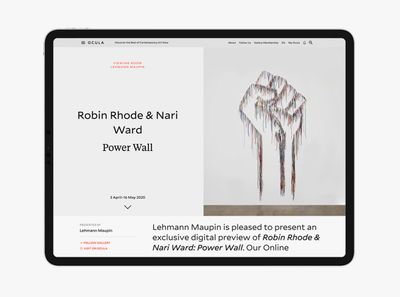 Ocula Viewing Room, Robin Rhode & Nari Ward: Power Wall, Lehmann Maupin (3 April–16 May 2020).
In development since December last year, Ocula officially launched its online Viewing Rooms earlier this month.
'We wanted to launch them now because they offer a possibility, during the COVID-19 crisis, for galleries around the world to continue to engage with their collectors and a wider audience,' said Christopher Taylor, co-founder and director of Ocula.
The first galleries to present works in these premium digital exhibition spaces are Michael Lett Gallery, Auckland; Chambers Fine Art, New York and Beijing; Lehmann Maupin, New York, Hong Kong, and Seoul; Sabrina Amrani Gallery, Madrid; and ROSEGALLERY, Santa Monica, with more viewing rooms being added every week.
The Viewing Rooms' ultra-high resolution images allow viewers to zoom in, the virtual equivalent of walking up to become more intimately acquainted with an artwork. Images are accompanied by short, enticing texts including quotes from critics and the artists themselves to help introduce the artist's practice, and pique the viewer's interest.
'The Ocula Viewing Room is a much more immersive online offer than what is currently offered on Ocula for exhibitions, or any other platform for that matter,' Taylor said.
With their Viewing Rooms, Ocula hopes to not only help galleries share their artworks but help collectors discover and acquire them. A limited duration, similar to an exhibition in a physical space, helps to create a sense of occasion, and the inclusion of prices and galleries' contact information aims to facilitate smooth, transparent purchases.
Including the prices of works 'is the most effective form of engagement for those who are of a mind to purchase a work,' Taylor said.
Beyond making sales, Ocula also hopes its Viewing Rooms will provide a novel way for galleries to experiment.
'The Viewing Rooms allow galleries to work with artists to curate new presentations of work that may not have been seen previously, or to curate group shows thematically, and to offer emerging artists a space to experiment,' Taylor added. —[O]