News | Artists
Robert Nava's First Show at Pace is a Veritable Sharknado
The artist, who embraces 'bad' painting, joined the gallery in November 2020.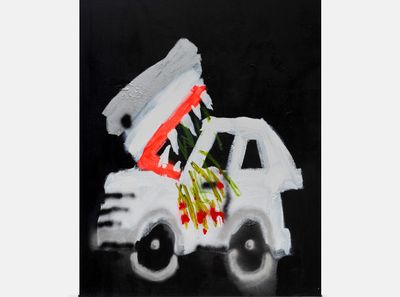 Robert Nava, Untitled (2020). Acrylic on canvas. 152.4 × 121.9 cm. © Robert Nava. Courtesy Pace Gallery.
Sharks circle in Robert Nava's first solo exhibition at Pace Gallery, which opened yesterday and continues in the gallery's new seasonal space in Palm Beach, Florida, until 17 January.
Five large acrylic paintings of the ocean predators are on show, but they're far from frightening. Nava, who completed an MFA at Yale University School of Art in 2011, paints in a childlike, consciously naive style Pace situates in the tradition of 'bad' painting.
'In its disregard for accurate representation and its rejection of conventional attitudes about art, "bad" painting is at once funny and moving, and often scandalous in its scorn for the standards of good taste,' former New Museum director Marcia Tucker wrote for an exhibition of such works in 1978.
Robert Nava, Constellation, Big Mouth (2020). Acrylic on canvas. 182.9 cm × 182.9 cm. © Robert Nava, courtesy Pace Gallery
Robert Nava was born in 1985, seven years after that exhibition, in East Chicago, Illinois. He now lives in Brooklyn, New York.
Describing his movement away from realism to Juxatpoz Magazine in 2019, Nava said, 'Even looking at a Renaissance painting, I would be looking for error, like mistakes were more alive to me. By drawing things "incorrectly", I found more things to do in that realm.'
Pace announced that it now represents Nava on 30 November 2020, acknowledging he will continue to work with Vito Schnabel Gallery (St. Moritz), Night Gallery (Los Angeles), and Sorry We're Closed (Brussels). Vito Schnabel Gallery's Nava solo show, entitled Angels, will open in New York in February.
The Palm Beach space, Pace's ninth worldwide, launched with an exhibition of wall installations by James Turrell in November last year. Other artists they intend to show in the space include Alexander Calder, Mary Corse, Tara Donovan, Sam Gilliam, Kenneth Noland, Michal Rovner, Joel Shapiro, and Kiki Smith. —[O]