News | Market
Sotheby's London Auctions Rake in $297m
Highlights included record prices for Rachel Jones, Shara Hughes, and Flora Yukhnovich, plus Banksy paintings previously owned by pop star Robbie Williams.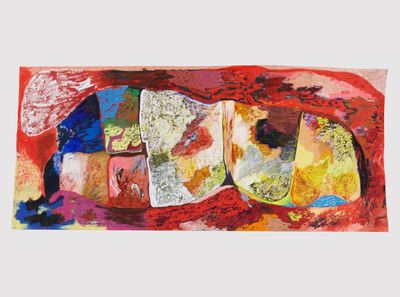 Rachel Jones, A Slow Teething (2020). Oil pastel and oil stick on canvas. 105 by 242 cm. Courtesy Sotheby's.
Sotheby's realised sales of £221 million (US $297 million) last night, the highest single day total ever at Sotheby's London. The result follows Christie's 'Shanghai to London' sale on Tuesday, which raised £249 million ($334 million).
René Magritte's L'empire des lumières (1961) fetched £59.4 million ($79.8 million) at Sotheby's, nearly triple the artist's previous auction record.
There were also several notable results for young female artists.
Banksy, Vandalised Oil (Choppers) (2006). Oil and spray paint on canvas. 94 by 61 cm. Courtesy Sotheby's.
On auction debut, 30 year old Rachel Jones' A Slow Teething (2020), pictured top, sold for £617,400 ($828,600)—nearly nine times the high estimate.
Forty-year-old Shara Hughes' Naked Lady (2019) sold for £2 million ($2.7 million), almost doubling her previous record at auction.
And 31 year old Flora Yukhnovich's Warm, Wet 'N' Wild (2020) sold for £2.7 million ($3.6 million), more than 13 times the high estimate, and a new auction record for the artist.
Yukhnovich's painting Tu vas me faire rougir (You're going to make me blush) (2017) sold at the Christie's auction on 1 March for £1.9 million (US $2.5 million), nearly eight times its low estimate, on the same day her first solo exhibition at Victoria Miro opened in London.
Other standout results from the Sotheby's sale include David Hockney's multi-camera video work Woldgate Woods, Winter, 2010, for £922,500 ($1.2 million), and two Banksy works from the collection of pop star Robbie Williams, including Vandalised Oil (Choppers) (2006) for £4.4 million ($5.9 million). —[O]