News | Institutions
Storm King Art Center Reveals $45 Million Development Plan
The project will kick car parking to the woodland fringe, creating new space for work in the outdoor museum's North and South Meadows.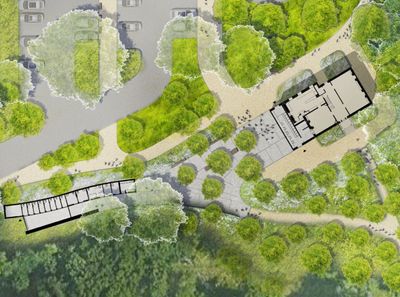 Aerial view rendering of new welcome sequence at Storm King Art Center. Image © Storm King Art Center.
Storm King Art Center today announced a major development project to accommodate a growing number of visitors. The US $45 million plan includes a 'welcome sequence' that shifts car parking and adds restrooms, ticketing and orientation windows; a conservation, fabrication, and maintenance building; and new sustainability measures.
One of the most exciting developments at the outdoor museum, which is located in New York's Hudson Valley, is the conversion of 4.5 acres of former car parking into additional outdoor exhibition space. More than 650 trees of 20 different species will be planted, and 330 feet of piped stream will be brought above ground, where it will feed a new wetland system.
The project is slated for completion by 2024.
Nora Lawrence, Artistic Director and Chief Curator at Storm King, said the plan 'makes possible what until now were just imagined opportunities — significant new spaces for exhibition and programming in our new North and South Meadows, and critically important new facilities for conservation and fabrication.'
The development plan was created with Dublin's heneghan peng architects, New York-based WXY architecture + urban design, and landscape architecture firms Gustafson Porter + Bowman and Reed Hilderbrand.
Róisín Heneghan, Co-founder of heneghan peng architects, said, 'It was important for us to approach elements as different types of spaces rather than "buildings" — visitors come to Storm King to be outdoors.'
Mark di Suvero, Pyramidian (1987/1998). Gift of the Ralph E. Ogden Foundation. ©Mark di Suvero, courtesy the artist and Spacetime C.C., NY. Photo by Jerry L. Thompson.
To fund the project, Storm King has raised $43.5 million to date from over 50 individuals and private foundations. A public campaign with the goal of raising $1 million was launched today.
New York State is providing $2.6 million, public-benefit corporation Empire State Development has agreed to provide $2 million, and the New York State Energy Research and Development Authority is providing $600,000 through the Carbon Neutral Community Economic Development programme.
'This ambitious capital project enriches the absolute best things about Storm King while helping chart our path to a more sustainable future,' said Storm King President John P. Stern.
'It allows us to advance all areas of our work and mission; to support our growing community of visitors, artists, and staff; and to preserve our extraordinary site and collection for future generations,' he said.New to Storm King this summer are large bronzes by Kenyan artist Wangechi Mutu and Shade Tree (2022)__by New York-based artist Brandon Ndife, a work composed of polyurethane foam and resin casts of household furniture arranged beneath a maple tree. —[O]