News | Galleries
Taipei Dangdai 2022 Bets on Courage and Curiosity of Local Collectors
The fair partnered with four NFT platforms in response to a 37% drop in participating galleries.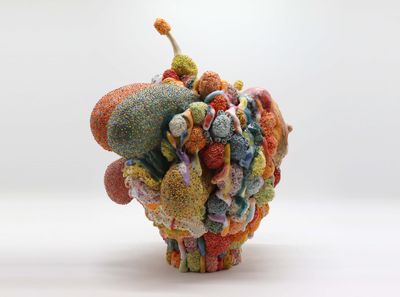 Kazuhito Kawai, Future Diary (2022). Ceramic. 43 x 33 x 29cm. Image courtesy of KOTARO NUKAGA.
Taipei Dangdai will showcase just 62 galleries, down from 99 at its last showing in 2020, when it returns to the Taipei World Trade Center from 19 to 22 May 2022.
'We postponed the 3rd edition of the fair in 2021 and are running it now in 2022,' explained the fair's Co-Director, Robin Peckham. 'Approximately 50% of our [overseas] exhibitors elected to roll over their participation to 2023 given the quarantine challenges, which is why we have the shorter gallery list this year.'
The number of galleries joining from mainland China has fallen noticeably as Chinese officials impose strict restrictions on people in Shanghai and Beijing.
Two thirds of galleries at this year's fair will nevertheless come from outside Taiwan, enduring a mandatory seven-day quarantine for arrivals as the country grapples with a record 30,000 new covid cases per day.
Xyza Cruz Bacani
,
Angels
(2015). Giclée print. 40.6 x 50.8 cm. Image courtesy of the Artist and Christine Park Gallery, New York.
In response to these testing conditions, Taipei Dangdai will present four digital art platforms in a new online sector called Launch Stage.
The platforms are Casey Reas' Feral File, Erick Calderon's Art Blocks, Asian NFT platform SOYL, and Outland, which launched with an NFT project by Fang Lijun in February this year. Each will present individual artist projects on a dedicated mini-site on the Taipei Dangdai website.
'The Asian art market is shifting, and Taiwan is playing a key role in what is to come,' said Magnus Renfrew, the fair's Co-Founder and Co-Director.
Peckham noted that 71% of Taiwanese collectors surveyed in the 2022 UBS and Art Basel Global Art Market Report said they planned to buy digital art in 2022. Only 30% said they had not sought out new artists in the past year—the fewest in any market surveyed.
'We are excited to see these ambitious and focused collectors at the fair in person this May, many of them visiting for the first time,' Peckham said.
Korakrit Arunanondchai
,
Working title
(2022). Acrylic, metallic foil on bleached denim on inkjet print on canvas, aluminium stretcher, 218.4 x 162.6 cm. Courtesy of the artist and BANGKOK CITYCITY GALLERY.
This year's Ideas Forum also caters to collectors interested in digital art and technological change. It takes its title 'Escape into Understanding' from Canadian media theorist Marshall McLuhan, who cautioned against merely trying to adjust to high-speed change. Speakers include artists Ashley Bickerton, Timur Si-Qin, Shu Lea Cheang, and author Chi Ta-Wei, who penned the queer dystopian novella The Membranes.
Galleries joining Taipei Dangdai for the first time this year include Leipzig's Galerie Eigen + Art, SPURS Gallery and INK studio from Beijing, and LGDR, the Voltron gallery formed by dealers Dominique Lévy, Brett Gorvy, Amalia Dayan, and Jeanne Greenberg Rohatyn.
Among those returning are David Zwirner, SCAI The Bathhouse, and Esther Schipper. —[O]