News | Artists
United States Artists Awards $50,000 Fellowships to Over 60 Artists
The recipients of the Chicago-based funding organisation's largesse come from ten creative disciplines, including visual art, traditional arts, craft, film, and media.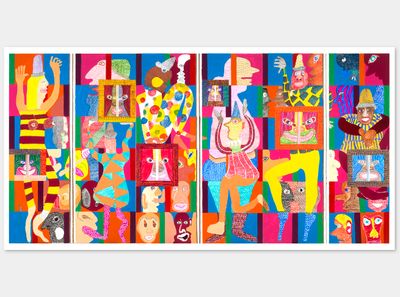 Peter Williams, Incarceration, New Nation! (2018). Oil-based enamel, oil, and pencil on canvas. Dimensions 72 × 144 inches. Courtesy the artist and United States Artists.
United States Artists today announced their 2022 USA Fellows. The 63 artists will each receive an unrestricted fellowship of US $50,000.
'The 2022 USA Fellows demonstrate remarkable artistic vision and commitment to community – both within their specific regions and discipline at large,' said Jessica Ferrer, USA Program Co-Manager.
She said many were driven by the belief that shaping a better world is a group effort, citing the practices of regenerative land sculptor and environmental activist Jordan Weber and Las Imaginistas, a collective based along the Rio Grande Delta near the US-Mexico border. Las Imaginistas' projects include a series of Dream Parades in which immigrant communities march for their most hopeful futures.

Andrea Carlson,
Sunshine on a Cannibal
(2015). Ink, oil, and other media on paper. Photo by Rik Sferra.
Scholars, critics, curators and other arts professionals anonymously nominated close to 650 artists for the fellowships. Artists were invited to apply under one of ten disciplines: architecture and design, craft, dance, film, media, music, theatre and performance, traditional arts, visual art, and writing.
'The importance of this widespread selection process is twofold,' said Whitney Mash Levin, USA Program Co-Manager. 'First it ensures support for artists who live and work beyond the major cities. Second, by cultivating a geographically diverse nominee pool, supporting individual artists means supporting their specific communities, large or small.'
Lonnie Holley, Riding Through My Roots Too Fast (2004). Old motorcycle frame, tarp, fabric, wood, wire. 66 x 84 x 26 inches. Courtesy the artist and United States Artists.
The eight winners in the visual art category are Jordan Weber (Cambridge), painter Andrea Carlson (Chicago), photographer Robert Andy Coombs (Miami), installation artist and educator Jorge González Santos (Puerto Rico), sculptor and musician Lonnie Holley (Atlanta), artist, educator, and researcher Nicole Marroquin (Chicago), conceptual artist Olu Oguibe (Vernon Rockville), and painter Peter Williams (Wilmington).
Judilee Reed, who was announced President and CEO of United States Artists on 11 January, said the organisation plays a role in addressing an important disconnect.
'United States Artists was founded in response to Congress eliminating the National Endowment for the Arts' grants to individual artists—and in response to research from the Urban Institute that showed that while 96% of Americans valued the role of art in their lives, only 27% valued the role of artists,' she said. 'Too many Americans still do not understand the lives of working artists—all that it takes to support the humans behind the books, films, images, and songs that fill our lives.' —[O]