News | Exhibitions
Yokohama Triennale Opens Despite Rising Covid Cases
Artistic Directors Raqs Media Collective said the opening 'signals confidence in the capacity of art to repair and transform the world'.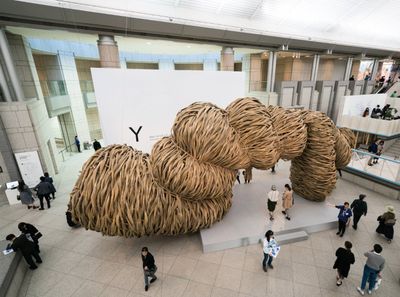 Joko Avianto, The border between good and evil is terribly frizzy (2017). Installation view of Yokohama Triennale 2017. Photo: Ken Kato. Courtesy the Organizing Committee for Yokohama Triennale.
The Yokohama Triennale became one of the first major art events to open since many countries banned mass gatherings due to COVID-19 in February and March. It opened two weeks later than planned on 17 July, and continues until 11 October.
'We were not sure whether we should go ahead with holding the Triennale against the backdrop of the pandemic,' said Seiichi Kondo, Chairperson of the Triennale, at a press conference livestreamed on YouTube. However, he said, 'We think there's much to be learned by holding this event.'
Yokohama is the capital of Kanagawa Prefecture, where new COVID-19 cases are at their highest since Japan ended its state of emergency on May 25.
Eriko Osaka, Executive Chair of the Yokohama Triennale, compared opening during the pandemic to the event's 2011 edition, which opened shortly after the Tohoku Earthquake that caused a partial meltdown of the Fukushima nuclear plant.
'Though we did open as planned [in 2011], we were very concerned that nobody would be there,' she said. 'However, on the first day we saw that there was a long queue in front of our museum from early in the morning, before we'd opened our doors, which showed the importance of the arts and culture even when times are difficult.'
With numbers controlled due to COVID-19, a spokesperson for the triennale confirmed there were fewer visitors at this year's opening than the last edition. Measures taken to ensure the safety of staff and visitors include pre-selling tickets with designated time slots, and regular cleaning and sanitisation of venues.
The Triennale brings together works by 67 artists and artist groups from over 30 countries and territories. The theme and title, Afterglow, was decided by New Delhi-based trio Raqs Media Collective, the first non-Japanese art directors of the event.
Unable to attend the opening of the Triennale due to the pandemic, Raqs Media Collective's Jeebesh Bagchi, Monica Narula, and Shuddhabrata Sengupta appeared in separate quadrants of a Zoom video call, along with a long shot of the hall where the press conference took place in Yokohama—the audience widely spaced, like students seated in an exam hall to prevent cheating.
Narula said that organising a triennale with numerous and diverse contributors requires immense trust, and that need was multiplied 100-fold working from afar. However, she said, 'We are aware that our presence, yours physically and ours virtually, signals a confidence in the capacity of art to repair and transform the world.' —[O]