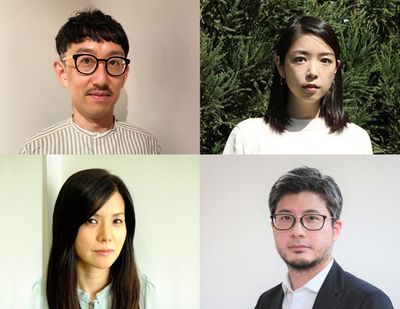 (Clockwise from top-left) Art Collaboration Kyoto's programme director, Takahiro Kaneshima; Kyoto-based artist Akane Saijo; Culture Vision Japan Foundation's Atsushi Fukai; and ANOMALY gallery director Yuko Yamamoto.
Japan was once a 'locked country'. The Tokugawa shogunate's Sakoku foreign policy severely limited Japan's interaction with foreign nations from 1639 to 1853.
Following the outbreak of Covid in 2019, countries around the world have again been cut off from one another. New art fair Art Collaboration Kyoto (ACK) seeks to close the distance between the art scene in Japan and overseas—compounded by both linguistic barriers and geographical distance—by pairing up galleries from Japan and abroad.
Ocula Magazine's Sam Gaskin spoke with the fair's programme director, Takahiro Kaneshima, ANOMALY gallery director Yuko Yamamoto, Culture Vision Japan Foundation's Atsushi Fukai, and Kyoto-based artist Akane Saijo about their hopes and plans for the new fair.
Kyoto International Conference Center. Courtesy Kyoto International Conference Center.
SG

Many of us haven't been able to travel to art fairs for 18 months now. How has the pandemic shaped the inaugural Art Collaboration Kyoto?

TKThe idea of collaborations existed before the pandemic hit, of course, but we were still able to arrange an exhibition where the Japanese host galleries could communicate with international guest exhibitors and support each other even though they couldn't travel to Japan.

We were not expecting to make an immediate switch to online sales, but we are pushing ahead with initiatives such as online viewings and online promotion of works and galleries.

Max Papeschi, Gundam Operation Z (2015). Digital and analogue prints. 50.0 × 40.0 cm. Courtesy the artist and Marsiglione Arts Gallery.

Another side of our operation is supporting local Kyoto businesses and tourism. We're trying to bring together a high-quality fair with good hospitality, and we will be holding it again in the future, so that people will want to come to Kyoto after the pandemic has ended.
SG

The fair is backed by local government with the support of the Culture Vision Japan Foundation (CVJ), which tries to bridge the gaps between the art world, business, and government. How will ACK balance these parties' interests?

AFFirst and foremost is taking pride in the high-quality contemporary art we have here. Secondly, we're organised in a way that allows us to grow by expanding our circles. The executive committee comprises various organisations with differing missions, along with co-directors for the organisation.

Fabian Knecht, Isolation (48°08'51.4"N 8°38'08.8"E) #1 (2020). Fine art inkjet print on hahnemuhle photo rag ultra smooth. 111.0 × 161.0 cm. Courtesy of the artist and Alexander Levy, Berlin.
SG

Takashi Suo's spatial design for the fair has booths facing all different directions, which isn't the best way to maximise the space. Why did you go with this unusual design?

TKIn addition to exhibitor fees and sponsor contributions, we accepted public funds to set up the fair so the venue plan was not just about efficiency. It was a chance to experiment with space design that emphasised creativity.

Mr. Suo used to work in Kazuyo Sejima's architectural office, and has experience with many art museums. He's had opportunities to think about art exhibitions, spaces, and their relation to Kyoto for a while now. His plan started with detailed observations of how existing fairs work. In truth, his bold design leaves an impression of wandering the streets of Kyoto and seeing art exhibitions in all the houses here.

Hiroki Tsukuda, Vol. 92 (2020). Charcoal, acrylic ink and pencil on paper, wood panel, with silkscreen printed acrylic frame. 176 × 126 × 4.3 cm. © Hiroki Tsukuda. Courtesy of the artist and NANZUKA.

I have no idea if this attempt will bring us good or bad luck, but Japan seems more conservative with each passing day. I believe it's important for young architects and creators to experiment and attempt new things. Trial and error is how we want to run ACK.
SG

There are some exciting pairings of Japanese galleries and global galleries planned for the fair. How did the galleries find their partners?

TKWe left the choice of the guest galleries to the exhibiting hosts, who used their own network and reputations to find and communicate with galleries from abroad. The ACK executive office merely played the role of inspecting the candidates chosen for collaboration. Because these guests were chosen from a unique network cultivated by Japanese galleries, we believe that ACK offers a peek into a unique ecosystem that connects them not only to major galleries in western countries but also in other parts of Asia, and other countries such as Brazil.

Kazumi Nakamura, Broken Hermitage 69 (Mt. Ogura) (2020). Acrylic on cotton canvas. 117 × 91.2 cm. Courtesy the artist and Blum & Poe.
SG

ANOMALY will be partnering with Blum & Poe at the fair. What have the two galleries discovered about each other in preparing for this exhibition?

YYWe share one artist, Yukinori Yanagi, but we thought the real pleasure would come from collaborating with artists the other gallery has never worked with before.

We chose to explore the themes of interactions between society and labour. Blum & Poe introduced an abstract expressionist painter whose thick, paint-laden surfaces harken back to the physical labour of factory work in his youth (Zhu Jinshi), an artist who believes abstract expression has the potential to challenge social conditions (Kazumi Nakamura), and an artist whose multilayered paintings suggest a world in which everything is in flux (Yukie Ishikawa).

Chim↑Pom, The Pussy of Tokyo (2017). Manhole cover (resin). Edition of 30. Installation. Courtesy the artists and ANOMALY.

ANOMALY, on our part, introduced an artist collective that creates critical installations and projects that transcend the realm of art (Chim↑Pom), and an artist who creates video works about the confrontation between social bodies and nature (Ishu Han).

While the artists share common concerns, we chose to show artists of different generations working in different media. Blum & Poe chose established painters while ANOMALY chose young and mid-career artists with project or performance-based works or videos.

Philippe Parreno, Iceman in Reality Park (1995–2019). Sculpted ice, stones, wooden sticks, corian plinth with found Japanese metal manhole cover, sound installation. 44 × 160 × 160 cm. Courtesy the artist and Esther Schipper, Berlin. Photo © Andrea Rossetti.
SG

Galleries typically compete with each other to secure sales. Has Art Collaboration Kyoto encouraged you to be more collaborative when it comes to the business side of selling art?

YYSince collaborating on the fair, we've shared lists of artworks with each other to market those of both galleries. Despite the potential, the Japanese market remains small. Many new collectors are trying to figure out what to look at or what to add to their collections. We're not here to participate in dull competition, but rather, to support and collaborate with one another so that our customers are able to participate in and understand the art industry, as well as art itself. We believe this will benefit us all in the end, including the growth of the art market.

Blum & Poe has a Tokyo branch, and we know Japanese customers in both galleries, so there's no point competing. We believe that meeting new customers together increases our efficiency, and it's more enjoyable for them. And it would be great if that leads to future profits.

Genta Ishizuka, Surface Tactility (on wall) #4 (2021). Urushi, hemp cloth Kanshitsu-technique. 44.5 x 36.5 x 27.5 cm. Photo: Takeru Koroda.

If we can learn to live with COVID-19, we can have a lot more international visitors to Kyoto. There have been too many fairs up till now. I think what we need now is a fair that distinguishes itself from previous fairs.
SG

Do you have plans to collaborate with international galleries in the future?

YYOf course, if we have the chance! We're planning to participate in Onsen Confidential, a collaborative project by galleries. There are already many unique collaborations, like Condo, where galleries rent their spaces to international galleries to exhibit. Some are in competition, but for many of us it's the collaboration that counts.

Saya Okubo, They (2021). Acrylic and oil on corrugated plastics sheeting. 147.5 × 119 cm. Courtesy the artist and WAITINGROOM.
SG

In the 'Kyoto Meetings' section of the fair, nine Japanese galleries will exhibit artists with strong ties to the city. What motivated this focus on local artists?

TKWe knew it would be difficult to introduce the local Kyoto art scene with only the fair's Gallery Collaboration section. The amount of art universities in Kyoto is right up there with Tokyo and every year countless graduate art students join the ranks of society, but the opportunities for them to show their art in Kyoto are extremely limited. ACK plans to offer an opportunity for their work to catch the attention of not only art fans in Japan but also collectors and art professionals internationally.
Akane Saijo, can you tell us about the work your duo TŌBOE will be showing in ACK's Kyoto Next section?
Kour Pour, Quiet Caretaker (2020). Block printing ink, acrylic and oil on canvas. 109.22 × 96.52 cm. Courtesy the artist and The Club.
ASTŌBOE is an artist duo consisting of myself, Akane Saijo, a ceramic artist, and sound artist Valentin Gabelier. An important feature of ceramics is their hollows; we focus on this to create artworks and performances where we create sounds by blowing into their hollows.
When Valentin and I place our lips on and blow into the organic shaped ceramic works we created ourselves, it feels like TŌBOE is blurring the lines between body and matter, creating a performance that grows beyond our own bodies and internal organs.
With the way society is these days, we've become more aware of the act of breathing and speaking, which represents life itself. We're hoping to express through our performances, the various ways bodies and people connect with one another in our society.
Tomonari Nakayashiki, Dororo (2020). Acrylic on wood. 52 × 15 × 14 cm. Courtesy the artist and Koki Arts.
TŌBOE started last year when COVID-19 hit, and with it came an increase of online exhibitions and events but we instead chose a more direct physical connectedness at the core of our work.
SG

How would you describe the Kyoto art scene now?

ASCraft has always observed tradition, and to the contrary, contemporary art demands change. My own style is able to exist because the current environment allows for these contradictions. There are lots of artists in Kyoto who are both active in the field of contemporary art but use traditional techniques. I believe there's a connection between the interaction of these two in the development of art culture in Kyoto. There's a developing market here, and I feel that rather than tilting towards capitalism, it's churning out many thoughtful, strongly-motivated artists.

Rafaël Rozendaal, Into Time 14 09 10 (2014). Lenticular Print. 160.0 x 120.0 cm. © Rafaël Rozendaal. Courtesy Takuro Someya Contemporary Art.
SG

What do you hope Art Collaboration Kyoto will bring to the city?

ASBefore COVID-19, Kyoto was full of people from all over the world. Many of them were only interested in seeing the traditional side of Kyoto, like temples, shrines and traditional craft; you'd be hard pressed to say the city had an image of 'contemporary art' about it.

Kanazawa on the other hand, which also has a flourishing traditional craft movement, is celebrated as a contemporary art city, partly due to the 21st Century Museum of Contemporary Art, Kanazawa. That's because of all the publicity and branding support the city has received from government and private businesses.

Kyoto International Conference Center. Courtesy Kyoto International Conference Center.

The government in Kyoto has offered a lot of support and promotion to contemporary art and artists compared to other prefectures, which has led to a gradual increase in the amount of art fairs and exhibitions, but that doesn't mean there is enough just yet.

Kyoto is a global city. We need to turn it into an art hub. I really hope that ACK helps communicate the rich foundation of contemporary art that is being cultivated here in Kyoto. —[O]