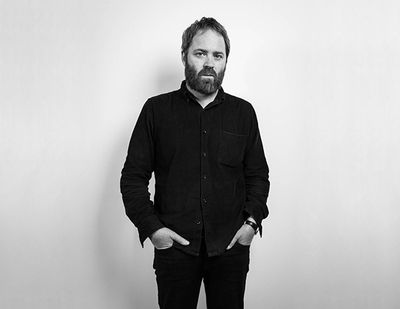 David Noonan. Photo: Mark Blower, London. 
A recent exhibition at Xavier Hufkens, Brussels saw the presentation of large-scale, screen-printed linen collages by Australian born, but London based artist, David Noonan. As with Noonan's sculptural and film works, the linen collages presented at Hufkens are re-configurations of both abstract and figurative imagery, which he gleans from his personal collection of found black and white or sepia photographs, archival documents, magazines, films, and self-generated photographs of vintage textiles.
Through a laborious process he carefully prints the chosen images on linen (often numerous times), and then via a process of selection, elimination, ripping, stitching and gluing he creates new images. These images, while still figurative, appear not to be of this world; there is a mystery to them, a narrative present, but out-of-reach.
Noonan avoids attributing any particular meaning to each work, and he states he wants his works to both individually and collectively emanate an 'atmosphere', and evoke a mood in the viewer.
Talking to Noonan at Frieze London it becomes clear that he is also concerned with challenging his process and also interrogating the formal elements of his work. He attributes a new coolness of tone that is apparent in the Hufkens show to a technical advancement whereby he stained the raw linen with a thin layer of warm grey pigment before printing upon it.
The advance is important because it expands the range of tone he can work with, without impacting the 'natural' look and state of the linen he uses. The fabrics Noonan uses in his work are rough in texture and often folded, patched and left raw with rips, obvious stitching, or threads dangling across the surface. The work appears ruptured, creating an almost a trompe l'oeil effect, and activating the surface of his work.
In this interview, Noonan discusses the trajectory his career has followed; his process and the recent technical advancements; and his work's relationship to both figuration and abstraction.
There is often a sense of blurring of identity or sexuality, and an allusion to the idea of the human form as something that can be malleable, that can undergo transformation and change.
AD

If we start right at the beginning. Was there a piece of art or something else—a particular incident, artwork, or person, for example—which represents a defining moment in you deciding to be an artist?

DNAs long as I can remember I wanted to make art, and to study it. The earliest opportunity I could do that was when I was seventeen, I was able to enrol in a pre-tertiary art course, a kind of two-year preparation course for university.

I remember that year very clearly, my world as I knew it dramatically changed—it felt like a lot of things fell into place. It was such a shift from the horrible, oppressive high schools I had attended.

We were taught a lot of subjects: drawing, photography, ceramics, painting, graphic design, craft, and art history. It was intense; it covered all the disciplines. I was overwhelmed by the breadth of it all, everything was treated equally, there did not seem to be a hierarchy of disciplines.
AD
That interaction with a number of disciplines reflects your practice in many ways. You are probably best known for your collage work, but you work using various mediums, including film and sculpture.
DNDefinitely, the early introduction to a lot of disciplines was really useful for me.
Exhibition view of David Noonan's solo exhibition at Xavier Hufkens, Brussels. Photo © Allard Bovenberg, Amsterdam
AD

After the pre-tertiary course, you then went to university and studied painting?

DNAfter that course, I went to India for three months and lived in an ashram. I painted sets for productions of the Mahabharata and the Ramayana, and when I returned I started a three-year Bachelor of Fine Arts. I majored in painting.
AD

So you majored in painting, but you are best known for your collages. When and how did you start exploring collage?

DNIt was around 2003. I had just spent a year in New York at PS1, and when I returned to Melbourne I didn't have a studio, so I started collecting books from charity shops and second hand bookshops, and with this found material I started making quite small paper collages.

This was a way for me to make non-studio based work, but also a way of working with found images. It was at this time that I started building an archive of images that interested me, but were not necessarily used in the collages. A lot of it I didn't know what to do with until years later.

I was also still painting, and around this time I began making bleach paintings.
There is something very sculptural or object like about figures...
AD

Tell me about the process of making the bleach paintings?

DNIt was a bit like a photographic process. By applying different dilutions of bleach to dyed black cotton I found I could get quite a large tonal range. It was painting in negative really, taking the pigment away rather than applying it. I used the process to create monochrome pictures of different scenarios, which I pieced together from photographs I had taken of various situations I had staged.

So in some ways the pictures were made with a collage process: bringing different images together to make an invented scene, for instance a figure from one image placed in an interior from another source, etc. So it didn't feel like such a great leap to take this process away from the bleach technique into screen-printing.

I moved to London in 2005, and did a show of the bleach paintings at HOTEL, the pictures had been made in Melbourne. Once the show was over, and I had found a studio and kind of acclimatised to London, I felt like I had come to the natural end of that body of work and the bleach process.

It was a little like when I moved back to Melbourne after New York; I had this compulsion to collect images, to build up a new archive in a new city, and sort of start something new, something relevant to where I now was. I remember I did a lot of trawling through charity stores and antiquarian bookshops, which was a way for me to discover London and also collect quite different material than I had been able to find in Australia.
Exhibition view of David Noonan's solo exhibition at Xavier Hufkens, Brussels. Photo © Allard Bovenberg, Amsterdam
AD

Can you please tell me about one of your first pieces using screen print that led towards the style you have become known for, of super-imposing prints?

DNIt was for a show at Foxy Production in New York. I made these quite small (compared to what I'm doing now), double exposure images (where two images are superimposed). Thinking about it, they have a similar palette to the works in my current show at Xavier Hufkens; they were screen printed on a kind of grey ground, which is what I have been doing in my most recent work. After this show I started printing on wooden panels, and then unprimed materials like jute and linen. The scale changed quite a bit too.
AD

Tell me about the work you have created for Xavier Hufkens' current exhibition? I understand the palette you mention has a lot to do with discovering a new technique of working with the base material?

DNAs I mentioned most of my work is screen-printed onto unprimed natural textiles, usually the unprimed side of painter's linen. I then cut and tear the printed images into sections, and collage them into the final pieces.

With the Xavier Hufkens show, I wanted to use a much cooler palette than I had used since the early works we talked about before, almost the same kind of tonal aesthetic of a photocopy. I could not find natural linen that allowed me to do this, so I worked on a process of screen-printing using a very thin flood coat on natural linen that was more like dying the linen rather than heavily priming it. This allowed me to control the colour of the linen, while still allowing it to behave and look like a natural material.
AD

Tearing the linen and leaving the edges raw very much brings the surface of your works alive.

DNYes, the surface of the picture is important to me. When I first started using silkscreen printing I made quite straight prints onto flat surfaces, like primed linen or wood, but I found the flatness of the surface unsatisfying.

I loved the flatness of Warhol's pictures as this was so intrinsic to his overall aesthetic, but I wanted to find a way of making my pieces have a surface more like a painting than a flat print. I am making unique pieces with a process designed to make [use of] multiple images.

I used this aspect of the process to my advantage by making many prints of the same image that I can tear and cut up to assemble into one piece, this way I can layer the surface through collage, and also make larger works by piecing together the image in sections.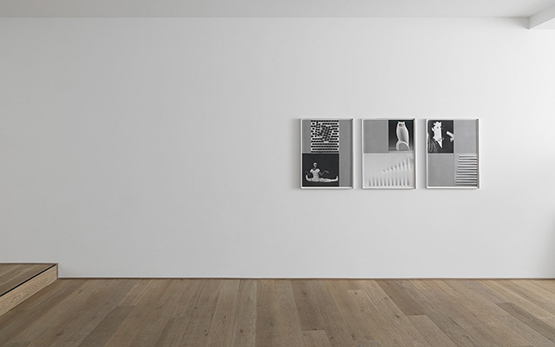 Exhibition view of David Noonan's solo exhibition at Xavier Hufkens, Brussels. Photo © Allard Bovenberg, Amsterdam
AD

So what is the first step in making a work?

DNI start with ideas and preliminary notations. I often lay out images on tables around the studio or pin images on the walls. With the Hufkens show, something that I noticed halfway through making the work was that I seemed to subconsciously, or perhaps just formally, concentrate on singular, individual figures (apart from one piece where there is this type of conversation happening between two performers).

There is something very sculptural or object like about the figures, and of course the images of the owls were from actual Art Deco sculptures. Spatially, all of the pictures seem to have quite a shallow depth to them as well.
AD

Masks feature a lot in your work. I was reminded of Claude Cahun and her use of masks. What is it about the idea of the 'mask' that so attracts you to use it in your work?

DNIt's something which I've always found interesting. Masks are like make-up or costumes, which are all about notions of transformation or disguise. I think that is one of the reasons I have been drawn towards images of theatre, or people in preparation for performance.

There is often a sense of blurring of identity or sexuality, and an allusion to the idea of the human form as something that can be malleable, that can undergo transformation and change.

Masks can also be used to abstract the face or body. In the Hufkens show, there is a group of pictures that have people wearing geometric and quite wild paper masks. The masks abstract the figures, and then the overlay of the geometric textile image abstracts them further; it's like the elements that make up the picture—the figures, the masks and the textiles—are being folded into one another.
David Noonan, Untitled, 2015. Silk screen on dyed linen collage, steel tray frame, 204 x 289 x 6 cm. Courtesy of Xavier Hufkens, Brussels.
AD

The mask appears in one particular image in the Hufkens exhibition that I would like to discuss; it's the image of the dancer sitting in the splits, but with her back to the audience and a mask on backwards. It is striking image, but also a disconcerting image.

DNIt is a disconcerting image, but to me it's actually more disorienting, the body is literally being confused or abstracted by the mask being worn the wrong way around. The body appears less human and more doll-like. The pose of the figure, with her legs flat along the floor and her arms held out, makes me think of a marionette puppet that has been allowed to rest on the floor or stage.

I find the mask itself really captivating and beautiful, it is almost Picasso-like in that it depicts a face seen from the front and side simultaneously with a large single black tear on the cheek of the face.

The mask is the focal point of the picture. The overlay, or superimposed image is of a folk art quilt that was made up of many, many pairs of jeans, taken apart and sewn together and then sewn all over with little tufts of thread, which make a pattern that covers the whole quilt.

It reminds me of Memphis design patterns from the early 1980s. The quilt overlay literally breaks up the figure through the patchwork, which is collaged together in the same fashion as the original textile. The tufts of thread have a trompe l'oeil effect of looking like they are actually sewn into the picture.
AD

Where would you want to go next?

DNI think there are definitely things happening in this body of work that I want to push, certainly the palette shift in the work feels significant for me, and using steel tray frames as opposed to wooden ones shifts the materiality of the pictures ... It's a little early to say, I am not really sure. I just know that things are changing and moving ... A project that I am working on at the moment is an artist book with common-editions. A lot of the new ideas in the work will be processed in the making of this publication. It will be published next Spring. —[O]