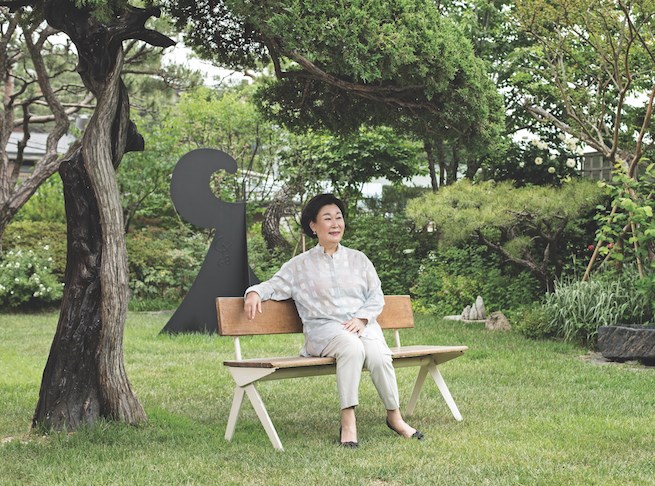 Hyun-Sook Lee. Photo: Penn Studio.
On a spring morning in Seoul, in a neighbourhood hushed enough to feel removed from the city, I met with collector and gallerist Hyun-Sook Lee at her home. Indications of the depth of her art collection were evident even from outside. In the garden was a 1968 metal sculpture by Alexander Calder, its form curving upwards like a black hook among the manicured plants. Inside the doorway hung a graphic painting from Roy Lichtenstein's famed mid-1950s series of enlarged brushstrokes. A large green concave mirror by Anish Kapoor kept command on the wall at the head of the dining room table; though the room was empty that morning, one imagined the work's rounded surface amplifying the sounds of diners' conversations at mealtimes. Around the house were works by Korean masters such as Kim Chong Yung, Yoo Youngkuk, Park Soo-geun and Kwon Jinkyu. Drawings and personal gifts from artist-friends like Lee Ufan were plentiful throughout bedrooms on the upper floor—over the course of her career, Lee has emphasised the importance of cultivating close relationships with artists and collectors alike.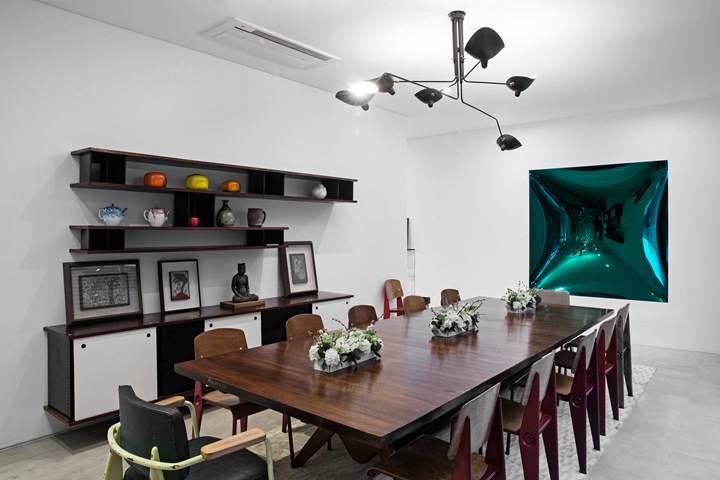 Anish Kapoor, Up Side Down (Green) (2008). Acrylic. 176 x 176 cm. Exhibition view: Hyun-Sook Lee's home, Seoul. Courtesy Kukje Gallery. Photo: Penn Studio.
Hyun-Sook Lee is the founder and chairwoman of Kukje Gallery in Seoul. She opened the gallery in 1982 after years of collecting with her husband—her initial show being a way to sell works that she'd acquired to make room for more. In the mid-1980s, Lee travelled to America on what became a seminal trip for her relationship with art. Having previously focused her attentions on Korean antiquities and modernists, Lee became acquainted with the vocabularies of the Western avant-garde and hoped to introduce foreign artists to the Korean market. With characteristic boldness, Lee approached overseas galleries to let her show their artists in her unknown space in Seoul—efforts that were met with considerable success. In the years that followed, Lee brought to Korea the works of artists such as Roni Horn, Anthony Caro, Anselm Kiefer, Candida Höfer, Alexander Calder, Louise Bourgeois, Donald Judd, Joseph Beuys, Cy Twombly, Sol LeWitt, Anish Kapoor, Bill Viola, Jean-Michel Othoniel and Ugo Rondinone, among others. While also dealing in the works of post-war Korean artists including Ha Chong-Hyun, Lee Ufan, Chung Chang-Sup, Kwon Young-Woo, Park Seo-Bo and Chung Sang-Hwa, Lee has supported the careers of important Korean artists of recent years including Haegue Yang, Kimsooja, Gimhongsok, Kyungah Ham, Yeondoo Jung, Kibong Rhee and Jae-Eun Choi. Lee is recognised as a contributor to the recent boom in interest in Dansaekhwa painting, having mounted a major exhibition of important works as a collateral event at the Venice Biennale in 2015. Acknowledged for her pioneering work in and outside of Korea, in 2011 and 2013 Lee was featured in Art+Auction's 'Power 100', and in 2014 was listed as one of Artnet's 'Most Admired Art Dealers of 2014', and '100 Most Powerful Women In Art.' She was also selected as one of ArtReview's 'Power 100' in 2015 and 2016.
Hyun-Sook Lee at the gallery opening reception in 1987. Courtesy Lee and Kukje Gallery.
The name Kukje translates to 'international' from Korean—something that reflects Lee's collection and her gallery ethos: one centred on cultural education and global dialogue. With three exhibition spaces, an auditorium, wine bar and restaurant, Kukje Gallery is now located in the Samcheong-ro neighbourhood of Seoul, an area populated by galleries and museums such as the National Museum of Modern and Contemporary Art and Art Sonje Center. Meeting at Lee's home, we sat next to a large painting by Kim Whanki as we spoke about her life in art.
HSLThere was a surge of public recognition of then-contemporary artists during the 1970s and '80s, including Oh Chi-Ho, Chang Ucchin, To Sang-Bong, Yoo Youngkuk and Kim Whanki. These artists were garnering a lot of attention at the time, so I was naturally exposed to them and began to focus on their work—leading me towards an increasing interest in contemporary rather than modern art. At that time, we [Koreans] used to broadly classify paintings as either Western or Asian, or more commonly as traditionally Korean. Although the latter was then still very dominant in the market, Western painting steadily became more prominent, eventually becoming the dominant genre of art.
HSLI think potential acquisitions can also give you a compelling picture. Of late, I have been considering adding a new Lucio Fontana and Kim Whanki to my collection.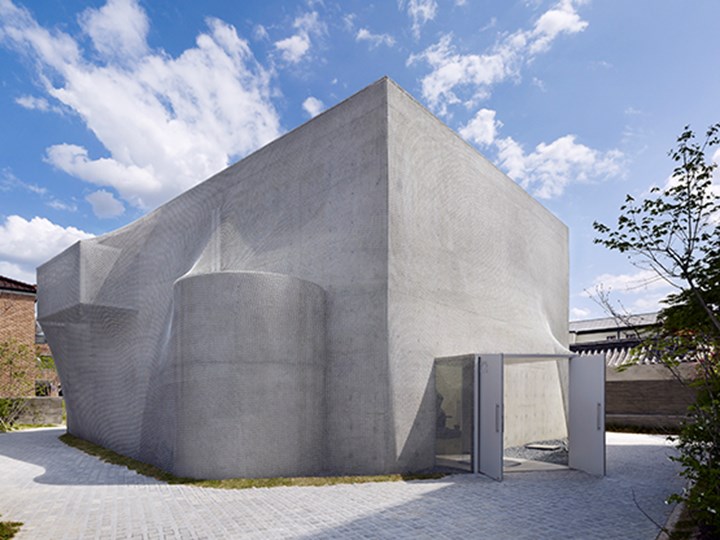 K3, Kukje Gallery, Seoul. Courtesy Kukje Gallery. Photo: Yong-Kwan Kim.
HSLI personally like de Kooning and Lichtenstein, as well as the Dansaekhwa artists. I also love works by Alexander Calder and Louise Bourgeois, two artists I considered good friends and both of whom I have worked with for a long time. As for Calder, I am very close with his grandson, Alexander (Sandy) Rower. We have a long-standing relationship and have organised many exhibitions over the years including most recently, Calder Jewellery [10 July–17 August 2014], Calder Noir [12 July–17 August 2012], and Alexander Calder [18 December 2013–27 February 2014]. I am an art dealer, but I also identify myself as a very passionate collector. I've always appreciated these artists' works, and these feelings have been nurtured by my personal friendships with them. Eventually I was fortunate enough to collect their art and those of many other artists I admire, giving me the opportunity to display their masterworks.
Alexander Calder, Martigues (1966). Painted steel. 80 x 92 x 39.5 in. Exhibition view: Hyun-Sook Lee's home, Seoul. Courtesy Kukje Gallery. Photo: Penn Studio.
HSLYes, I recently changed the layout—I relocated an Anish Kapoor to the dining room and moved a de Kooning. I don't often change the display at home, but when I do it is a spontaneous decision.
HSLI've always liked travelling for art fairs. I recently had knee surgery and am recovering quickly. Even though I wasn't able to travel for a year or so before and a little after the procedure, I'm finally catching up on all the travel that I missed. This June I plan to go to Kassel, Art Basel in Basel and Venice. My most recent travel was to Hong Kong back in March. My criteria for discovering new art and artists is very straightforward. For international artists, I think about what their international status is—where they are in their careers. This way I can see the bigger picture. If the artist is younger, I think about their future. Do they have potential? How will they further develop their artistic careers? As for Korean artists, many have been educated overseas, which creates a solid foundation for global outreach and reception for their works. This does blur the boundary between domestic and international artists to some extent, and also the context in which they should be viewed. Because of this, my criteria for Korean artists are similar to those of international artists. I am also connected with many renowned Korean and international curators, museum directors and board members. I really value the insight and experience of curators.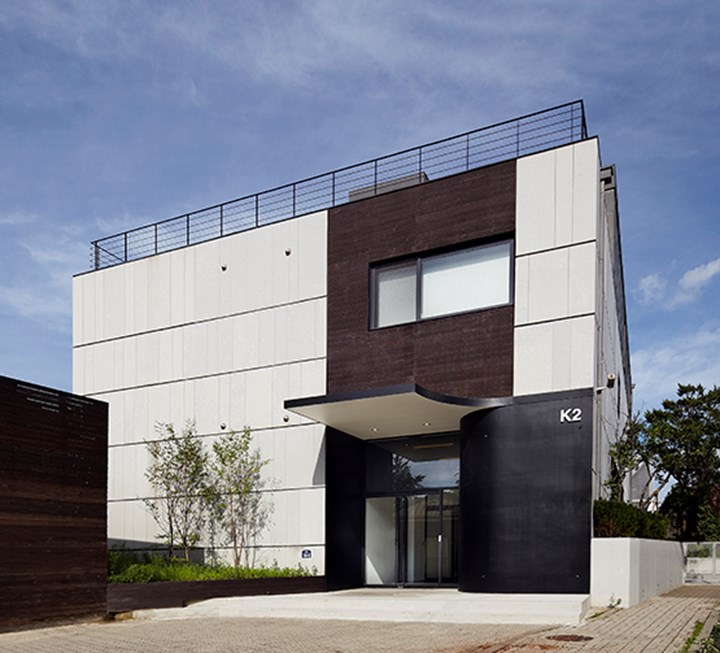 K2, Kukje Gallery, Seoul. Courtesy Kukje Gallery. Photo: Yong-Kwan Kim.
HSLIt's hard to pick just one! Each work means a lot to me, but if I had to choose from the Korean works I own, I would say both Kim Whanki and Park Su-geun. They are two of the treasured artists in my Korean collection. As for Western artists, I like Donald Judd and have a special piece of his. I also like Roy Lichtenstein and Alexander Calder. I have a unique sculpture by Calder installed in my garden and another in my dining room. [Points to Kim Whanki's Tranquility 5-IV-73 #310 (1973)] This is an important work by Kim Whanki, but I also enjoy his early figurative works. There is a small, very important, early painting by the artist on the second floor of my house. I can show it to you later.
HSLOf course. Kimsooja has great films. Bill Viola and I have a great working relationship and I love his works.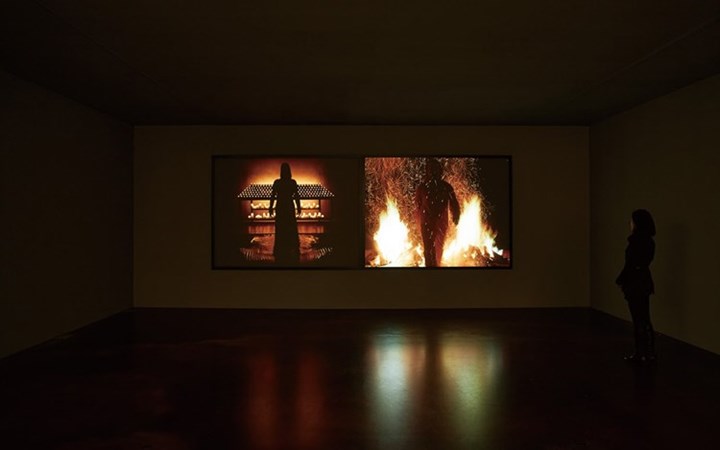 Bill Viola, Night Vigil (2005/2009). Colour rear-projection video diptych, two large screens mounted on wall in dark room. 18:06 min. Exhibition view: Bill Viola, Kukje Gallery, Seoul (5 March–3 May 2015). Courtesy Kukje Gallery.
HSLIt would be a mistake to say that there is just one specific correlation between these two historic categories. It makes more sense to discuss the differences first. Generally speaking, there are cultural and generational differences between modern and contemporary Korean artists that arose out of their education. Modern Korean artists were educated in Japan as we were under Japanese occupation; this led to a greater influence by the then-dominant Japanese school of Impressionism. It was a natural phenomenon as Korea was a colony of Japan, and this had an undeniable influence on education. This was the case for these artists from this particular generation. At the time, people were exposed to Japanese culture and language.
Many galleries and dealers thought that these modern Korean artists, who were educated in Japan, were on the cutting edge and offered something new to the market.
During that time, oriental landscape paintings were prevalent in the market and a sudden transition towards contemporary art would have caused a huge rift. It would have been difficult for the general public and collectors to wrap their heads around, having been accustomed to traditional Korean paintings—even though in the West Impressionism had long since been replaced by different strains of Modernism. This is why I believe that Impressionism, along with modern Korean art, was an essential stepping stone to contemporary art. Impressionism, oil painting and figurative painting have all been in conversation with traditional Korean painting throughout modern history. This connection was fundamental in familiarising domestic audiences and collectors with contemporary art.
Exhibition view: When process becomes form: Dansaekhwa and Korean abstraction, Boghossian Foundation–Villa Empain, Brussels (20 February–24 April 2016). © Boghossian Foundation–Villa Empain. Courtesy Kukje Gallery.
This change in the reception of contemporary art is one of the many reasons why I began to promote Dansaekhwa. In the 1960s and 1970s, few people appreciated this generation of artists and their works. Perceptions of art changed with a new generation, yet still nobody properly promoted this vital movement. I had a responsibility to introduce Dansaekhwa to both domestic and international audiences.
HSLThat is a question with a simple answer. I loved art—I wanted to collect more artworks. As my collection expanded, I thought to myself, would there be a way to buy and sell artworks? It was simple logic to me, and I already had established relationships with artists while building my own collection. That's how I came to open a gallery 35 years ago when there was only a handful of galleries in Korea. When I first opened Kukje Gallery, I began with art that was unprecedented and heretofore unseen in Korea, which meant that many of the artists that I exhibited were from overseas and particularly from the West. Even the Korean artists I represented were expressionist in style and worked with oil-based mediums—both indicators of Western influence. And over time, I broadened my scope to include established Korean artists who were widely recognised and acclaimed by the international audience. Looking back, that's why Kukje Gallery became successful—I was the first to display works that were not being showcased in Korea.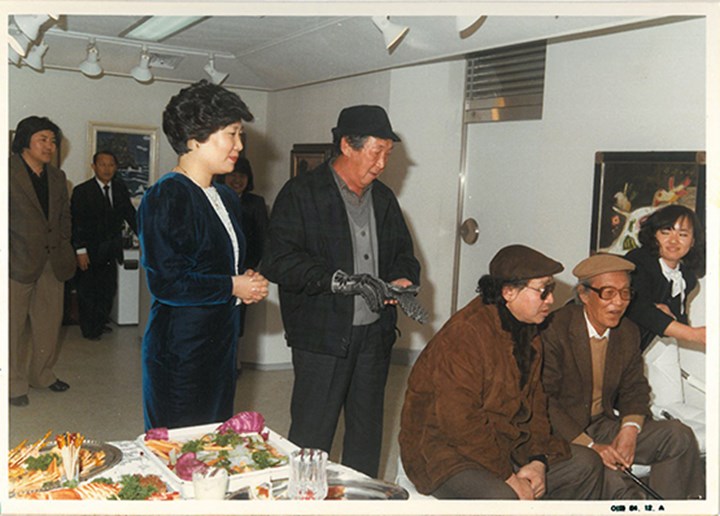 Hyun-Sook Lee at the Gallery opening reception in 1984. Courtesy Kukje Gallery.
I read that your first exhibition sold out quickly.
HSL[Laughs]. Yes.
HSLI think today the binary between 'Korean' and 'non-Korean' no longer exists. The world is changing. When introducing Korean art history, I like to start with the basics. It helps people to place Korean art history within the overall international narrative. After the modern age, there was Dansaekhwa. Dansaekhwa was a movement where artists vigorously pursued their own visual vocabulary. Minjung art is a populist art movement that came after Dansaekhwa and is often referred to as 'the people's art.' It is more liberal, open-minded and provides a reflection of political and social themes. Now, there is a younger generation of Korean artists, for example Haegue Yang, whose work builds on the history of conceptual art. I feel that contemporary Korean artists are deeply influenced by these historical Korean art movements. For this next generation, their international education has created a synergy with their Korean backgrounds, helping them to discover unique and important voices.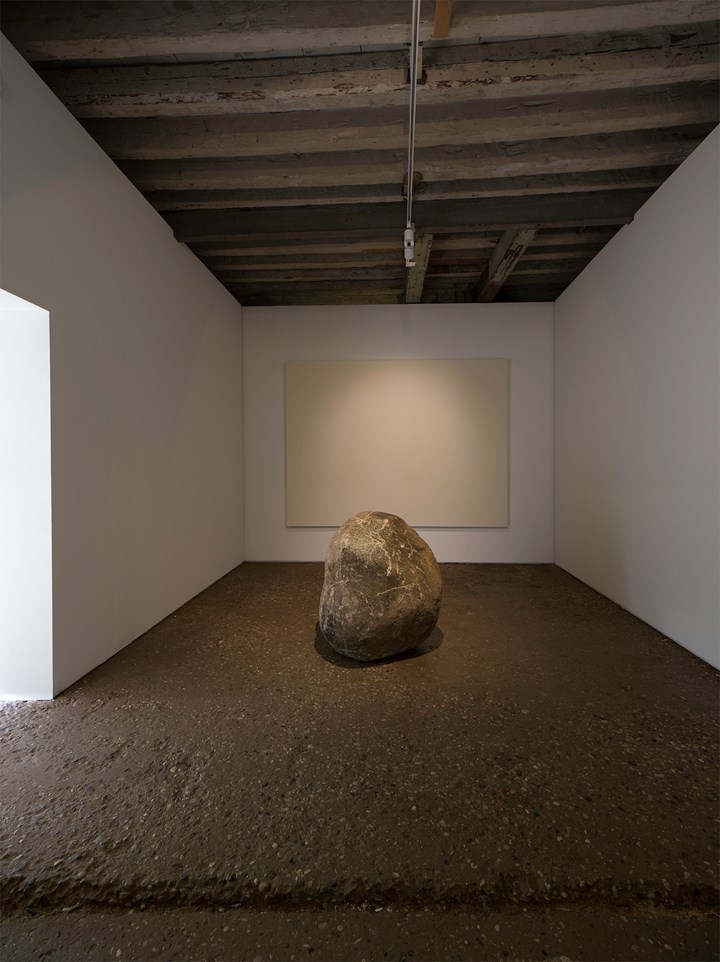 Exhibition view: Dansaekhwa, collateral event of the 56th International Art Exhibition, La Biennale di Venezia (8 May–15 August 2015). Courtesy Kukje Gallery. Photo: Fabrice Seixas.
HSLIn the Korean art scene, women are very powerful [laughs]. I run a family business; my three children, Tina, Suzie and Charles are all involved. I sent them to study overseas when they were young. This both allowed me freedom to invest in the gallery and gave them great educations and international experience. Because of their diverse experiences, they have been able to develop important expertise and networks, contributing a great deal to the success and growth of Kukje Gallery.
HSLIt's actually very effective as everyone has a different role. I communicate with the major clients who are closer to my age. Charles handles all administrative, operational, and financial tasks, including our café, wine bar and the restaurant. His wife Bo is involved in curating gallery exhibitions and manages our extensive archive and publications. Tina runs her own gallery in New York [Tina Kim Gallery], and we often collaborate on art fairs. Suzie runs the education programme at Kukje Gallery. We have an auditorium that we use for educational purposes such as lectures, film screenings, and concerts. Suzie runs this academic programming, educating younger collectors and cultivating a new dynamic client base. This programming doesn't only cover art—it also includes music, opera, film, art history and humanities. As I age, this component of Kukje's mission has become increasingly important; I really enjoy learning and studying with my friends and clients. I am continually learning about artists and cultures I have never seen before.
I am also very deliberate with the structure of our gallery. While there are some overlapping roles, we have an exhibitions team, design team, communications team, sales team and so on. Forty people work in the gallery. It's a large and well-organised group. My philosophy as the founder is not to just grow, but I prefer to gauge how much we can manage and observe our boundaries. We value quality over quantity and work at a steady pace.
HSLWe define our gallery as more international than Korean. We are based in Korea of course, but over 70 percent of our collectors are from overseas and approximately 60 percent of our represented artists are international. Our mentality is more internationally-focused than local, but it doesn't mean that we take one more seriously than the other. For example, we've staged Dansaekhwa exhibitions in both Korea and overseas, such as When Process Becomes Form: Dansaekhwa and Korean Abstraction with the Boghossian Foundation [20 February–24 April 2016], Dansaekhwa as a collateral event of the 56th Venice Biennale [8 May–15 August 2015], and The Art of Dansaekhwa at Kukje Gallery [28 August–19 October 2014]. All of these important exhibitions received attention and critical acclaim, regardless of the location.
Exhibition view: When process becomes form: Dansaekhwa and Korean abstraction, Boghossian Foundation–Villa Empain, Brussels (20 February–24 April 2016). Courtesy Kukje Gallery. © Boghossian Foundation–Villa Empain.
HSLOne of them is Haegue Yang, who has been with Kukje Gallery for some time now. We've been a major proponent of her growing list of museum exhibitions around the world, and she's currently having an extended solo exhibition titled VIP's Union - Phase I & II at the Kunsthaus Graz in Austria [23 June 2017–2 February 2018]. In Korea, she also recently had a solo exhibition at Leeum, Samsung Museum of Art in Seoul, titled __Shooting the Elephant 象 Thinking the Elephant [12 February–10 May 2015]. I've also been involved in advancing the careers of Gimhongsok and the Dansaekhwa artists. I realised the vitality of the Dansaekhwa artists such as Ha Chong-Hyun, Park Seo-Bo and Kwon Young-Woo during the early 21st century, and have made a point to bring them into the public attention and foster international discourse on the seminal movement. As for Gimhongsok, he will participate in a group exhibition later this year in October at the Solomon R Guggenheim Museum, titled Art and China after 1989: Theater of the World [6 October 2017–7 January 2018].
I'm also interested in rediscovering artists. Though artists such as Michael Joo are not considered 'young', we have rediscovered their works and worked to highlight their achievements. As a part of this effort, Michael Joo will hold a solo exhibition at Kukje Gallery this year in November. And I can say that Kibong Rhee, who explores ideas such as flux and impermanence primarily through painting, has gained international recognition through art fairs as well as major museum shows in Korea that were largely propagated by Kukje. He has been with us since the beginning.
While some avant-garde artworks suit my preferences more than others, I respect the concerns of the younger generation and realise that it is important to showcase them at the gallery. The exhibitions at Kukje Gallery do not always coincide with my own collection. And although I love art, I cannot say that I am a major expert in the field—I am constantly learning and expanding my knowledge of art history. If an artist is doing something very innovative or avant-garde, I want to be a part of this new history and study it together with the artist.
My daughter-in-law Bo has a curatorial background that makes her a perfect choice to be in charge of researching and developing these relationships with younger artists. This summer, the gallery has organised a group show featuring very young artists. Many of these young Korean artists have received world-class educations. Their curiosity and the critical experience of this next generation have the potential to be an important factor in the international art world. —[O]