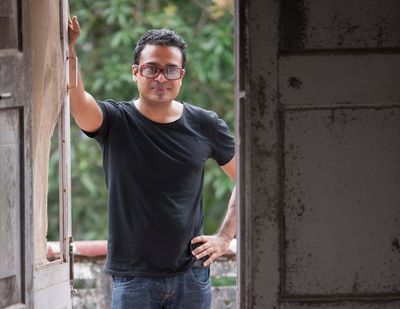 Jitish Kallat. Courtesy the artist.
Jitish Kallat is one of India's leading contemporary artists, the subject of multiple catalogues and solo exhibitions around the world.
Kallat's work has been exhibited widely at museums and institutions including Tate Modern (London), Martin-Gropius-Bau (Berlin), Gallery of Modern Art (Brisbane), Serpentine Gallery (London), Mori Art Museum (Tokyo), HangarBicocca (Milan), ZKM Museum (Karlsruhe), Arken Museum of Modern Art (Copenhagen), MAXXI (Rome), Art Gallery of New South Wales (Sydney), Ian Potter Museum of Art (Melbourne), San Jose Museum of Art, Bhau Daji Lad Museum (Mumbai) and the Art Institute of Chicago.
Kallat has taken part in the Havana Biennial, Gwangju Biennale, Asia Pacific Triennial, Guangzhou Triennial, and the Kiev Biennale amongst others. He was born in Mumbai in 1974, the city where he lives and works.
Letting go of your own knowledge or certitude is a great place to start on any journey, whether it be creative, political, or other.
Reflective of an increasing trend to appoint artists as curators, Kallat is the curator for the second edition of the Kochi-Muziris Biennale—Whorled Explorations, which opened in December 2014.
Underlying the curatorial premise of the biennale are two chronologically overlapping, but perhaps directly unrelated, historical episodes in Kerala that took place during the fourteenth to seventeenth centuries. Drawing on these parallel points of departure, allusions to the historical and the cosmological recur throughout the exhibition: the works acting as exaggerated extensions to gestures we make when we try to see or understand something.
Conceived as a temporary observation deck hoisted at Kochi, the biennale draws upon a wide glossary of signs from this legendary maritime gateway to bring together sensory and conceptual propositions that map our world referencing history, geography, cosmology, time, space, dreams and myths.
As an artist, I would imagine your approach could be quite different to that of a curator, especially with regard to an innate understanding of the making process and triggers to productivity and new ideas. There was one quote from your curatorial text that struck a chord, referencing 'a productive state of uncertainty'.
AdG

I am sure that every conversation was different, however were there any common pretexts, such as this statement, that you set the artists at the outset that encouraged them to explore new concepts and works, perhaps allowing for more site specificity?

JKI thought of the entire project as site-catalysed, but not site-specific. Which means that they emerge loosely because of the broad points of reference tied to the site.

At another level, when you cite something around ideas of the cosmos or around the recollection of the Age of Exploration or Discovery, you are actually speaking about a nebulous set of things, which is actually a constellation of imagery that doesn't co-exist with us.
This inquiry of our planetary expedition is a good way to address the 'now'...
These suggestions—space, the cosmos and the Age of Exploration—became almost like a toolbox of images and metaphors that could infiltrate the project, and through which we might gain an insight into the world we live in. My invitations to artists varied from artist to artist but two suggestions remained consistent.
The facts that the earth is gliding under our feet at about 100,000 km per hour and that our planetary rotation speed here at Kochi is faster than the speed of sound—point to the limits of human perception—and secondly, a reflection of history relating specifically to the Age of Discovery.
These two key points were sent as prompts, like coordinates or intuitions that could permeate and guide the project.
My letters to artist colleagues were not always the same. For example, to an architect friend Bijoy Jain, I also sent images of ballast stones that were used to balance ships and are now part of Kochi's architecture. This was my way of sharing of an intuition at the beginning of the project.
Those bricks and stones that now make up the walls of Kochi are carriers of a certain kind of history. They came into Kochi taking up the space of the spices, which then replaced them on the ships that left these shores and now they are part of living architecture.
In a way, these images were the starting point, but no one else received those ballast stones until much later when I sent them to Sissel Tolaas as a proposition for her sweat stones [Fear, 2014].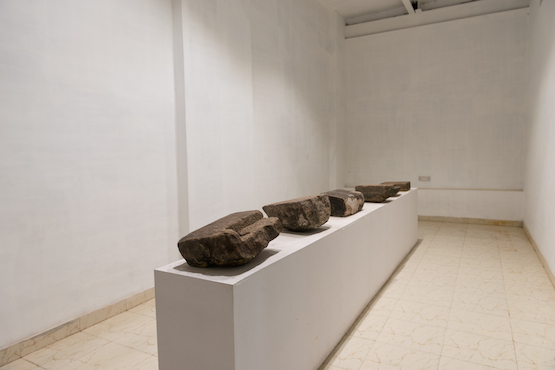 Exhibition view: Sissel Tolaas, Fear (2014). Stones and replicated body smell. Dimensions variable. Courtesy Kochi Biennale Foundation.
So those images just went to two artist colleagues, they didn't go to others. In other cases it might have been Wikipedia links for example. It was a circulation of ideas that were preoccupying me and I felt may have some resonance with particular artists.
AdG

Kochi is a very unique site with an active political and religious history. This heritage permeates the city and you can't really move away from it.
At the same time, you presented a particular concept of the present within this historically rich context. You take the premise that we share a 'dwelling' (this planet), that is 'hurtling through space at a dizzying velocity'.
With this, you appear to be stating that amid our differences, we are all experiencing this phenomenon, one that we rarely make ourselves conscious of. To a certain extent it levels the playing ground— was that deliberate on your part?
JKYes, one could say it was deliberate. It was compelling to cite and commemorate the achievements of the Kerala school of astronomy and mathematics, and from there launch an inquiry into the present by invoking the perceptual limits of our existence.
Our daily experience of time is bound by our everyday notions of periodicity and duration.
This inquiry of our planetary expedition is a good way to address the 'now' reflecting on the fact that you, I and all of us are actually cohabitants of a tenement—which is an unspectacular little object, in an unspectacular corner of this vast universe—and to re-think our own relationship to the world in this context, rather than the manner in which we ordinarily perceive it; it shifts the optics.
So in fact for me, a space like Kochi which is in fact a culturally rich and politically active space, ignited the possibility to turn the lens of the political around into the space of self-reflection, rather than an outward-facing placard or billboard, and to treat self-reflection as a political act.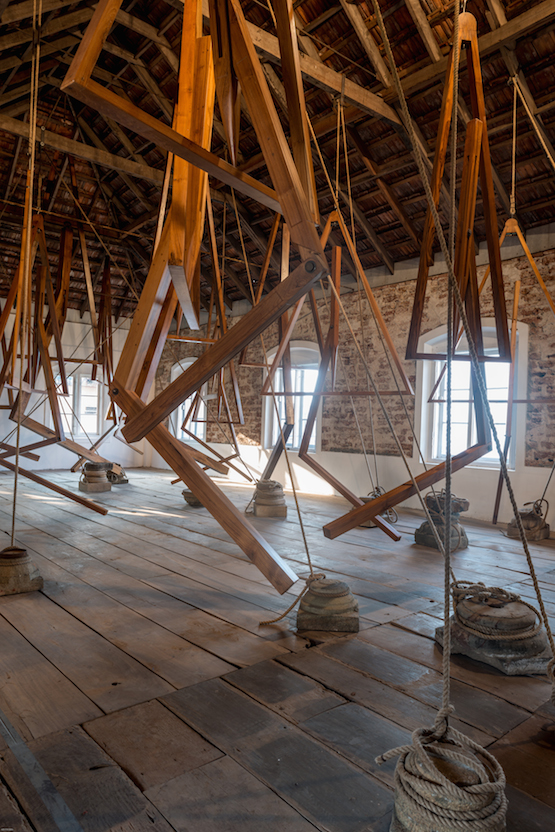 Bharti Kher, three decimal point. of a minute. of a second. of a degree. at the Kochi-Muziris Biennale, 2014.
AdG

In effect you are asking the viewers to look towards common interiority. Instead of conflict, it's common grounds that you are discovering?

JKIn fact, no conflict or crisis can be solved at the level of your own intelligence or consciousness at which you created the conflict. It is only when you find a way to exit the frame of reference within which you argue, that you can even settle it.

So for instance, one of the simple ways to do that is by upholding the statement, 'I don't know'—this is a great place to start. So, 'I don't know' that I am actually rotating.

I am just told and I believe the fact that we are hurtling through space but nothing in my body can corroborate this fact. Scientists have figured it out but I have no tangible experience of that in my reality. Then suddenly, all my belief systems can also be rotated.

Letting go of your own knowledge or certitude is a great place to start on any journey, whether it be creative, political or other. In this pool of freedom that the biennale has afforded, there has been a flurry of elevated energy with the artists' works, many springboard into new directions in their practices and to me that is really magical.

Many of the artists have really engaged with the concepts proposed, thus perhaps letting the chorus of the experience re-constitute in the mind of the viewer after seeing the project. Bharti Kher's work for example [three decimal points. of a minute. of a second. of a degree, 2014] is a balancing interplay between the current moment, history, physical locality, interiority and an interbraiding of time and place.

Or Ryota Kuwakubo [Lost #12, 2014] where tiny objects are completely rescaled, distorting their natural proportions and our understanding of them. Also, Anish Kapoor's vortex [Descension, 2014] which is a sub-oceanic churn and you ask, 'Is that a churn in the middle of the room or is it in myself?'
AdG

You are very specific about the fact that you would like people to move through the exhibition in a particular order. You start with the Charles and Ray Eames film—Powers of Ten, 1977. Would you tell me a little bit more about that and why it is so important?
Charles and Ray Eames, Powers of Ten at Aspinwall House, Fort Kochi. Film, colour, sound, 9 min. ****Kochi Biennale Foundation
JKFirst, it's a brilliant, legendary piece of film-work in its own right. And secondly, it shifts the axis of viewing almost immediately.
The conception of Whorled Exploration, curatorially speaking, began with an exploration of time but the exhibition begins with a contemplation of space. I often think about the interlacing of the imminent with the bygone and how our sense of self is so reliant on time.
Our daily experience of time is bound by our everyday notions of periodicity and duration. The Eames video also allows us to momentarily break that understanding of time and is then re-articulated by witnessing ourselves in space, which we don't often do. That's why we often don't realise we are so small. So the Eames video allows you to scale out your own diminutive self in the universe whilst also revealing to you the vastness of yourself.
The vision of being right inside the atom in the man's body; it visually reflects a dissolved universe and it stretches to the limits of human knowledge and our awareness of ourselves at that point in time, when Eames made the video. To me that was very interesting, it was conceived in 1967-68 but finally made in 1977. So there is a 1968 version, but Eames Demetrios said I could show either.
I hope that the film permeates viewing of the biennale through a retained after-image.
Then you go next to Aram Saroyan's fragmented words, or Mona Hatoum's Undercurrent (2004) and then following your experience through the rest of the show, which is a calibrated interplay of these ideas that hopefully unfold one after the other.
AdG

I remember two years ago at the first Kochi Biennale being amazed at how many local residents were here to see the work and how fascinated and engaged they were with it—the queues running for hundreds of metres outside the main site.
Was the local population, and the fact that the people may not be particularly accustomed to engaging with contemporary art, in your thoughts when curating the exhibition?
JKIt was in my mind and for that reason there are numerous access points; one might think of these as sensory portals from where different kind of audiences can access the work. Either you have a textual citation where we have captured a very cursory, quick summary read of what is in the room in terms of text and with 100% literacy in Kochi, these introductions were very important.
Or you might turn around and read Marie Velardi's timeline of this century using science fiction from the last century [Future Perfect, 21st Century, 2006]. You might just see a rising sun and setting sun shot by mother and son in David Horvitz's work [The Distance of a Day, 2013], then just behind that wall, images of this as a phantom planet.
There are numerous pieces that audiences could engage with in a way that needs no tutoring.
For instance the hens and cockerels pecking a circular pack of rice corn (as if the Earth's surface is being pecked off) in Yang Zhenzhong's 922 Rice Corns, 2000, could invoke the idea of depleting resources just as Rivane Neuenschwander's Contingent, 2008, does in a completely different way at a another point in the show.
I believe that either the wall text, which is bilingual in English and Malayalam, or the experiential nature of the exhibition with these visual links will start connecting dots in the viewer's mind.
Yang Zhenzhong, 922 Rice Corns (2000). Video, colour, sound, 8 min. Aspinwall House, Fort Kochi. Courtesy Kochi Biennale Foundation.
AdG

As an artist, how do you think this experience will affect your own work?

JKThe way I approached the curation of the biennale is actually how I make my work. I wanted the biennale to emerge from a self-generated, internally connected principle. Which is essentially how artworks are born—you are constantly trying to wrestle with ideas that emerge from your artwork even while you are making it.

You are physically working on the piece but you need to be non-intrusive and silent to hear the emergent narrative of the piece and allow it to arise in front of you.
I wanted the making of the biennale to contain as much of that process as possible.
In a way, the biennale has many references that recur in my own work. I am obsessed with the sky, for example and the fact that the sky is the past upheld for us, right up there; that we constantly inhabit the past anyway because the light from the sun that touches our skin takes eight minutes to reach you.
These things preoccupy me and it was extraordinary to be able to open up questions that preoccupy me to 94 incredible artist colleagues.
AdG

Speaking to artists attending the biennale, it is clear that this event is very important to the community of artists in India. On an international scale, a biennale with so much character and room for navigation and divergence has a lot of potential.
I was trying to pinpoint what it was that made the biennale fundamentally different to any other contemporary art event of this scale. The idea of the horizon line has come up a lot through the exhibition—from the Earth's horizon to lines of thought and understanding—and for me, my interpretation of this line extended to that of the line between art and life, or the physical Kochi, which is an almost imperceptible seam in some instances.
This takes each work back to something quite basic and raw—the view isn't directed to the art, with white walls telling you that this is where you experience art; that this is where you must look. This approach has challenges on one level, but is also a release. At least those are my thoughts.
I am interested in how you view the biennale, what you believe makes it unique and will preserve these qualities. What will allow it to grow and what directions would you like to see it go in?
JKOn a practical level, I would hope that the next edition of the biennale is stabilised, at least in terms of resources. What you see here today happened with zero resources just 35 days ago.
It's almost magical or unreal that we were able to re-emerge. We were pushed to our limits and yet we were still able to come back and re-group.
For an exhibition of this scale, we are a tiny team in comparison to even a mid-sized gallery team in New York or London. I worked with a single curatorial assistant named Reha Sodhi, one production manager named Shyam Patel and one exhibition manager, Preema John and that was it, until six weeks before the biennale opened.
All the conversations with artists, gallerists, shippers, carpenters and electricians happened between me and these three incredibly committed colleagues.
It was a sheer joy to make it happen, especially with the limited resources, the cows wandering in and out of the site, the lack of electricity. There were whole sections or buildings in absolute darkness.
So all our decisions were made on site visits using iPhone torches. We would measure under those lights, put chalk marks for where works could be installed in absolute darkness. It was pitch black, you could turn 360 degrees and there would be zero light. The floor was mud until just before works were installed.
So it takes artists to engage with spaces like these. And as with any artwork that you struggle and battle with, once you arrive at the end point, it is great.
But if the next curator has a more stabilised framework to work within, if the state partnerships are more formalised, it would allow the biennale to grow and establish itself, without losing any of its unique qualities and conforming.
That would be my hope for the future, because it means many things for the local community here and I think for the art world at large, for all the reasons that you have already recognised. —[O]