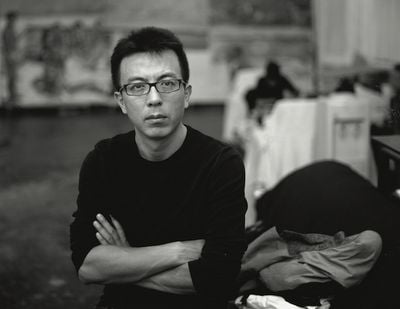 Liu Xiaodong. Courtesy of Chronus Art Center, Shanghai. Photo: Nie Zheng.
Chinese artist Liu Xiaodong takes figure painting out of the studio and into the fields, factories and family homes of regions rife with political turmoil, economic unease, and environmental degradation.
Setting up easels on location to depict real people in places such as rural China, Thailand, Tibet and Israeli-Palestinian conflict zones, Liu is a modern plein-air master, painting his subjects in their natural settings with a sensitivity to their complex situations. His large-scale works are like history paintings for the contemporary world, allowing still-unraveling narratives to tell themselves.
Liu paints with loose brushstrokes in a realist style, drawing out his subjects and their surroundings first, getting to know them during the process. His use of colour leans towards the liberal while remaining vivid and believable, and the curves, shadows and textures of the bodies in his works all combine to give their subjects lifelike presence.
Equal attention is given to the landscapes that surround them; grass, mountains, water and trees are rendered with highly varied impasto textures. It is obvious that Liu is a painter who is serious about the act of looking. A diligent notetaker, he writes and sketches his observations and plans in his diaries which are often exhibited alongside his work.
As an artist, I value objectivity very much. There's no better way to show that than with a machine, because a machine is very objective. It doesn't have an attitude.
Liu also has an extensive personal history with film, both appearing in and making moving pictures to supplement his work. The documentary Hometown Boy (2010), directed by Hou Hsiao-Hsien, followed Liu on his return to his hometown of Jincheng in Liaoning Province, where he spent three months painting his family and childhood friends amongst the economic and environmental devastation that fell upon the town after the local paper mill closed. Similarly, the 2006 Jia Zhangke-directed documentary, Dong ("East", 东), trailed Liu as he painted a group of labourers near the Three Gorges Dam in Fengjie, China—a controversial structure which has flooded archaeological and cultural sites, displacing nearly 1.3 million people.
A brand-new work of a rather different sort is on view in the exhibition Datumsoria: An Exhibition of Liu Xiaodong, Carsten Nicolai, and Nam June Paik (17 September–30 December, 2016) at Chronus Art Center in Shanghai's M50 district. Created specifically for the exhibition, Liu's ultra high-tech Weight of Insomnia (2016) features three robotic arms set up in front of large-scale canvases mounted on construction scaffolds.
Below, laptops screen live footage from video cameras fixed on three locations: the first near the Bund in Shanghai, the second on the Apple Store on Beijing's Sanlitun district 'where urban sophisticates rub shoulders with novices from the provinces', and the last on a public plaza in the artist's hometown where, at dawn or at dusk, elderly people gather to dance to disco music. The robotic arms translate the incoming data into 'contours of buildings, silhouettes of trees, outlines of vehicles, and shadows of human figures' onto the canvases in real-time over the course of the exhibition, testing just what painting can be in the age of new media and data.
Ocula spoke with Liu before the opening of the exhibition at Chronus Art Center.
Exhibition view, Liu Xiaodong, Weight of Insomnia, 2016. © Liu Xiaodong. Courtesy of Chronus Art Center.
EA

What prompted your foray into such a high-tech project, and how does Weight of Insomnia fit into your process as a whole?

LXIt was primarily because of the curator, Zhang Ga. He and I were at the same art school, and he has always been considered a pioneer in pushing the boundaries of art. He's quite influential among his peers, including to me. It was Zhang Ga who convinced me to take on this challenge. It was a real challenge because I'm computer illiterate and don't know much about new media. I've painted for the past 30 years, and initially Zhang painted as well, but he later ventured into new media, so he knows a lot about it. It really was a huge challenge for me, but I wanted to take it on and create a very high-quality work.
EA

The press release for the exhibition poetically suggests that the driving force behind Weight of Insomnia is you, reincarnated as a robotic consciousness. What do you make of this—can a painter be reincarnated as a machine?

LXActually, there are two levels of meaning to the title, Weight of Insomnia. The first is a more personal level: we've all experienced difficulty in sleeping. And when we wake up in the middle of the night, we get very depressed. We look outside the window and stare out at the night, not moving. From a personal perspective, it creates a lot of pressure in one's mind. The second level of meaning pertains to machines themselves. A machine gets even more depressed, because when it is built and put into the factory, it must run 24 hours non-stop. Unlike the people in factories, machines work all three shifts: in the morning, evening and through the night. Machines can't stop. Insomnia is even more depressing for them.

It is impossible for an artist to be reincarnated as a machine. As an artist, I value objectivity very much. There's no better way to show that than with a machine, because a machine is very objective. It doesn't have an attitude. Having said that, it also assumes a certain type of attitude because I'm the one behind it. I control the speed of the arm's movement, the size of the pen, and what kind of subject the machine draws. So even though the subjectivity is minimal, there's still a trace of it. But I try as much as possible to still retain the objectivity.

It fits into my practice and interest in film because I've worked in film a lot—mainly documentary—which has had a very big impact on me. I don't know what's going to happen in the next second in film. It's the same as this project, because I don't know what's going to be captured in the next seconds by the camera. So this is very objective.
Liu Xiaodong,Weight of Insomnia, 2016. © Liu Xiaodong. Courtesy of Lisson Gallery.
EA

Why did you choose to focus one of the cameras on the Apple store in Beijing?

LXActually, it was serendipitous. I didn't know that the camera was facing the Apple store. I first wanted to set up a camera to capture my apartment in Beijing, but it's not a very busy street—not very happening—so I was looking for a more exciting place. It just so happened that one of my high school friends has become a very successful businessman and owns a building. He invited me to come visit, and I saw it was a very good spot so I installed a camera there. It so happens that the camera is facing the cross street in a busy district of Beijing. It's very congested, there are a lot of cars and people. I think it's a good representation of a city which is very cramped. It's a powerful, and to some extent, violent image.
EA

What can the moving image do or convey that painting cannot?

LXIt's about the element of time. Because in painting, you only see the end result, so the element of time is missing. But in the moving image, people experience the element of time by watching the video—a process that can actually be seen. Actually, in this new project I also wanted to employ the element of time. Because by showing the arms paint in real time, people can see the passing of time. This is also in line with my ideas about painting. I want to show people the painting process, which is full of surprises. It can even be considered a performing art. It's very humorous and lively.
Exhibition view, Liu Xiaodong, Weight of Insomnia, 2016. © Liu Xiaodong. Courtesy of Chronus Art Center.
EA

How has your art education at the Central Academy of Fine Arts, which was rooted in Chinese Socialist Realism, impacted your work? I ask because your paintings don't depict the traditional, grandiose political ideals that characterise that style, but rather reflect the hardships and realities of everyday life.

LXIt has impacted my work. However, if you follow Socialist Realism throughout its history, it has two stages. The first allows you to go into real life, to experience other people's lives, so the end result is a work that expresses a stance which is highly summarised from the artist's perspective. However, I only go into other people's lives to experience them. I feel that other people's lives are already artworks. So I don't want to summarise; I don't want to make a political stance. I want to just faithfully reproduce other people's lives. Because it's already a very difficult and great thing to try to record people's stories.
EA

How do you choose your subjects when you are painting on location?

LXWhen I paint, I like to go somewhere one can't explain in one sentence what's going on. I like to visit places of complexity, places that can show the dynamics of society. So you won't find me working in a park because that's too simple. I want to work somewhere with contradiction and conflict.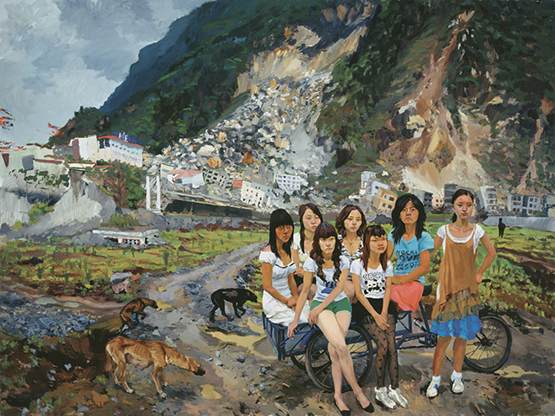 Liu Xiaodong, Out of Beichuan, 2010. Oil on canvas, 300 x 400 cm. © Liu Xiaodong; courtesy Lisson Gallery. Collection of Mr He Juxing.
EA

What is it about a individual that draws you to paint them?

LXBasically, the selection process is more of a comparison; I try to base it on my own perception. For example, if I want to paint five people out of a group of ten, I will just choose the five people based on what I prefer. So there are no set rules.
EA

In Ocula's last interview with you in 2013, you said that painting is the most difficult thing to do in today's art environment. Yet you seem to paint very quickly and very often. How do you maintain this momentum? Do you ever get frustrated with your paintings?

LXI get frustrated when I'm not painting. It's a strange feeling, it's like you're addicted to a drug. If I don't paint, I start to question life. I start to question painting itself. But once I pick up the brush, it's all in the process. The process is what's driving me. The process breaks painting into several parts that are systematically organised in a day. So for example, today I have to finish this part, tomorrow, that part. I feel very content and full of energy.
Liu Xiaodong, Time, 2014, oil on canvas, 20 canvases (60 x 60 cm each). Overall dimensions: 240 x 300 cm. © Liu Xiaodong; Courtesy of Lisson Gallery.
EA

So there's structure to it.

LXYes, it's a very structured process.
EA

Through your work, you've immersed yourself in sites of cultural and political tensions including Thailand, Cuba, Israel, China and America. Out of all of these places, which was the one that impacted you the most?

LXActually, it was America. At the time, I wanted to paint a group of high school students. I wanted to make a different kind of painting. However, when I spoke with the students, they weren't cooperative. Then I realised I was the problem. As a painter or any kind of artist, we determine what we want to convey. We never think about the subject's ideas or how they feel. If you go to a poor country, people might not have many opinions about the way you paint them because as long as you give them the money, they're satisfied. However, if you go to places like the United States, where people are very opinionated—even the kids have their own ideas—then you'll have a problem.

So I realised that art is a process of cooperation: this is not a one-way street. The process cannot be solely decided by the artist themselves. So I invited the students to write their own opinions directly on the painting, and then they became very cooperative. I believe this is an aspect of democracy and equality, which inspires me a lot. It also aligned with my ideas about objectivity in my works, because objectivity is also a reflection of fairness. So the process of creating art is a reciprocal one that can only be created by two parties working together. It's not a matter of 'work for me', but rather 'work with me'. So it's not about how difficult the painting was: the painting itself was not difficult, but it's about the working process.
EA

Where and what would you like to paint next?

LXI've already been there, but Bangladesh. My next project will be about Bangladeshi workers who demolish abandoned ships from all over the world, taking off all the metal parts in order to sell them. It's a very painstaking job. —[O]