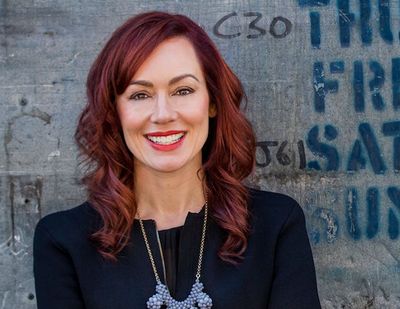 Image: Natalie King. Photo: David Hannah.
Earlier this year, the City of Melbourne inaugurated the Public Art Melbourne Biennial Lab by selecting a shortlist of early mid-career artists to develop experimental commissions within the city.
Titled What Happens Now?, the public presentation of resultant works (ranging from complex installations to temporary human encounters) takes place from 17 to 23 October in the Queen Victoria Market as part of the Melbourne Festival. The Public Art Melbourne Biennial Lab is led by chief curator Natalie King.
King is also Senior Research Fellow at Victorian College of the Arts and formerly Creative Associate of MPavilion. In 2017, she will curate Tracey Moffatt for the Australian Pavilion at the 57th Venice Biennale.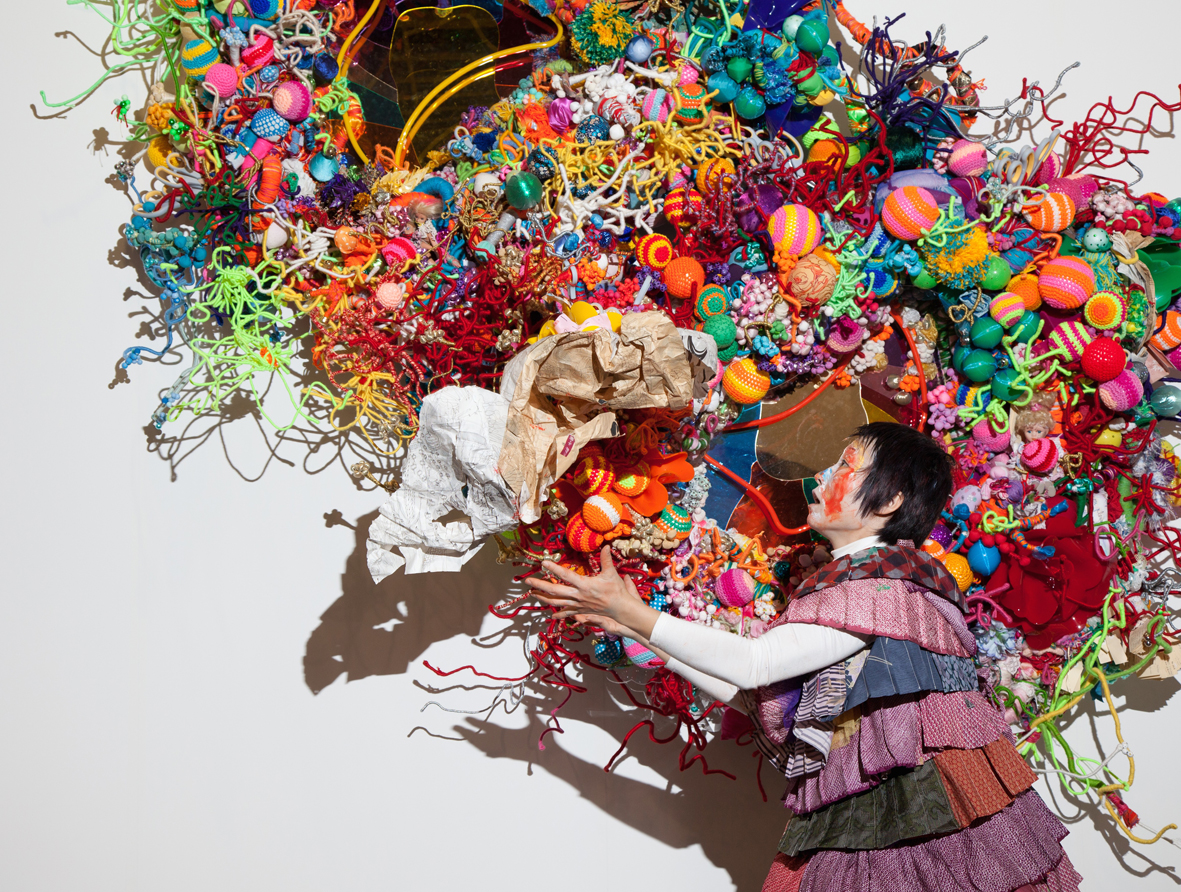 Hiromi Tango, Amygdala (Fireworks) (2016). Neon and mixed media, performance. Courtesy the artist and Sullivan+Strumpf, Sydney.
AD

The Public Art Melbourne Biennial Lab involves the presentation of artworks on site at the Queen Victoria Market. Can you tell me a little about the history of the site, and its importance to the Lab?

NKEvery public site comes laden with distinct narratives waiting to be considered. I wanted to seek a site that would elicit intriguing yet varied responses by artists enabling them to explore history without being beholden to it. The City of Melbourne generously offered an array of potential sites and Queen Victoria Market resonated as it is steeped in indigenous, migratory and colonial histories. The market was established in 1878 by the city's council to manage Melbourne's consortium of markets.

Queen Victoria Market has a history of multiple and migrant communities setting up stalls. The market is also a place of exchange, of bartering, and it's a social space where people congregate to undertake daily activities. Markets have also been utilised in various biennials especially in the work of Hou Hanru who is an International Affiliate of Melbourne Biennial Lab. We are both concerned with market conditions as offering a performativity and mobilisation as a form of public assembly.
AD

I understand you were also attracted to the site because the market is also a place where language doesn't matter, where trades are made regardless of language barriers?

NKYes, that is right it's a place of immense visual resonance. It is voluble and audible on some days, with people spruiking and forklifts driving around at 3am, yet quieter on other occasions. It has a fascinating cycle, open-closed, day-night, packing up-unpacking, inside-outside—which I felt would be compelling for artists.

The market was a gathering place for the clans of the Kulin Nation and also resides over one of Melbourne's first cemeteries for early settlers, located over the car park. It has a ghostly presence and a history of racketeering, extortion and fringe dwellers: a site redolent with history that could be excavated by artists who can explore Indigenous, mercantile, migratory and colonial traces.
Sibling, Over Obelisk (2016). Courtesy of the artist.
AD

The site is also important in terms of Indigenous history too?

NKIt is thought that the first two people hanged in Victoria, Tunnerminnerwait and Maulboyheenner, who were Tasmanian Aboriginal resistance fighters, are buried there. In my research, we found maps of graves for different communities including Aboriginal and Jewish that were on the outskirts of the cemetery.

It's also a place of abundant materiality as source material for artists to deploy, whether packing boxes or the beautiful silver storage cupboards belonging to each trader which are wheeled around everyday in a beautifully choreographed configuration.
AD

The exhibition is the culmination of a number of steps. Can you discuss the various steps involved?

NKBiennial Lab was structured around two nodes: a lab intensive summit followed by a suite of contemporary public activations. I devised the curatorial parameters with a curatorium and international affiliates, naming the project What Happens Now?

The title is derived from a Jenny Holzer slogan which was part of her 'Inflammatory Essays' from 1979: an anonymous paste-up programme throughout New York City. The title came to me when I was in New York in January with my family; there was some urgency to settle on a title for the Lab. I went to the Brooklyn Museum and I saw some of Holzer's 'Inflammatory Essays'; they are brazen coloured posters, filled with hard hitting, scornful phrases. I hope the title is sufficiently capacious, but hints that we're at a crossroads in our cities while prompting artists to imagine new possibilities about the now and beyond. I was wondering, how can the Biennial Lab be an incubator or micro-ecology?
Field Theory, 9000 minutes (2016). Courtesy of the artist.
AD

Jenny Holzer refers to her work as intended to provoke a response from a passive audience. Was 'activating' the public something you wanted the artists involved to think about?

NKYes, absolutely. It would be the ideal scenario that audiences from the market and art audiences react in some way to the work; they might be enthralled, enticed, confounded, but hopefully they're thinking and they're responding.
AD

So after you had decided upon the title, how did the Lab evolve?

NKI don't like to work in an authorial singular way; I like to work collaboratively with multiple voices so I put together a curatorium. It involved Djon Mundine (curator, activist and writer), Jefa Greenaway (architect), Veronica Kent (artist from The Telepathy Project), David Cross (an artist/curator) who is the Head of Art and Performance at Deakin University, Fiona Whitworth (Queen Victoria Market) and Lynda Roberts from the City of Melbourne. This group was at the centre, like the curatorial brain, and then radiating out I assembled three international affiliates, building international conduits. The international affiliates are Claire Doherty (director of Situations), Khairuddin Hori (artist and former Deputy director of artistic programming and Hou Hanru. Hou really pioneered the use of the lab form and inserted this modality into many of his exhibitions as an intellectual pulse.
AD

Can you describe this concept of the Lab: how it exists and works?

NKFor the Lab, 14 artists participated after a nation wide open call. It was essentially a closed summit or colloquia where artists could experiment with materials, form, and ideas and test those concepts in a group setting, convened by myself, Claire Doherty and David Cross. We had guest speakers coming in as interlocutors. Each day commenced with a different market trader: one day we would meet with a forklift driver, and then another day we would meet with a third generation fruiterer to delve into the market's unique habitat.

We also had guest provocateurs who came in to speak to the cohort: a psycho-geographer, a choreographer, Veronica Kent and Patrick Pound conducted a workshop on dreaming triggered by archival images from the market because there's such a plethora of sources waiting to be harnessed. While the lab was an intensive summit for artists, there was also a hospitality dimension by sharing meals.

We also had an assistant curator, Aneta Trajkoski, assemble a lab library with a range of publications and old footage from the national film and sound archive, maps, newspaper clippings and more. It was an archive for artists to access if they needed these sources as conceptual triggers.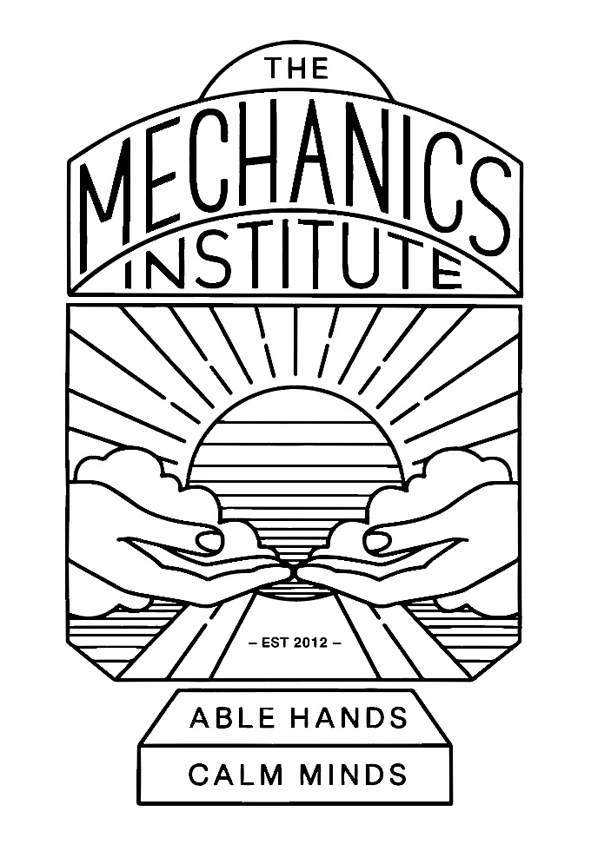 The Mechanics Institute, Trade School (2016). Courtesy of the artist.
AD

I understand 150 or so artists applied for the Lab.

NKWe had over 150 applications nationwide which was an enormous response to a new way of working in the public domain. The Lab transpired in June, and then the public commissions are realised within a very compressed timeline because I wanted them to be part of the Melbourne Festival and fall within a calendar year, produced with a sense of urgency and velocity. Often commissions reside in the public domain and remain inert but I wanted to make sure that there was spoken word, happenings, performances, a choral lament and a talk about anti-monuments with Aboriginal author Tony Birch as a form of activation which takes place from the 17th to the 23rd of October; international affiliate, Khairuddin Hori will be joining the program.
AD

Can you tell me about some of the specific works that will be in the festival? So for example, I see Hiromi Tango will present a work.

NKHiromi's project is called Wrapped. She's interested in the neo-plasticity of the brain and the idea of food and sustenance. She is gathering material from the market and making a large wrapped sculpture in response to the way the stalls are wrapped overnight in a state of repose, almost like entombment. This relates to her interest in the materiality of wrapping within Japanese tradition. She is making a very large sculpture that will extrude from the columns in the market, culminating in a performance on the final day with Dylan Martorell and Benjamin Hancock.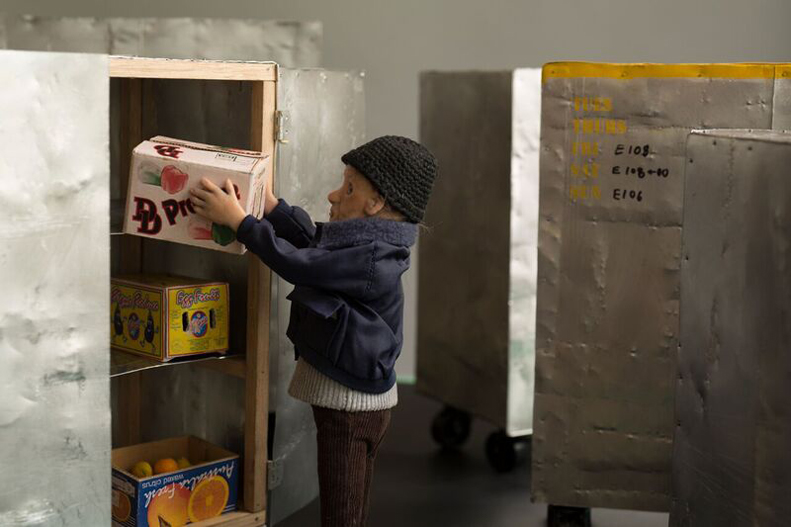 Isobel Knowles and Van Sowerwine, Out In The Open (2016). Courtesy of the artists.
AD

You have a recognised history of working with photographers, or their work. I noticed that some of the artists are well known for the work they do with the medium. Photography is not usually associated with art in the public domain, so I am interested to know if there will be photography in the exhibition?

NKWhile there isn't any specific 2D photography, however some of the artists have been influenced by photographic sources from the market, as a trigger.

The Melbourne collective Sibling, who work at the interface of architecture and design, reference a monument to John Batman which is in the car park of the market. It is an obelisk and they are developing a folly/anti-monument encased as a hoarding overnight, then during the day it breaks into a series of mobile components that can be deployed as a communal gathering place.

Field Theory is a Melbourne collective of visual and performing artists. For the duration of the seven-day cycle of the Lab, which is a total of 9000 minutes, they will be doing an endurance performance. They are setting up a live market radio on site constructed from recycled and repurposed market boxes. It will have a counter as they head towards 9000 minutes, and the group will of course become increasingly bedraggled. They have created a set of rules; everything they do will be generated from the market: what they eat, what they wear, their content, the radio. They will smell like the market.

The Mechanics Institute (Sanne Mestrom and Jamie Hall) is setting up a trade school featuring daily exchanges about value in the marketplace—the produce market, stock market, black market, super market and of course the art market.

The artist duo Isobel Knowles and Van Sowerwine are making a stop motion animation about a fictional trader called George, exploring sentiments of loss and change. Steven Rhall has produced an architectonic and conceptual intervention that explores the Hoddle Grid in a shelter adjacent to the main shed.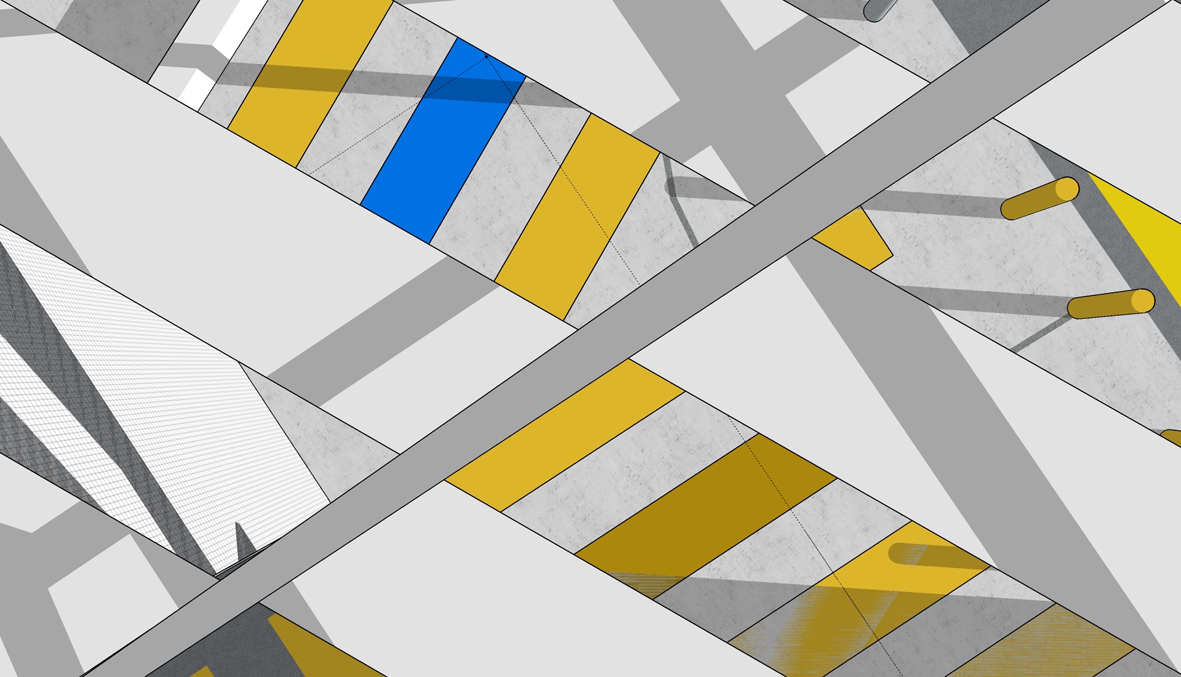 Steven Rhall, Gesture (70° East) New Day Rising (2016). Courtesy of the artist.
AD

Can you explain what the Hoddle Grid is?

NKMelbourne was set up as a grid formation by Robert Hoddle in 1837, and Rhall found out that the market is off the grid. He worked with this angle and a cross-hatching motif that is relevant to his community (he is an Indigenous artist). He has created a pavilion that will shift during the arc of a day with a transparent roof to ensure when the sun passes over, it will reflect a series of shadows. It will be a very beautiful, thoughtful and enveloping work while the title is from a punk rock band in the US called Husker Du.
AD

I understand some of the work is more relational or ephemeral?

NKVisible Hands is a work by collaborative duo A Centre For Everything (comprising Gabrielle de Vietri and Will Foster). They have undertaken extensive and embedded research by meeting with traders to research the unspoken language and gesture of the market, collecting a repertoire of signs that form a hands-on self-guided tour. I participated in a rehearsal and was entranced: the work reminds me of Tino Sehgal's constructed situations as both challenge the conventional art and spectator relationship with a fleeting and profound event.
A Centre For Everything, Visible Hands (2016). Courtesy of the artist.
AD

That really explores the idea of the market being a place of universal modes of communication.

NKExactly. The non-verbal gesture is so important at the market because there are so many different modes of communication.
AD

In terms of what we generally know as public art, what do you hope the Biennale might offer?

NKMelbourne is a labyrinthine and densely creative city. The City of Melbourne has committed to three Labs. I am the curator for the first iteration. It's a brave commitment from the city, privileging the inner sanctum of artists and their processes. We usually think of public art as being large scale, wieldy and static monuments. Some of the works produced by the Lab are more subtle evocations and intimate moments of human connection or evocative installations.
AD

It sounds as though it is very much an aim to ensure the works are far more embedded in the fabric of the city?

NKWell I hope so. Someone might chance upon a work, or hardly notice it and another work someone might find completely riveting. Kiron Robinson, who has a background as a photographer, is producing a set of neon signs that will proliferate throughout the market relating to a poetic phrase about flux, like Haiku, that he has had in his notebook for some time.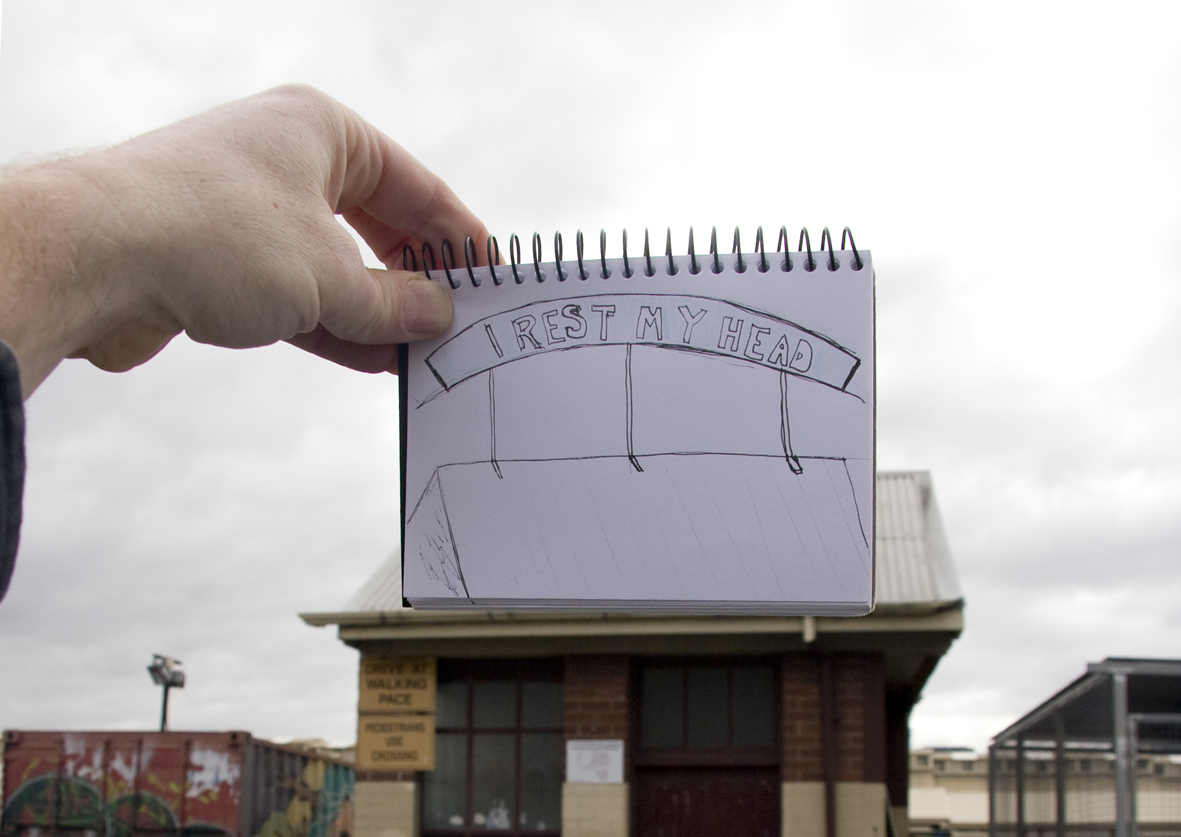 Image: Kiron Robinson, Upon This Sea, 2016. Courtesy of the artist.
AD

I understand you are going to have guided walks and conversations about the area by various people?

NKYes, we will have daily, guided walks when the market is open lead by our team and culminating with a different artist's work, plotting different itineraries throughout the site. This will allow us to listen to the murmurings of the market.

We are interested in the whisperings of place, and an acoustic ecologist, Robyn Annear, led a lab workshop to encourage everyone to listen to the sound of a place. Some parts of the market are audible, but other parts are very quiet: we can register the acoustic sounds of place and wonder What happens now? —[O]

View more information about the Public Art Melbourne Biennial Lab here.