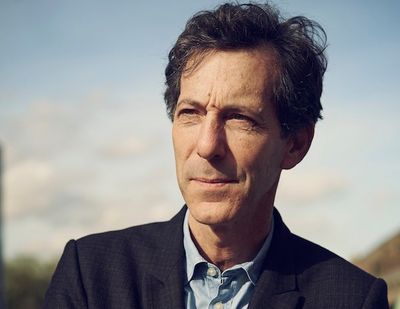 Ralph Rugoff. Photo: © Jasper Clarke
Currently director of the Hayward Gallery in London, Rugoff, unlike many of his peers, began his career as a writer. The New York–born curator was once the art critic for The LA Weekly; and his essay collection from the mid-90s, Circus Americanus
, predominately explores the cultural phenomena of the American West, such as Las Vegas, wrestling, and The Liberace Museum. His first curated exhibition, Just Pathetic at the Rosamund Felson Gallery, eventually led him to become Director of the CCA Wattis: the gallery of the California College of the Arts in San Francisco. Then at the Hayward, Rugoff's first exhibition was The Painting of Modern Life (2007), a look at painting's involvement with photography, and in 2008 he curated Psycho Buildings: Artists Take On Architecture, which included interactive and immersive installations featuring artists Mike Nelson, Gelitin, and Do-ho Suh. Carrying on this tradition of playful immersive art, the current exhibition at the Hayward Gallery is a solo exhibition by Carsten Höller. Most recently, Rugoff has been invited by the artistic director Thierry Raspail to curate the 2015 edition of the Biennale de Lyon. As with previous editions, Raspail has invited Rugoff to reflect on a word—which for the next three editions (2015-2019) is to be 'Modern'. Rugoff's biennale, La vie moderne, runs from 10 September 2015 through 3 January 2016.
It has been a long journey since Circus Americanus … to the Hayward and to the Biennale de Lyon. Did you think when you started writing it would bring you to the Hayward?
Yes, it has [been a long journey]. Honestly I really wasn't thinking that far ahead. I think most of these articles were from the early 90s on, so I'd started curating as a freelancer already. I was really interested in it [curating], I was probably more interested in it than in writing. But I wasn't interested in institutional jobs. That was definitely something I saw in a pretty negative way. Even when I first got a job, which admittedly was running a gallery program in an art school, Raymond Pettibon said to me, "Oh, you've gone over to the dark side ..." [laughs] So there was a feeling that somehow the imperatives of having to be in an institution … where you have a slot to fill every three months (or whatever it is); you have commercial pressures, where you're not developing exhibitions out of passion or curiosity, and other motifs get mixed up in them … as a critic I've seen a lot of institutional shows that I think are boring and that institutions made art feel dead. It's a real problem …
It still is a problem.
Yes, it is, but I have to say that I'm quite happy with this show of Carsten's. No matter what kind of criticism that people can make of it, it doesn't feel dead. As we're sitting here, we're watching people flying over the Hayward's sculpture terrace, big smiles on their faces … It's definitely not what I was having a problem with in terms of institutions.
Daniel Naudé, Africanis 20, 2011. C-Print, Courtesy of Stevenson, Cape Town and Johannesburg. Copyright : © Daniel Naudé. Image courtesy the Biennale de Lyon
It's also not something I imagine you thought you'd eventually do.
You know I didn't really know. You mean do this kind of show or do this kind of work? You mean I didn't imagine this in 1990?
Yes. In 1990.
Yes, probably not. It was a different artworld then.
I think the nature of the artworld continuously changes, to be not what we imagine it to be.
It does … I think now the museum world is a bit of a tricky place. Because it's really trying to become a mass medium, some museums draw major, major audiences. But the experience of art is always best as an individual thing. I love museums because you're having this individual experience but in the context of other people. So it's fixed. I don't think it's as interesting as if you're alone in a space looking at a work of art. But, say, going to a Rothko show or a Matisse show where you're on an assembly line of people, ten seconds in front of each painting, you're really not experiencing the art any more. You're experiencing some strange perversion of the exhibition machine.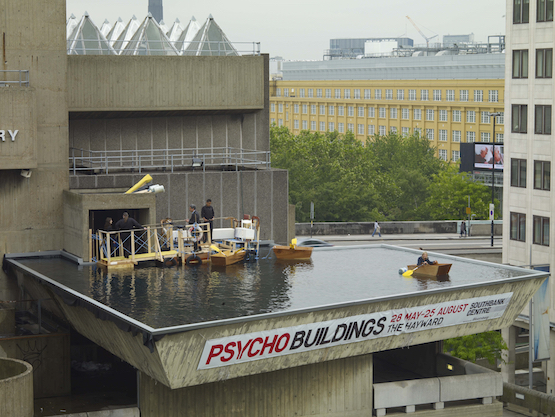 Gelitin, normally, proceeding and unrestricted with without title, 2008. Mixed media. Courtesy the artists. Photo: © Stephen White. Part of Psycho Buildings, at the Hayward Gallery, London.
So do you think in your time at the Hayward, you've created something different? I say pointing at the queue out there …?
Well … we're limiting the number of people that can go into the Carsten Höller, so that it's not overrun. So we're probably only getting half the audience we could have. It is the most expensive show we've done, since I've been here at least. So you have to have a certain number of people to cover your expenses. And a lot of the work is work that only one or two people can do at one time. [smiles] So you end up having queues, and there is no way around it. Carsten's show, and we have had a lot of shows with immersive environments or things where there's some degree of participation in a more active form, is a labour intensive show, in terms of the number of people to facilitate people's interaction with the work. For example, there are Oculus Rift headsets to put on, upside down goggles to wear, flying machines to get on and off, slides to go down. There are a lot of things people can do, some of them could be dangerous, so we have more people, probably as much as twice as many people in the gallery who are hired to help people navigate their experience. Not shape their experience, but help get things on and off, make sure that they do things safely. I'd say that it's twice as many as we had in Psycho Buildings (2008) ... which was a show where people could get very involved in different ways, and it had a couple of potentially dangerous works in it. You know you do a show like this and you're taking on this whole package of concerns and there are always going to be some compromises. In an ideal world sure there'd be no queues and everyone could go through freely, but it would be unaffordable economically.
Haegue Yang, Sol LeWitt Upside Down – Structure with Three Towers, Expanded 23 Times, 2015. Aluminum Venetian blinds, aluminum hanging structure, powder coating, steel wire, Courtesy of Kukje Gallery, Seoul. Copyright : © Hyunsoo KIM52. Image courtesy the Biennale de Lyon
I'm impressed you got all this through health and safety ...
Well I wouldn't say we got through them. They had a big impact on the whole process. Even things like the architecture of that corridor [Decision Corridors, 2015, is a long dark corridor work] and the fact that we had to equip it with smoke detectors and hidden fire exits and emergency lighting, all of which I argued against. It's an art installation, not a piece of permanent architecture. So they've played a major role in it. And at the end of the day, you're happy they played that role, because it means I can sleep at night without worrying that somebody is going to hurt themselves; people can find many ways to injure themselves in art galleries in a simple passive act of walking along an unprescribed route and looking at things on the wall.
It seems to me that a lot of things you wrote about in Circus Americanus were about the nature of seeing things differently, through interpretation. And as a curator, what you're interested in is shaking the viewer out of a more traditional experience of art?
Well I think what artists do is look at things in different ways; they look at things a lot of us don't notice. An artist comes along and looks at [things] differently and then suddenly it looks exciting to people again. This fashioning of alternative perspectives I think is one of the most valuable capacities of art, because it really enlarges our universe. And I think artists produce a kind of different perspective in a way that no other section of our culture does. Obviously there are limits to what our artworld produces …
Or what the artworld is interested in.
Exactly. Sometimes the artworld seems to have blinders on it, and ignores all kinds of interesting possibilities. But even within that restricted laboratory, it is about fashioning different perspectives, and half the places I write about in Circus Americanus are places that artists told me about; that they found interesting, that they would go visit because it was more interesting than going to an art gallery. So as a writer I was really trying to adapt this idea of writing about places as if they were art in some way. Taking that page out of the artist manual, "Ok, here is something you probably know about or haven't paid attention to, but look at it from this perspective. Here is something that may have an interesting aesthetic or conceptual twist to it that can tell us something about our culture or show us something different about our culture that we won't find somewhere else." But it really was something completely taking its lead from art.
Curating—it's great if you can do that, and I'd be happy if that described what I did [smiles]. The first show I ever curated was called Just Pathetic and it was a show that kind of looked at artworks that deliberately failed or seemed to fail as artworks—about failure and incompetence. But not to be about it, but to embody it, so that you were put in an uncomfortable position. How do you deal with this thing, that's being presented as an artwork where we normally behave one way … And that show came about because an artist—Mike Kelley—heard a lecture I gave at Art Center College of Design [in Pasadena, California] on the subject of the pathetic, and he just said, "Hey, you should really do a show about that." I never thought I would curate an exhibition until then. And he said, "You know I'm gonna call my dealer", and set it up so that I could do this summer exhibition in the gallery. It was a moment when the artworld was fairly flush, and the whole idea of doing a show—and some of those people weren't that famous then (David Hammons, Cady Noland, Mike, Chris Burden, Georg Herold), there were a lot of interesting artists in the show…The gallery was willing to ship the work out there, even if it wasn't for sale, to do a small catalogue, and it could all happen very quickly. I didn't have to go through … well it wasn't like working with an institution.
It's very hard to get things through the door of a large institution, especially if you've never curated a show before. So the first three shows I did were for that gallery. I was their summer show curator. But that was a show really, that's a bit what you're describing. I always remember when I was going around asking artists if they wanted to be in a show called "just pathetic". There would be some artists who would sort of be on the borderline of what I thought of as pathetic art, and they would be usually the ones who would say, "I'm not really sure I want to be in the show with that title." Whereas the ones who really were right said, "Oh! How great! That's perfect." I did get a really interesting letter. I invited Richard Tuttle to show some works. He wrote back from New Mexico (in those days we actually wrote letters to each other) and he said, "It sounded like an interesting project, it's more like an artist's project. It's not really for me. But good luck with it."
Some projects I've done have been much more historical. I'm not an art historian, but I'm interested in looking at things that go through art history. There's lots of art history that never makes it into the art history books. So trying to look at things in a different way, that's definitely an impulse.
Chih Sheng Lai, Border, 2013. Courtesy of the artist. Copyright : © Chih Sheng Lai. Image courtesy Biennale de Lyon
Since you've been at the Hayward, what has been your favourite show? Do you have a favourite?
That's very hard to say. You tend to get enormously excited about the last thing you're doing. This show was a real challenge to put on, and Carsten was a great artist to work with. He really developed ideas very organically from the beginning and [was] very open about the process of working and very inclusive. But it's very difficult to say. I was very thrilled to do The Painting of Modern Life (2007) when I first got here. That was a show I was thinking of for a long time, I hadn't been in a place where I could borrow Warhols or Richters, Artschwagers and Celmins. So to actualise this idea and to write about it, that history; [it] was something I very much enjoyed. But maybe in an odd way, Pyscho Buildings almost was the most coherent of the group shows.
Most coherent?
I mean The Painting of Modern Life was coherent, but it was a show that if I had to redo it, I would definitely change a few things, but Pyscho Buildings I wouldn't change anything. And that's a rare experience for me as a curator. Usually I always look back and I know what I'm happy with, then there are things I have problems with. That show, especially considering that there were several new commissions where you never knew what you were going to get, worked out very well. Again, it's always a funny trip to get to the end. Gelitin made this boating pond [Normally, Proceeding and Unrestricted With Without Title (2008)] on our sculpture terrace that became this iconic image. I think it was on the cover of the Arts Council annual review that year, and all over the internet. But their initial proposal was to do a project where they would feed pigeons every day at 5 o'clock. They had read that if you feed pigeons in one area, they tell the other pigeons. They [Gelitin] imagined that by the end of the show a hundred thousand pigeons would be coming every day to eat.
I'd have paid money to see that!
It was a great idea for a piece. Suddenly at 4.30 the pigeons start swirling around. but with pigeons [smiles] they shit. I didn't feel I could ask our maintenance team to have to clean up the Hayward every day. And at the end of the day the project they came up with was much more exciting for our visitors.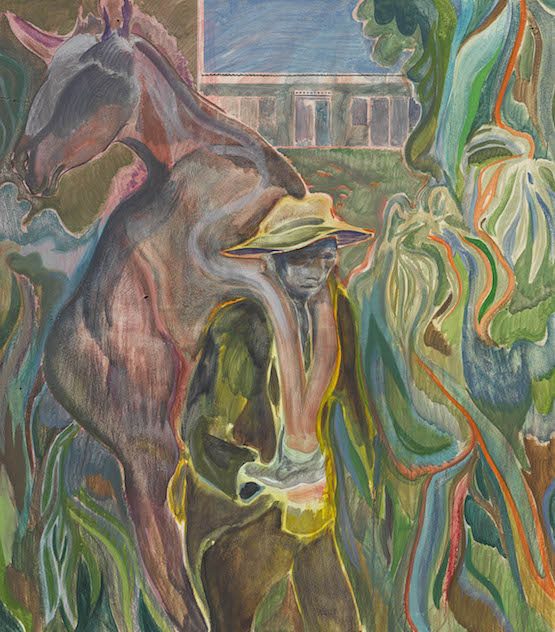 Michael Armitage, Kariakor, 2015. Oil on Lubugo bark cloth, Taken on 2015:02:26 15:13:01. Copyright : © White Cube - George Darrell. Image courtesy Biennale de Lyon
And it suited the idea better.
Yes, it really did. It was a lovely piece. And that pond was infested with worms at one point and we had to close it down. So they can still be happy that they had challenged our institutional hygiene!
Well … that's what they do.
Yes, indeed. If it doesn't smell bad or rot …
So, as it's your first, will Lyon be an accumulation of all your past favourites?
No, it's really something new. I made a point of looking at artists from countries I didn't know that well. For example like North African countries. I was also looking at French artists in particular. Because I think a biennale should have a regional accent. So 20 per cent of the artists are French, which is unusual. I started out by looking at French artists, and the people in Lyon were saying, "That's funny, you're doing it this way. Normally the curators look at the French artists at the end when they realise that they don't have any French artists." I found that there are a lot of really interesting French artists. A few I knew, but quite a few of different ages whom I hadn't known. So it wasn't a question of young French artists, but also finding some older French artists whose work seems to be really addressing concerns that are interesting to younger artists now and who weren't so well known.
This show also took on something from the title. In Lyon they have this funny tradition, where they give you a word. So I didn't think of the word, 'modern'. So.. "We invite you to curate this exhibition, AND you have to respond to the word, 'modern'." That word was part of the remit. I'm not interested really in revisiting modernism again and critiquing it. But I am very interested in our very superficial concept of the contemporary, and in other ideas of what the present might hold and mean. The idea is that actually most of what we're living with today is a legacy of the modern project in one way or another. I wanted to focus the show on artists who are interested in shifts and developments in contemporary culture that reflect some way of working through or working against these different legacies of modernism, whether it's a colonialist project or consumerist culture or global capitalism. But I also wanted it to be very much a portrait of our world that we live in, but that phrase obviously has so much baggage going back to Baudelaire's The Painter of Modern Life.
Six years ago, a leading French documentary filmmaker made a film called La Vie Moderne about contemporary rural life in France, so it's a phrase that is very ambiguous about what time it was referring to. To me it is a positive thing, unlike "the contemporary" which is something new. I wanted something that addressed the contemporary but a contemporary that's growing out of different histories. So it's not a rounded title, but hopefully it's a slightly ambiguous title.
Carsten Höller, Isomeric Slides, during installation at Hayward Gallery. Photo: David Levene. Image courtesy the Hayward Gallery, London
Tell me about the title?
La vie moderne. It's really based on the premise that art is a crucial means for us to understand the world around us, just as much as philosophy or the social sciences. It's not as systematically rigorous as, say, philosophy or science, but it offers us something they don't. So it's artists who are investigating a lot of social and cultural landscapes.
Do you have any thoughts about it? Say, how is it different from curating in a large institution or organising a program over several years?
mmmm … well it's a mad rush. [laughs] I don't have much time. I think all biennales should be turned into triennials, or quinquennials! I think documenta has got the right rhythm. I really think it's too much. When there was one biennale in the world, it made sense. As a visitor I rarely enjoy biennales.
Neither do I.
They're usually a mess thematically; they're often in venues that aren't designed for art. So the work looks terrible. Then due to budget limitations the type of work is often very limited, so you end up with tons of video projection, because people think that's cheap. There's no transport cost involved.
I never thought of it that way.
I know! It's been changing recently, but there was a time when I was going to a big biennale and there would be something like 50 hours of video. You really thought, "Wow, what's this curator thinking of … Do you really think people are going to come for a week and watch this?" And I don't usually think it's thought out with an audience in mind. It's more like some encyclopaedic, grandiose effort to create something almost inhuman in its demand on the audience. I really think when you've engaged in ten artworks it's diminishing returns in terms of the demands on creative attention you can pay and what you can get out of it. So the idea that you go to an exhibition and there are 140 artists in it as there were in Venice this year. Ok, it's going to take two or three days, then it's an endurance test.
I think you need seven days for Venice.
Yeah. To really get it all you need seven days, and that's a big ask for your audience. There may be some people who want to spend seven days in Venice. I suspect it's relatively a small number of people … So I think the biennial is a problematic format.
But you're still going to do one after this one?
Well, it would really depend on the situation. Lyon I had seen a couple and it was close enough to London that I knew I could manage doing it. And I liked the ones I'd seen and it's reasonably contained. There are two principle venues and they're usually a few satellite things, but not a huge number. It's a very peculiar type of exhibition format that's defined by how often it occurs—that's the only definition, but we've all come to assume that is has a broad international mandate.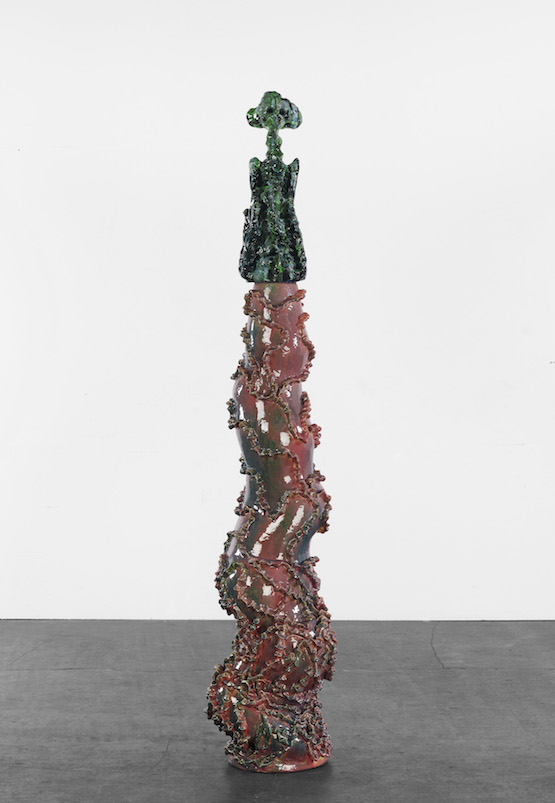 Cameron Jamie, Untitled, 2013. Stoneware, glazed. Courtesy of the artist and BERNIER/ELIADES, Athens; Galerie Buchholz, Berlin/Cologne and Gladstone Gallery, Brussels. Copyright : © Lothar Shnepf. Image courtesy Biennale de Lyon
SS: But it should have a more local emphasis, I think.
They're the most interesting. If you're going to go say, Gwangju or Yokohama, you want to actually learn about artists who are not the artists you just saw in a biennale in Berlin. I think right now there is a range, there are some biennales that definitely have a more local emphasis, say like the Havanna biennale. In the beginning [it] was really focused on "our region". So it was worth the trip! But part of the aspiration—I think—that motivates biennales is the desire for cities or the art scene in those cities to feel that it's an international centre. That's the same motivation that's been propelling things since the 19th century with all these universal expos, like the Crystal Palace exhibition where the world would gather and you as the host country, for a moment, be a world capital. So I don't know if the French will react negatively to the fact that I've put in a lot of French artists. They may feel like "hey we get these guys anyway. A biennale should be about bringing the world to our doorstep." But the French artists in the biennale really come from such a range of different backgrounds, and I think that in itself is interesting. There are artists from Algeria and Morocco who live in France, who are in the biennale. So it's a very different idea of France and that issue of French identity is something that comes up a little bit in that exhibition. Or just national identity in general.
When does this open?
September 9th.
You must be getting ready to decamp.
I've been there a little while in July and I'm going to be back starting the last 8-9 days of August. They have a relatively brief installation period. I don't know how we're going to do it, it's just so much work.
You must be used to that by now… from working at the Hayward.
No no ... we usually allow more time. They just throw tons of people at it. So I expect I'm going to be very impressed. The good thing in Lyon is that they've been doing this since the late 80s/early 90s. A lot of the staff have been in place 10 years or more, so they know what they're doing. You're not starting from scratch with that team. A lot of the bienniales let go of most of the staff, but these guys continue on. Thierry Raspail is the guy who started it, and he remains the artistic director. He also founded the Museum of Contemporary Art in Lyon [MAC, Lyon]. So he's the only person I know who founded a biennale and a contemporary art museum, and he's planned all this out in a very intelligent way.
Sounds like you should make the biennale about him!
Well, he's the guy who chose the word, "modern"!
Oh, that's just to punish you.
Yes! That's what I thought, but I ended up getting very interested in this idea and found some great works that start at the moment of the present and integrate different histories in that moment. So that sense of the time we're living in now is not cut off from everything else, and there are a couple of major film pieces that are two of the best film pieces I've seen in the last decade that deal with this. They are both like sculpture in that they are very installation oriented ... There is a monument to the Greek crisis [which is] only becoming more timely by the moment. There's a lot of work about the disparity between the richest and the poorest in the world, which to me is one of the defining characteristics of la vie moderne right now. It could have been divided into three or four sections. I didn't do that because I didn't want to close it down that specifically. I'd say that there are three or four currents of different types of works that engage with different currents that run through.—[O]