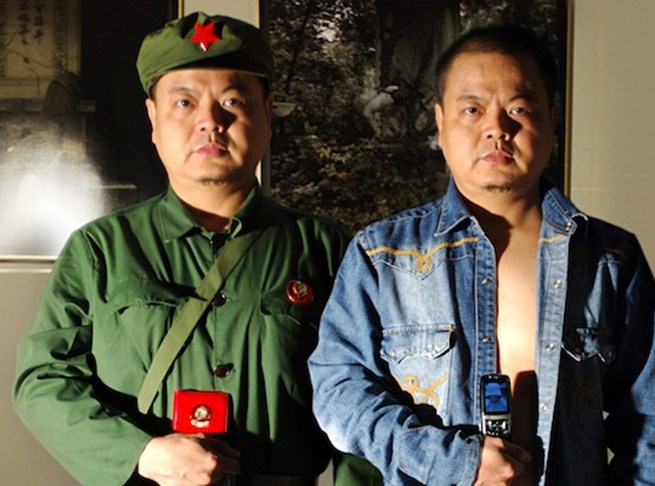 Tian Taiquan was born in Chongqing, China in 1960. He graduated from the Sichuan Fine Arts Institute in 1988. He has exhibited extensively in China and abroad. The artist lives and works in Chongqing, China. His current exhibition of works from his Totem
series runs at Art Plural Gallery in Singapore until 3rd November.
Please tell us about your background and how you came to practice as an artist?
I was born in a very poor family with five children. My father worked as a boatman and my mother a porter. It was such a heavy burden for them to make a living and my childhood memory was all about the tension at home, both financially and emotionally.
I can still remember seeing bodies floating along the Yangtze River when I was a child. The concept of death was forced on me at a very young age and I had to accept it as a part of daily life.
Drawing and photographing have always been my passion of mine. In 1984 I was admitted to the Sichuan Fine Arts Institute and started my journey through creation in a simple and crude dark room. People describe my artworks as eerie and full of death and violence. My practice is a way for me to heal and release the gloominess of my memories.
You are a photographer but your works are heavily manipulated. Please explain your process of production?
I believe post processing is as important as photographing itself. Taking photographs is like a form of brainstorming for me and it is a critical stage of my production. It is the process for me to collect, prepare and perfect my materials. However, post editing is still an enjoyable experience full of unexpected surprises. I never plan ahead and I find inspiration in every part of the process.
The experience of growing up during China's Cultural Revolution is central to your practice. Are there also more universal themes at play in your work?
Creation is a mean for artists to express the combination of personal memories with cultural backgrounds. From six to sixteen, I grew up during the Cultural Revolution and the influence it has on me will probably last for the rest of my life. Although my works are related to this specific historic period, the essence of my art is about life and death. In this sense, people don't necessarily need to understand my specific cultural and historical background to appreciate the power of my work.
My other two series, Internet Focus and 7010 - Life After People, are focused on today's Internet community and relationships between humanity and nature.
I always fear that the nation, humanity and nature are in a critical state. I am constantly following and thinking about social problems in China today and the tense relationships between the people and the government, and between humanity and the natural world. These are all topics I would like to address in my future works.
The female nude is a key part of your imagery. Why?
Nudity is used to express my concepts. To me they are not the sensuous naked bodies that an ordinary audience would see.
The Cultural Revolution was an age of madness when females were completely masculinised with a phony propaganda appearance. I use the female nude to reveal basic physical and material desires, mocking the imprisonment of humanity that occurred during the Cultural Revolution when people were arbitrarily killed for random reasons. No respect was paid to human dignity, human rights, or life. The liveliness and sacredness of human life is a topic I seek to express through the depiction of female nudes in my work.
Who are your influencers and inspirations?
My utmost respect goes to Salvador Dali. When I was studying at the Sichuan Fine Arts Institute, I discovered his works through books in the library. I was immediately fascinated by his unique artistic style and the strong emotional quality of his surreal scenes. It led to a whole new body of work for me and my artistic practice is greatly influenced by him.
Tell us about your work for the current Art Plural exhibition?
Totem Recollection
is a very important series of my Cultural Revolution related works. I address both the desires and the suffering of China's past. A deceased female is sacrificed on the altar of communism, lying on a red and infinite landscape of stigmatised Mao figures. Raping sensuality, a green military suit with a glittering badge stands as the character's only piece of clothing. As if swallowed by an immense sea of propaganda, semi buried women go unnoticed as their blood merges with the red abyss of the Revolution.
I am very grateful to have this opportunity to exhibit the entire Totem Recollection series at Art Plural Gallery. Works from this series have been presented in many exhibitions worldwide but this is the first time the entire collection has been shown outside China. I am really looking forward to it.
What projects are you working on for 2014?
I do not yet have any specific plans for 2014. I will create works addressing and confronting the reality of problems in today's society and explore realism and surrealism. I was selected to join the Artist Pension Trust (APT) in the USA this year so will participate and work on their project as well.