Insight | Exhibition
Andrew Luk at de Sarthe: Abstracting Entropy
Last summer, months before a global pandemic was at the forefront of the collective consciousness, multimedia artist Andrew Luk and I were in his Kowloon studio talking about Hong Kong's historical relationship to public hygiene. Luk, who has spent most of his life in Hong Kong and holds a double degree in art and history, was describing the former colonial government's 'very British' obsession with cleanliness.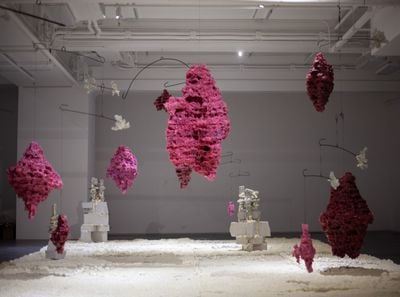 Andrew Luk, Haunted, Salvaged (2020). Exhibition view: Shifting Landscapes, de Sarthe, Hong Kong (11 April–2 May 2020). Courtesy de Sarthe.
Such phobia of contamination was expressed during the 20th century, Luk explained, through policies such as the dismantling of squatter communities and the settling of many English people on Victoria Peak or other elevated areas for 'better air'—measures that ultimately resulted in racial segregation. 'Yet that sinister organisation breaks down when space becomes compressed,' he said, referring to Hong Kong's present-day housing climate in which multiple generations often cohabit within scant square footage. By sharing close quarters, people are forced to confront their humanity.
By early 2020, when much of the world was urged to retreat to the domestic realm to slow the spread of Covid-19, Hong Kongers were especially prepared; mask-wearing and scrupulous sanitation is second nature to those who lived through the 2002–2003 SARS outbreak. Art institutions in the region were quick to take precautions, too; on 6 February, Art Basel in Hong Kong was cancelled, leaving galleries scrambling to pivot their strategies and compensate for losses. For its part, de Sarthe is presenting a new work by Luk—intended for the fair and re-imagined for the gallery space as part of the exhibition Shifting Landscapes (11 April–2 May 2020).
Andrew Luk, Haunted, Salvaged (2020) (detail). Courtesy de Sarthe.
Luk's large-scale installation, Haunted, Salvaged (2020), is described by the gallery as a floating, 'suspended mobile with disfigured orb-like objects hanging from steel branches that stretch outwards above a sea of sculptures.' The work is presented alongside a large-scale oil painting by post-war artist Chu Teh-Chun, known for his naturalistic works inspired by Song dynasty paintings.
As a whole, Haunted, Salvaged resembles a fictitious wasteland—its swelling, tumour-like forms suggesting mutation and entropic decay.
While the pairing of Luk's installation with Chu's painting may at first seem arbitrary, a flattening of worlds bridges the two. Chu, who was born in China and studied in France, combined Chinese calligraphy with Western-style abstract painting. Chu's colourful paintings, however, convey an affection for the natural world in their soft resemblance of dreamlike landscapes. Where Chu seems optimistic about man's relationship with nature, Luk delivers a bleak warning of the environmental effects of unchecked human appetite.
Andrew Luk, Haunted, Salvaged (2020) (detail). Courtesy de Sarthe.
I saw a precursor to Luk's installation last summer at the artist's studio. In his kitchen was a then-work-in-progress: a monochromatic, amorphous stack of obsolete handheld devices like Walkmans and Gameboys cast in dusty grey concrete—all objects that he owned prior to getting a smartphone. Luk's interest in consumer technology lies in its perpetual self-declaration of being state-of-the-art. 'Despite being touted as innovative,' he said, 'these objects inevitably end up in a landfill within five years, because there's always a superior product coming along. The speed of invention, production, and distribution is accelerating due to a fetishisation of newness.' In short, what's considered revolutionary is perpetually unfixed.
Andrew Luk, Haunted, Salvaged (2020). Exhibition view: Shifting Landscapes, de Sarthe, Hong Kong (11 April–2 May 2020). Courtesy de Sarthe.
Haunted, Salvaged is in part made of those mummified devices; the rest comprises perforated steel and bulbous, candy-pink polystyrene and spray foam forms—materials he often sources from the hardware stores in his neighbourhood. Industrial substances are prevalent in Luk's works, as in the series 'Horizon Scan' (2017–ongoing), for which the artist torched canvas, wood, and copper with home-brewed napalm before collaging the scarred scraps together and embalming them with epoxy resin inside LED lightboxes. As the embedded lights cast shifting shadows across their surfaces, the finished pieces resemble glowing relief maps seen from above: razed, flattened, crumpled; or what critic Hera Chan called 'shimmering updates on a Tang dynasty art form popular among the cultured elite.'
Andrew Luk, Horizon Scan No. 17 (2019). Epoxy resin, polystyrene, plastic, paint, canvas, LED lights. 56 x 42 cm. Courtesy the artist and de Sarthe.
Luk's interest in napalm is in part due its role in the Vietnam War. 'The dense canopy of trees and foliage made it easy for the Viet Cong to traverse terrain and supply their front undetected,' he told me. Thus, the Americans burnt down huge swaths of rainforest in order to see the Vietnamese troops. 'The purpose of napalm wasn't necessarily to attack villages and people entirely—although they did a lot of that—it was also to create a field of vision.' The same hunger for sight is apparent in modern aerial and drone warfare. 'Surveillance technology strives for that same ability to look at something from above as Zeus throwing lightning bolts—how to emulate what we understand as the deity; how to put ourselves there,' says Luk.
That critical reframing of violence is in line with Luk's concern with the abstract and physical ways that human brutality is acted out on nature. As a whole, Haunted, Salvaged resembles a fictitious wasteland—its swelling, tumour-like forms suggesting mutation and entropic decay. Like tourists to Pompeii, the audience is invited to gawk at the relics of antiquated objects, taking photographs on smartphones that are a mere decade from being sent to the heap. —[O]