Insight
Stephanie Post, Co-director Auckland Art Fair
New Zealand's premier international showcase for contemporary art, Auckland Art Fair, returns this month after a three-year hiatus, from 25th - 29th May.

Under new management, the 2016 edition brings together 40 galleries from Australia, New Zealand, South America and the Pacific heralding a shift in focus to contemporary art of the wider Pacific region.

Event organisers, North Port Events, have appointed two experienced co-directors, Stephanie Post and Hayley White, to lead the Auckland Art Fair team. The duo is adding a refreshed, more premium focus to the 2016 event, seeking to operate at the level of the very best fairs in the world and attract an audience of international and local visitors.

We spoke to co-director Stephanie Post as final preparations for the opening were made in place.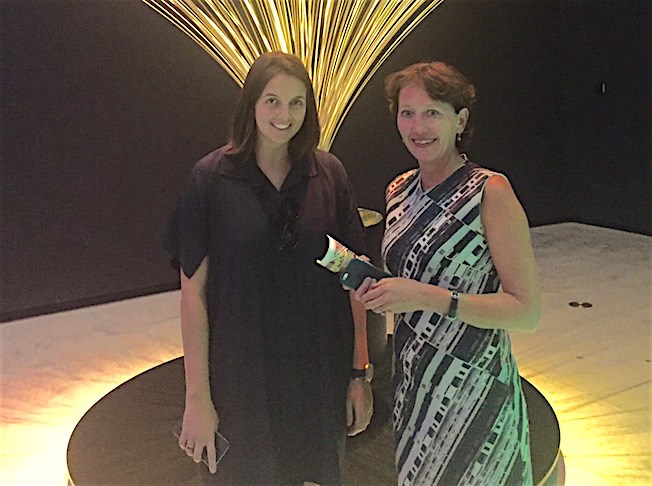 Image: Hayley White and Stephanie Post at the Govett Brewster Art Gallery.
Auckland Art Fair is returning after a 3-year hiatus under new management and with ambitions to become a leading regional showcase for contemporary art. Please tell us a bit about the history of the fair, and your vision for the 2016 edition?
This is the sixth edition of Auckland Art Fair over a ten-year period. The previous owners started with a blank sheet of paper and did a fantastic job taking it to a fair with over 10,000 visitors and sales of around NZ$3.5 million. Under new ownership, North Port Events are looking to refocus the fair on the art conversations of the wider Pacific region—not only Australia and New Zealand, but also parts of Asia, the west coasts of North and South America and of course the Pacific islands. At the same time, we are looking to bring the standard of the fair to that of major international art fairs both for the participating galleries and for collectors.
Much is written about the plethora of art fairs operating globally today. In your view, what makes a successful art fair and what is the particular niche you are hoping to create for Auckland Art Fair?
Our niche is to be a unique Fair which is all about the region that we live in—the wider Pacific region. We would like Auckland Art Fair to be a must-see event for collectors and galleries with an interest in the region. We also see art fairs as catalysts for a wider celebration of art—so people come to Auckland for the fair, but also see all the other art that is being made, commissioned, exhibited and collected in and around Auckland—Auckland as a destination for contemporary art with the added benefit of being a beautiful city on a wonderful harbour with great restaurants and hotels, cafes and bars.
The 2016 edition brings together 40 galleries from Australia, New Zealand, South America and the Pacific. What are some of the highlights, in terms of galleries and artists, visitors can look forward to?
There are so many different highlights … all the best New Zealand galleries are taking part in the fair, so it is a great chance to see them and some of the artists they represent, all in one place. There are also ten leading galleries coming from Australia—ranging from established galleries like Roslyn Oxley9 and Martin Browne Contemporary to younger galleries including The Commercial, Station, Sarah Scout Presents, Galerie Pom Pom and others. We also have Ngatahi Editions, a collaboration between nine of Auckland's fantastic non-profit galleries, which will sell works of art made specially for them (some of them made specially for the fair) by artists that they work with. There is also a great book store, curated by Kelvin Soh (DDMMYY and LeRoy) and Anita Totha (Remote Books) which will sell some of the beautiful art books which are independently published in New Zealand. I'm sure the bars, eateries and pop-up restaurant created by international chef Peter Gordon will also be highlights!
Pacific Real Time, the 2016 Auckland Art Fair Project, curated by Jarrod Rawlins (Curator, MONA, Hobart) and Simon Rees (Director, Govett-Brewster Art Gallery, New Plymouth) questions what it means to be a Pacific artist or art professional in an increasingly globalised world. Can you tell us about this?
Another highlight! The curated Project Programme at Auckland Art Fair is another new initiative for Auckland Art Fair, and we are very grateful to Simon and Jarrod for curating this and also to the assistant curator, Francis McWhannell. From a call for proposals, we are delighted that a number of participating galleries and non-profit organisations (CIRCUIT Artist Film and Video Aotearoa New Zealand, Elam School of Art and the artist run space, Terror Internationale) have been selected for Pacific Real Time which will add an additional dimension to the fair for both galleries and visitors. Through an investigation of what it means to live in a place so geographically distant from major centres of the 21st century world, but still a place which has historically looked to Europe and America, Pacific Real Time asks us to think about now as a time when communications have changed so dramatically that distance and time become dislocated and what does that mean for our part of the world.
Turning to the local art scene, how have things evolved in recent years and what do you see for the future?
I came to Auckland four years ago, from London, and have been nothing but overwhelmed by the quality of artists and exhibitions in New Zealand. There is so much happening here, not only in central Auckland but also at places like Te Uru and McCahon House to the west, and Fresh Gallery and Mangere Arts Centre and Papakura to the south and Te Tuhi in the eastern suburbs … all working closely with artists on new commissions, new exhibitions, and often involving international artists too in really dynamic and relevant programming. The (re-) opening of the Govett-Brewster Art Gallery / Len Lye Centre in New Plymouth has given New Zealand a museum dedicated to modern and contemporary art with a fantastic international reputation and an exhibition programme that reflects this.
What would you say is the typical profile of an NZ collector?
As a generalisation, I have found New Zealand collectors to be very thoughtful, engaged, and generous to the artists they support, and always open to learn and see more, and to be involved.
You are essentially re-launching the Auckland Art Fair. Are you happy and what are your hopes for the future?
We are very happy—with less than two days to the preview day! Of course we have more ambition for the next fair—we have had less than a year to work on the 2016 edition, and at a time of change it is always harder to persuade people that you will deliver … so while we are very excited about 2016, we are even more excited about what might happen in 2018! —[O]