Ahead of her solo exhibition with Fortes D'Aloia & Gabriel, Yuli Yamagata speaks with Ocula Advisor Rory Mitchell about the themes explored in her eye-popping sculptures and paintings.
Your exhibition Insomnia at Fortes D'Aloia & Gabriel in Brazil will be open to the public from 24 April to 29 May. Could you tell us a little about the show?
This show is very important to me because it is the first in my hometown. The bulk of my research and production took place during the pandemic. I used the time spent in quarantine to rewatch all my favourite David Lynch films.
I am particularly interested in how mystery plays out in those films, as something that is intangible. I began making work thinking about mystery and a certain reluctance to let a single meaning be derived from any one work.
Yuli Yamagata, Cyborg nascendo (2021). Shibori on cotton, elastane, felt, satin, silicone fiber, sewing thread. 180 x 150 x 3 cm. Photo: Eduardo Ortega. Courtesy Fortes D'Aloia & Gabriel, São Paulo/Rio de Janeiro.
The pieces in Insomnia point towards a sort of transition—a deceleration of image consumption. My wish is for the work to be absorbed at a slower pace, to linger in viewers' minds.
What do you look for when selecting materials and how do they contribute to the overall subject matter?
I'm employing fabrics like silk and velvet, which propose new challenges to my practice. The use of lycra—a recurring element in my repertoire—started when I developed an obsession for sports industry products.
This research began from observations on how the shapes and colours of these materials interact with users' morphology or the environment in which they are inserted. While developing the functionality of a product, such as shoe soles with translucent gel and big heel cushions, these industries end up generating sculptural and pictorial objects that I am drawn to.
Yuli Yamagata, Cyborg de pe (2021). Aluminum, resin, epoxy adhesive resin, felt, elastane, biscuit, resin, nylon and silicone fiber. 171 x 71 x 30 cm. Courtesy Fortes D'Aloia & Gabriel, São Paulo/Rio de Janeiro. Photo: Eduardo Ortega.
I like to explore different materials, as they give life to the work, presenting challenges and forcing me to come up with novel solutions. Another thing I'm working with at the moment are patterned fabrics.
I started to see that they insert new narratives into the work. I also delved deep into my Japanese roots by reviving the ancient Japanese technique of shibori, popularly known as tie-dye, and brought this into my practice.
There is definitely a sci-fi element to some of your recent works, albeit crudely applied. Some of the lurid green tones remind me of Tetsumi Kudo's work. Does this aesthetic interest hail from Japan?
Absolutely, yes! I'm Brazilian of Japanese descent on my mother's side of the family, so I had a lot of Japanese influences growing up.
---
---
I think my work is very attached to Japanese culture, not just for having a visual aesthetic connected to the world of comics and animations, but also because I believe my work feels more comfortable when walking through different traits, making it possible for something to be both violent and beautiful at the same time.
Yuli Yamagata, Pudim (2021). Corn, cigarette, sneaker, plastic, ham, resin, aluminum, oil. 40 x 68 x 40 cm. Courtesy Fortes D'Aloia & Gabriel, São Paulo/Rio de Janeiro. Photo: Eduardo Ortega.
I was also largely influenced by North American sci-fi movies in the nineties. By using green, purple, and pink tones for skin or limbs, I mainly wanted to create works connected to feelings, sensations, and emotions; works that the viewer could relate to regardless of gender, race, sexual orientation, and so on.
The physicality of your sculptures, specifically the morphed figures and their accentuated limbs, recall works by Louise Bourgeois and Dorothea Tanning's soft sculptures, or more recently, Sarah Lucas. What is the process behind your artworks?
I start every sculpture by choosing a kind of 'challenge', usually informed by the physicality of the material itself or by a chosen narrative.
It may sound a bit too literal to relate limbs to their functions, but when a human body is perceived in separate parts, each part can develop a personality of its own. This is where my work starts to point to interesting emotional gaps, which help me create these narratives.
Your 2018 group exhibition, Roly Poly, in collaboration with Flora Rebello and Thiago Barbalho, wrapped up just before Jair Bolsonaro was elected as the Brazilian president.
Livia Benedetti, when reviewing Roly Poly in Pivô Revista Magazine, spoke of her concern over the impact Bolsonaro's leadership would have on artistic freedom in Brazil—specifically his failure to acknowledge cultural public policies, which fund cultural projects such as Pivô.
Two years into his presidency, how are cultural projects such as Pivô fairing?
One year before Bolsonaro got elected, the cultural system was already under attack, and now the situation has considerably worsened. We no longer have a Ministry of Culture, several public cultural institutions have had their budgets cut or extinguished, and many independent art centres have had to shut their doors.
Yuli Yamagata, Ikebana noturno (2021). Resin, roses, dried fish, epoxy adhesive resin, stone and stainless steel nail. 38 x 32 x 23 cm. Courtesy Fortes D'Aloia & Gabriel, São Paulo/Rio de Janeiro. Photo: Eduardo Ortega.
This lack of public support creates a need for a network among art professionals, who need to work together to promote and connect different cultural agents in Brazil. This private initiative is a way to start to get out of this dark place, but I believe we have a long way to go...
Having had a number of well received solo and group exhibitions both in São Paulo and internationally, what exciting projects have you got planned for the new year?
I am very excited with a couple of solo shows this year. On 20 March I opened NERVO at MAC Niterói in Rio de Janeiro, in May, and aside from my exhibition at Fortes D'Aloia & Gabriel, I will also have a solo in New York in September at Anton Kern Gallery. —[O]
Main image: Yuli Yamagata, Summer Sweaty Dream (2021) (detail). Elastane, velvet, felt, silk, silicone fiber, sewing thread. 210 x 290 x 23 cm. Courtesy Fortes D'Aloia& Gabriel, São Paulo/Rio de Janeiro. Photo: Eduardo Ortega.
---
WORKS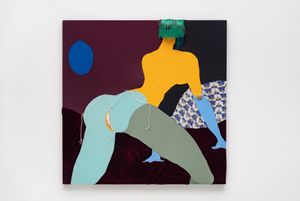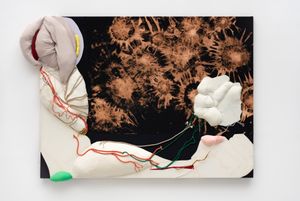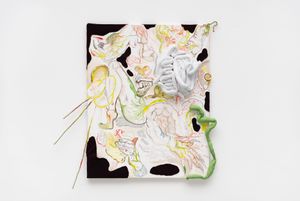 Yuli Yamagata
Insônia
, 2021
Elastane, velvet, felt, silicone fibre, sewing thread, aluminium, epoxy adhesive resin, oil on canvas
110 x 106 x 8 cm
Fortes D'Aloia & Gabriel
Enquire