News | Artists
Ai-Da Robot Artist Finally Released by Egyptian Authorities
The android—who is participating in the exhibition Forever Is Now alongside artists such as JR, Gisela Colón, and Moataz Nasr—was held for security reasons.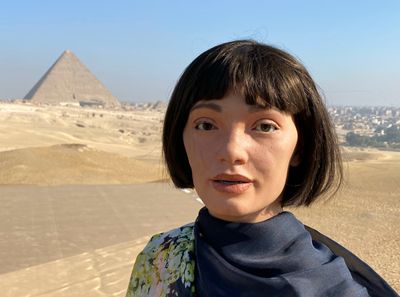 Ai-Da Robot in Giza. Courtesy the artist.
Ai-Da Robot, an android artist devised by English gallery director Aidan Meller, was finally able to appear alongside her works at the exhibition Forever Is Now in Giza, Egypt, last week. Deemed a security risk, the robot was held by Egyptian customs for 10 days.
Ai-Da Robot has now been photographed in Giza, where she is exhibiting a steel and glass sarcophagus containing a three-legged self-portrait as a mummy. The 2.4-metre-long work was realised using AI-informed design, drawings, and clay impressions.
The work's title, Immortal Riddle, is a reference to the Riddle of the Sphinx, which asks, what goes on four feet in the morning, two feet at noon, and three feet in the evening? The work is a meditation on ageing, the afterlife, and 21st century efforts to achieve immortality.
Ai-Da Robot, Immortal Riddle (2021). Courtesy the artist.
'Ai-Da Robot as technology, is the perfect artist today to discuss the current obsession with technology and its unfolding legacy,' Meller said.
Ai-Da's lengthy detention was surprising given the Egyptian government's involvement in the exhibition. Private firm Art D'Egypt partnered with the Egyptian Ministry of Antiquities and Tourism and the Egyptian Ministry of Foreign Affairs, under the patronage of UNESCO, to create Forever Is Now.
Meller told The Guardian that border agents were concerned Ai-Da was a spy due to her modem and the cameras in her eyes.
'I can ditch the modems, but I can't really gouge her eyes out,' he said.
The other artists taking part in the exhibition are Alexander Ponomarev (Russia), João Trevisan (Brazil), Lorenzo Quinn (Italy), JR (France), Moataz Nasr (Egypt), Gisela Colón and Sherin Guirguis (USA), Shuster + Moseley and Stephen Cox RA (UK), and HRH Prince Sultan Bin Fahad (Saudi Arabia).
For his contribution, poster artist JR is showing a sculpture of a hand holding up a postcard to create the illusion of the pyramid of Khafre, which dates back 2,570 B.C, floating above its base.
The postcard was divided into 4,591 sections that the artist is selling in his first series of NFTs, 'GREETINGS FROM GIZA'. Separated from the rest of the image, each NFT is reduced to an abstract spray of halftone dots. They're selling for US $250 each on heni.com.
Forever Is Now continues on the Giza Plateau through 7 November. —[O]