News | Artists
'A Matryoshka Doll of Nightmares' — Art World Reacts to Beeple x Madonna NFT
'Maybe don't check them out if you're at work', Beeple himself warned.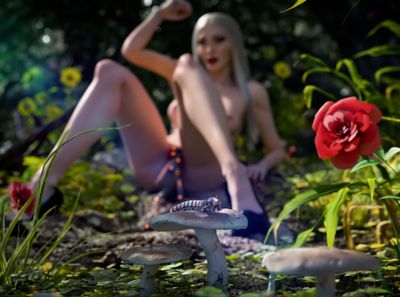 Beeple and Madonna, Mother of Technology (2022) (still). NFT. Courtesy the artists.
Beeple and Madonna's NFT series 'Mother of Creation' elicited some strong reactions when it was revealed this week.
The collaboration, one year in the making, shows a 3D render of the singer giving birth to flora, fauna, and robotic centipedes.
During a Twitter Spaces conversation today, Beeple himself implored listeners, 'maybe don't check them out if you are at work.'
Several art critics ignored his advice.
Hyperallergic's interim editor-in-chief, Hakim Bishara, described the video triptych as unspeakably bad. His colleague Sarah Rose Sharp called the work 'a matryoshka doll of nightmares, a sort of telescoping abyss of bad things contained in worse things, opening to reveal even worse things.'
Artnet News critic Ben Davis took issue with the Madonna figure, which was created from 3D scans brought to life with the help of animators David Ariav and Nick Denboer under Beeple's supervision.
Davis noted the 'dead' or 'undead' looks of the 'Beeple-ized' figure: blonde, smooth and hairless 'like a Barbie doll—and not the updated, body-positive Barbies, either.'
Beeple and Madonna, Mother of Nature (2022). NFT. Courtesy the artists.
In an article titled 'Material Girl in the Metaverse', The Art Newspaper's Gareth Harris, conceded 'There have been stranger collaborations in the art world, but not many have been as headline-hitting as the newly minted partnership between Queen of Pop Madonna and Beeple.'
Proceeds from the sale of the NFTs, now live on SuperRare, will go towards supporting women and children through three charities: The Voices of Children Foundation, The City of Joy, and Black Mamma's Bailout. Crypto platform MoonPay, who are providing the infrastructure for the work, will also chip in US $300,000.
Madonna and Beeple discussed the deeper concepts of the work in an hour-long conversation with Keith Grossman from TIMEPieces on Twitter Spaces today.
The underlying metaphor of the three works, Mother of Nature, Mother of Evolution, and Motherhood of Technology is about motherhood, artistic creation, the creation of technology and its ambivalences, and finding life and hope even in times of darkness.
'[The works] reference motherhood, being a child, being a lover, relationships, being a human being, the things that keep us going in this crazy dark world,' Madonna said.
Each of the NFTs is accompanied by music and a voiceover by Madonna, who reads poetry by 13th century Persian Poet Jalaluddin Rumi, an influence of Tilda Swinton and Coldplay's Chris Martin, among others.
At the time of publishing bids, bids for Mother Nature lead the way at US $30,000, with the other two works around US $10,000. —[O]