News | Artists
Brad Pitt Makes Artistic Debut at Finland's Sara Hildén Art Museum
Pitt is exhibiting sculptures alongside British artist Thomas Houseago and Australian rock god Nick Cave.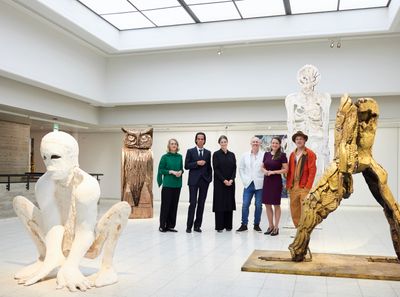 Sara Hildén Art Museum Director Anna Hjorth-Röntynen, Nick Cave, Chief Curator Sarianne Saikkonen, Thomas Houseago, Mayor of Tampere Anna-Kaisa Ikonen, and Brad Pitt. Photo: Jussi Koivunen.
Hollywood institution William Bradley Pitt is showing his art in public for the first time.
He's exhibiting at the Sara Hildén Art Museum just north of Helsinki alongside musician Nick Cave at the invitation of artist Thomas Houseago.
Pitt's contributions include a wall-sized plaster panel depicting a gunfight, and house-shaped sculptures made of clear silicone, each of which have been shot with a different gauge of ammunition.
Thomas Houseago, Weekend at El Cap (2022). Acrylic on canvas. Courtesy Houseago Studio, Los Angeles and sarahildenart Instagram.
Guns are part of Pitt's life both onscreen and offscreen. He played an assassin in his most recent film, Bullet Train (2022), and he and ex-wife Angelina Jolie had his-and-hers pistols custom made for them.
Pitt began making art soon after Jolie filed for divorce in 2016.
At the exhibition opening, he said his art practice 'was born out of ownership over what I call a "radical inventory of the self". And getting really brutally honest with me and taking account of those I may have hurt and the moments I've just gotten wrong.'
Pitt began creating work during an ongoing dialogue with Thomas Houseago. His first ever sculpture, House A Go Go (2017), which is made from timber off-cuts, is a pun on the artist's name.
Nick Cave, The Devil – A Life (2022) (detail). Series of 17 ceramic figures. Courtesy nickcaveofficial Instagram.
Nick Cave, former frontman of The Bad Seeds and a master of the murder ballad, is also exhibiting his artwork for the first time.
Cave created glazed ceramics depicting the life of the Devil in 17 stations. The series was in part inspired by Victorian Staffordshire Flatback figurines, which he collects. It was created with assistance from London-based sculptor Corin Johnson from 2020 to 2022.
Despite showing alongside bigger celebrities, and the strength of Cave's captivating kitschy devils, Thomas Houseago is the real star of the show.
The exhibition is entitled Thomas Houseago—WE in reference to the artist's realisation that because nothing arises independently we must all be connected.
'I am not an I. I'm a WE!' Houseago said in a statement.
Like Pitt and Cave, Houseago is trying something new in the exhibition. Better known as a sculptor, he only turned to painting in recent years.
Speaking to Ocula Magazine in 2016, he said, 'Painting is a relief from the insanity of the sculpture and then the sculpture becomes a relief from the insanity of the painting. So the two go very well together.'
'In sculpture you are always fighting gravity, material, space, all these super exhausting realities. Painting is ultimately all fantasy, it is all soul floating, so just when painting starts to make you feel nauseous ... you can rely on sculpture.'
In Finland, Houseago is exhibiting paintings from his 'Visions' series, which focus on subjects such as nature, the cycle of life, and cosmic unity. —[O]