News | Exhibitions
Collectors Open Their Homes for Singapore's IMPART Exhibition

Art Outreach Singapore | Sponsored Content
The online exhibition sheds light on ambitious collectors' myriad motives and methods for collecting and displaying contemporary art.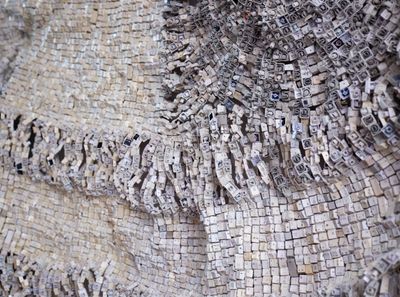 Moffat Takadiwa, English Deleted (2016). Computer keys. Courtesy Jim Amberson and Art Outreach.
Rarely seen works from six private art collections will be revealed in the IMPART Collectors Show, which takes place from 19–30 January as part of Singapore Art Week.
Organised by art education non-profit Art Outreach, the IMPART Collectors Show is now in its fourth edition, entitled Leap of Faith. Driven online by the pandemic, the organisers chose to include works that would have been difficult to show in an exhibition space, instead sharing pictures and videos of the works as they are displayed in collectors' homes, offices, and dedicated art spaces.
'Our collectors have brought ambitious works involving light, liquid, and levitation directly to the screens of the public,' said Art Outreach Chairperson Mae Anderson.
The exhibition includes video interviews with the participating collectors that give insight into their interests and inspirations, as well as advice for new collectors.
Xu Zhongmin, Bridge (2011). Mechanical installation. Courtesy Dr Woffles Wu and Art Outreach. Photo: Colin Wan.
In a video introducing his collection, Singapore-based insurance executive Jim Amberson argues all collectors share the same best work—the next one—but there's real variety between their collections.
'The motivations of each collector run the gamut from championing individual artists, to recording family memories, and to documenting moments in history,' Anderson said.
In video interviews, Swiss jewellery designer Suzanne Syz introduces Balaklava (1986) by Rosemarie Trockel and Warhol Flowers #8 (1969–1970) by Elaine Sturtevant, while banker Lito Camacho and Kim Camacho, who split their time between the Philippines and Singapore, discuss their love of Yayoi Kusama and a looping Vespa sculpture by Eddi Prabandono.
For some of the collectors, overcoming the challenges of showing large, complex or otherwise unwieldy works at home gives them visible satisfaction.
Singapore plastic surgeon Dr Woffles Wu collects Chinese contemporary art from 1989 onwards. With artworks too large to display at home, he exhibits them in a former industrial space he calls 'the Maosoleum'. Artist Xu Zhongmin and his team lived with Wu for a week to install the 12-metre-long work Bridge (2011). Another large work featured in the exhibition is Shilpa Gupta's installation of stainless steel books written anonymously or under pseudonyms entitled Someone Else (2011), collected by JSW Foundation chair Sangita Jindal.
Ernesto Klar, Relational Light (2010). Haze, video cameras, projectors, speakers and custom software system. Courtesy Wiyu Wahono.
Indonesian industrial consultant Wiyu Wahono collects and exhibits muti-media works that present their own difficulties. Relational Light (2010) by Venezuelan-American artist Ernesto Klar uses infrared cameras to detect viewers' movements, shifting a narrow shaft of light as if in response to being touched.
'All of this equipment must be adjusted very precisely in order to give a real feeling of touching the light,' Wahono said.
Amberson takes especial delight in exhibiting works so that they're in dialogue with one another. One example he gives is the juxtaposition of Filipina artist Maria Taniguchi's meditative black brick paintings and a sculpture by Zimbabwean artist Moffatt Takadiwa, which he commissioned in 2016. Entitled English Deleted, the Takadiwa work (pictured top) is made of found computer keys and resembles a mosaic or weaving.
'Having that dialogue between a meditative work by Maria Taniguchi and echoing some of the structural shapes of the rectangles and the brick pattern with the outlines of the keys in Moffat Takidiwa's work, I thought really created a discussion that could not happen if either work were alone,' Amberson said.
According to Art Outreach's Mae Anderson, the IMPART Collectors Show will not only give viewers a chance to see fabulous works, which 'often fall into private hands as soon as they are created', but also to 'increase our appreciation of contemporary art' and 'deepen our empathy towards others'.
The video interviews can be viewed on the exhibition's dedicated website here. —[O]