News | Market
HTC, the Tech Giant Behind VR System VIVE, Launches NFT Platform
The platform's partners so far include the Mucha Foundation, the Serpentine, Chi Wen Gallery, and the dslcollection.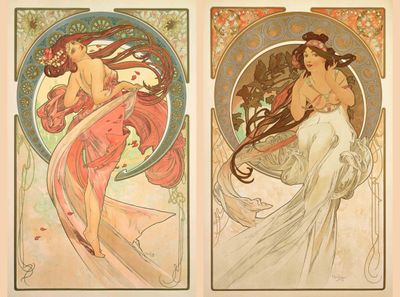 Alphonse Mucha, Dance and Music (1898). Colour Lithographs. Courtesy Mucha Foundation, Prague.
VIVE Arts, the division of Taiwanese tech giant HTC trying to improve access to art and culture through digital technology, today announced a new global platform for trading art.
Celina Yeh, Executive Director of VIVE Arts, said their platform would be different from others 'as it brings together our experience in the cultural sector and HTC's blockchain technology and industry expertise.'
Building on HTC's success selling virtual reality (VR) headsets, the platform will host all forms of digital art including VR and augmented reality (AR) pieces. Both fiat and crypto currencies will be accepted on the platform.
'Our aim is to build a complete ecosystem for digital art and we will be able to support creators through the entire process, from developing a digital artwork through to sale,' Yeh said.
Starting on Friday 17 December, the platform's inaugural offering is a selection of NFTs derived from Art Nouveau works by Alphonse Mucha. Works include La Dame aux Camelias (1896), Reverie (1897) and the series of decorative panels The Arts: Painting, Poetry, Dance, and Music (1898).
New Mucha NFTs will drop on the platform at the beginning of each month through April 2022, when a two-week auction will be held to commemorate the artist's completion of three paintings in his 20-work series The Slav Epic. NFTs based on a VR experience of these works will also be available to collectors.
The Mucha NFTs, which will be sold in editions of 2, 10, and 30, were created in partnership with the Mucha Foundation in Prague.
Marcus Mucha, Executive Director of the Mucha Foundation, said his grandfather Alphonse 'lived his life at the intersection of art and technology and hosted the Lumiere brothers' earliest experiments in cinematography in his Paris studio.'
The new VIVE Arts platform is also partnering with London's Serpentine Gallery on a series of works to support their forthcoming Dominique Gonzalez-Foerster exhibition. Other partners include Chi Wen Gallery in Taipei, the dslcollection, Photography of China, and Radiance VR.
Among the artists whose NFTs will appear on VIVE Arts' platform in future are Marco Brambilla, Nancy Baker Cahill, art collective Keiken, Carola Bonfili, Suki Chan, Musquiqui Chihying, Elliot Dodd, and Ted Lawson.
One of the earliest institutions to begin selling NFTs was the British Museum, which offered 200 works by Japanese printmaker Hokusai in a partnership with LaCollection that launched on 30 September. —[O]