News | Galleries
Irving Penn's 'Girl Behind Bottle' Sells for $210,000 at Paris Photo
The fair wrapped over the weekend but continues online until 17 November.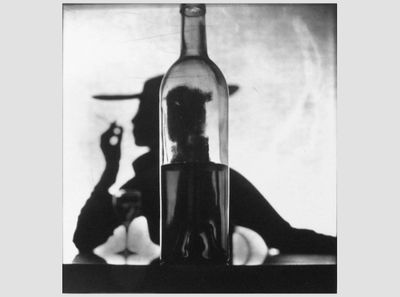 Irving Penn, Girl Behind Bottle, New York (1949). Platinum palladium print mounted to aluminium. 47.6 x 44.8 cm. © The Irving Penn Foundation. Courtesy Pace Gallery.
The 24th edition of Paris Photo gathered 149 galleries at the Grand Palais Ephémère, near the Eiffel Tower, from 11 to 14 November.
Galleries Ocula Magazine spoke to were happy to return to the fair after it was cancelled in 2020 due to the pandemic.
'It is wonderful to be back at Paris Photo where the crowds are as abundant and enthusiastic as ever,' said Kimberly Jones, Senior Director, Pace Gallery. 'We've had the opportunity to personally reconnect with a variety of collectors and curators, and have also started many new relationships.'
Works sold by Pace include trailblazing American photographer Irving Penn's Girl Behind Bottle, New York (1949) to a New York City-based collection for US $210,000, British camera obscura maestro Richard Learoyd's Untitled Triptych (2021) to a European collection for US $50,000, and a number of works from Robert Longo's 'Men in the Cities' series.
Gottfried Jäger, Ensemble of four Pinholes Structures (1967) Camera obscura works from the series 3.8.14 F (F; F 2.3; F 2.6; F 2.9). Four unique gelatin silver baryta paper prints (ed. 1/1, printed Feb. 2008) on Agfa Brovira 111. Courtesy Gottfried Jäger and Sous Les Etoiles Gallery, New York.
Corinne Tapia, director of Sous Les Etoiles Gallery, New York, said she was very happy with the fair's new location and the fair's visitors, who were curious to discover new work.
'Our solo show with the German photographer Gottfried Jäger, founder of generative photography, was extremely well received,' she said.
The gallery sold a vintage photograph by the artist to an American collector for US $35,000, along with several other pieces.
Galerie Tanit, based in Munich and Beirut, reported sales of works by German photographer Sonja Braas, and Lebanese photographers Serge Najjar and Gilbert Hage.
In addition to its main galleries section, this year's Paris Photo included the Curiosa sector for emerging artists, whose 20 projects were curated by Photoworks' director Shoair Mavlian. —[O]