News | Artists
'Journey to the East' Performance Art Festival Arrives in Glasgow This Summer
The festival locates the East not on a map but the other side of human consciousness.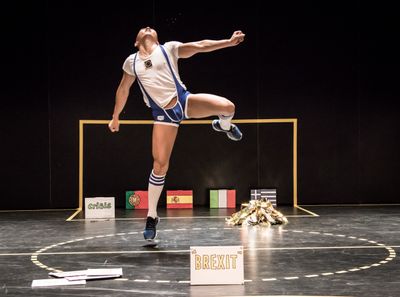 Daniel Kok, Cheerleader of Europe (2014–2021). Still from performance. Photo: Bernie Ng.
A new performance art festival will launch in Glasgow, Scotland, next month.
Journey to the East will take place at venues around the city including the CCA: Centre for Contemporary Arts and Tramway Glasgow from Friday 27 to Sunday 29 August.
The organisers said it was the first live performance festival to be held in Scotland's most populous city since the lockdown in spring last year.
Still from performance by Jian Yi. Photo: Jassy Earl.
Highlights include Singapore-based choreographer Daniel Kok's Cheerleader of Europe, which showed at the Venice Biennale of dance in 2019, and Yingmei Duan's Happy Yingmei, which was performed at London's Hayward Gallery in 2012 and the Sydney Biennale in 2014.
'We seek to create a psycho-tropic friendly space for artists and audiences to engage in collective experiences of ritual and community,' said Jian Yi, artistic director of the festival.
Yi said the festival understands 'the East' not as a geographical region but 'the other side of human consciousness, social experience, and the search for truth.'
Still from performance by Sin Wai Kin, fka Victoria Sin. Photo: Ivy Tzai. Courtesy the artist and Chi-Wen Gallery.
Journey to the East will also feature the Scottish premieres of If I Had the Words to Tell You We Wouldn't Be Here Now by Sin Wai Kin (aka Victoria Sin), Marcos Lutyens and Raimundas Malašauskas' Hypnotic Show, which was originally produced for the Solomon R. Guggenheim Museum, and a performance of Dry Leaf by Indonesian performance group Breathing Forest Dance Theatre.
Other events include a techno beats club night performance by Frédéric Gies and DJ Fiedel and a 'contemporary pagan ritual and offering to the sky' that features 'non-gender conforming, queer and POC nude dancers performing from elevated heights'.
The festival will conclude with a series of discussions featuring curator Cecilia Wee, artist and choreographer Lucy Suggate, and researcher Sophia Hao, the principal curator of Cooper Gallery at the University of Dundee.
Full programme information is available on the festival's website. —[O]