News | Galleries
Lee Kun-Yong, Painter of Bodyscapes, Joins Pace Gallery
A solo exhibition of works by the artist, a key member of South Korea's 1970s avant garde, opens at Pace Hong Kong today.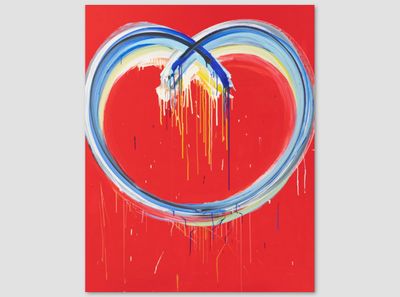 Lee Kun-Yong, Bodyscape 76-3-2018 (2018). Acrylic on canvas. 163 x 130 cm. © Lee Kun-yong. Courtesy Pace Gallery.
Lee Kun-Yong, who emerged as one of South Korea's leading artists when the country was still under military rule, has signed with Pace Gallery. A solo exhibition of the artist's work—his third presentation with the gallery—opens in Hong Kong today and continues through 3 March 2022.
'In the 1970s, when monochromatic art (Dansaekhwa) was prevalent, Lee was a trailblazer in performance art, staging hundreds of performances that addressed the social climate of the time,' said Youngjoo Lee, senior director of Pace in Seoul.
'He also cultivated a new and simplified drawing methodology that was more approachable for the public, emphasising the importance of communication with his audience,' she said.
Lee Kun-Yong, Bodyscape 76-2-2019 (2019). Acrylic on canvas. 182 x 227 cm. © Lee Kun-yong. Courtesy Pace Gallery.
Born in 1942, Lee is among the founders of the artist group Space and Time. One of Korea's first performance artists, he is perhaps best known for his 'Bodyscape' works, several of which appear in the Hong Kong exhibition. In this series, which Lee began in 1976, the artist maps his own ranges of motion directly onto the canvas.
Lee's work can be found in the collections of the Leeum, Samsung Museum of Art in Seoul, the Tate Modern in London, and The Rachofsky Collection in Dallas, among many others. It will feature in the exhibition The Avant-Garde: Experimental Art in South Korea, in 1960s–1970s, which will open this spring at the Solomon R. Guggenheim Museum in New York and the National Museum of Modern and Contemporary Art in Korea in Seoul.
'Pace has shown numerous paintings and performances by Lee at our galleries in Asia, and we are very excited to show his work in the United States and Europe in the future,' said Pace's Youngjoo Lee.
Global interest in Korean art was piqued last year by the arrival of several new global galleries and the announcement that Frieze will launch an art fair in Seoul this fall. —[O]