News | Institutions
M+ Museum at Long Last Completes TV-Like Building
After years of delay, the museum will open late this year in a Hong Kong that's significantly less free and open.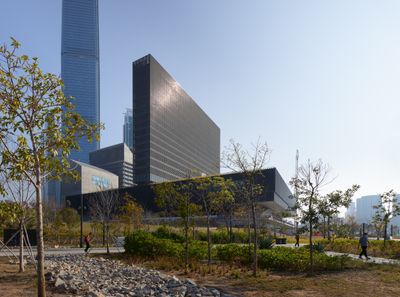 The M+building viewed from the Art Park. Photo: Virgile Simon Bertrand. Courtesy Herzog & de Meuron.
Building has finished at M+, an ambitious new museum of contemporary Asian visual culture located in Hong Kong's West Kowloon Cultural District.
'Our opening preparations are in full swing,' said Suhanya Raffel, Museum Director at M+, where the installation of works is now underway.
Initially slated to open in 2017, the museum faced numerous construction and bureaucratic delays and will now open late this year. Over a million people attended the 85 public activities M+ has organised since 2012 while waiting for the building to be completed.
The M+ building viewed from Victoria Harbour. Photo: Virgile Simon Bertrand. Courtesy Herzog & de Meuron.
The 65,000 square-metre museum is constructed in an inverted T-shape that consists of a long flat base and a tall, thin tower. With a large LED screen on the southern facade of the tower, from across Victoria Harbour the museum resembles a flatscreen TV sitting on a living room entertainment unit, a design well suited to the rise of digital art and the emergence of NFTs.
The museum, which is decked out in dark green ceramic tiles, was designed by architecture firm Herzog & de Meuron in partnership with TFP Farrells and Arup.
Jacques Herzog, a founding partner at Herzog & de Meuron, said as a museum of Asian visual culture M+ 'best expresses where we should go as a world culture, where diversity, equality, and access to art of all kinds are expressed from the very beginning.'
The Found Space, M+ building. Photo: Kevin Mak. Courtesy Herzog & de Meuron.
While M+ has, for instance, co-organised Hong Kong's collateral pavilion at the Venice Biennale since 2013, some critics of the museum have said its ambition to represent contemporary visual culture across Asia makes it less relevant to the city in which it sits.
'M+ is just a MoMA or a Tate, without a true Hong Kong soul,' Mathias Woo, executive director of the experimental theatre company Zuni Icosahedron, told The New York Times in 2017. He argued the management had 'no knowledge about Hong Kong society and Hong Kong arts.'
This criticism feels even more urgent as Hong Kong fights to preserve its own culture in the face of growing censorship from mainland China. Free expression in the city chilled significantly a new security law was introduced last June in response to widespread pro-democracy protests.
'As a public museum operating in Hong Kong, we will comply with the laws of Hong Kong whilst maintaining the highest level of professional integrity,' said a spokesperson for the museum.
Complying with the law is not straightforward, however. China's National Security Law criminalising acts of 'secession', 'subversion', and 'collusion with foreign forces', terms that are open to interpretation by Beijing.
Speaking to Ocula Magazine from Hong Kong, local artist Wong Ping said, 'with the introduction of the National Security Law, you could see the effect immediately in Hong Kong, even stronger than in mainland China because it's new, and no one knows what's going to happen.'
The Sigg Galleries, M+ building. Photo: Kevin Mak. Courtesy Herzog & de Meuron.
Many Hong Kongers have already left the city, and artists are taking fewer risks with what they show in public, Wong said, citing the example of an illustrator who returned to a work to erase a small banner featuring a slogan used in the protests.
'I look forward to seeing how galleries and institutions react and show works in the future in Hong Kong,' he said.
Perhaps institutions like M+ will become more creative in how they present work in order to avoid censorship.
'Or perhaps they will self-censor,' Wong countered. —[O]