News | Market
NTU Auctioning Works by Entang Wiharso, Heman Chong and More
The online auction aims to raise funds for the struggling art centre, which is ending its exhibition and residency programmes.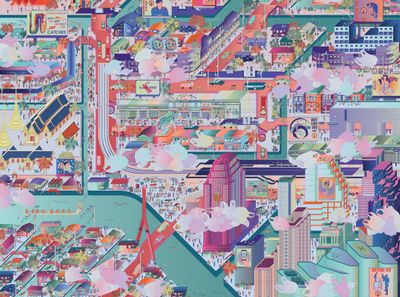 Animali Domestici, Bangkok Opportunistic Ecologies (2019). Printed synthetic fabric canvas, embroidery. Courtesy the artists.
Nanyang Technological University's Centre for Contemporary Art Singapore (NTU CCA Singapore) has announced a benefit auction featuring contemporary artworks by leading artists from Singapore and beyond. The auction will run from 1-18 October at a dedicated website that will go live on September 17.
Works have been donated by some exciting artists who previously participated in the art centre's residencies, exhibitions and other programmes. They include Korean artist Jae Rhim Lee, who built an eco-burial suit with mushroom mycelia and bacteria to facilitate decomposition, and Animali Domestici, a Thailand-based design studio that analysed Bangkok from the perspective of its pythons in their work Bangkok Opportunistic Ecologies (2019), pictured top.
Other artists whose works are up for grabs include Singapore's Heman Chong, Fyerool Darma, Ho Tzu Nyen, Alecia Neo, Shubigi Rao, Jason Wee, and Robert Zhao Renhui, as well as artists from abroad including Lucy + Jorge Orta (UK), Entang Wiharso (Indonesia), Haegue Yang (Korea), and Trevor Yeung (Hong Kong).
Funds raised from the auction will go towards two projects: the digitisation of materials dating back to the art centre's establishment in 2013, allowing more people to access their archive of experimental curatorial and artistic practices; and a publication called Climates. Habitats. Environments., which looks at the climate crisis through artistic, academic and cultural lenses.
These projects should help to preserve the NTU CCA Singapore's contributions given the news this week that they will be ending their exhibition and residency programmes. —[O]